If this is vegan brunch, I might bid a pretty unemotional farewell to bacon some day. If this is the vegan scene, it's drastically more awesome than haters would like to believe. For years, I've considered veganism a very good thing and reflexively generalized vegans as smug, sanctimonious blowhards.
To be fair, the badgering went both ways. Vegans (some, not all) accused omnivores of being murderers driven only by our own gluttony, environmental nihilists ushering in doomsday with every callous bite. Omnivores (some, not all) in turn belittled vegans as sickly looking crusaders, just another wacky religious sect, the Scientologists of food. Eventually, I assumed we'd get to a less judgmental middle ground. Someone would give San Diego an exciting vegan restaurant and bar that was less a territorial pissing and more of a come-all plant party.
Kindred in South Park is that place. It's a restaurant for any human, really, who likes cool things. I've been a fan for years. I hadn't, however, ventured in with their late morning crowd and seen the full evolution. Now that the food is catching up with (or caught up with) the cocktails, Kindred is a force. 
Their breakfast strudels are some intoxicating carbs. Our favorite is the savory shaved seitan with tapioca mozzarella and pickled peppers. It's spicy, meaty, cheesy, bready. The cinnamon and brown sugar strudel with candied pecans and coconut syrup is flaky on the outside, pure molten, thick, and gooey cinnamon roll inside. The pancakes with bruléed bananas, bourbon butterscotch, and whipped coconut cream aren't good for your waist size, but they are good for your soul. Their hash is also very good, with fried potatoes, black beans, smoked coconut (vegan bacon), soy curls, maitake mushrooms, charred kale, jicama salsa, and Creole aioli.
The vibe has always been modern art. It's the massive shiny-black demon head that lords over the main dining area. What an elegant, imposing beast. It's the ornate pink wallpaper that appears cute and grandmotherly until a closer inspection reveals illicit scenery. It's the gothic windows and the two-top tables that look like desks pulled from pagan Sunday school, or sidecars for Wiccan motorcycles. It's the sludgy heavy metal on the speakers offset by the flood of fresh, natural light pouring in.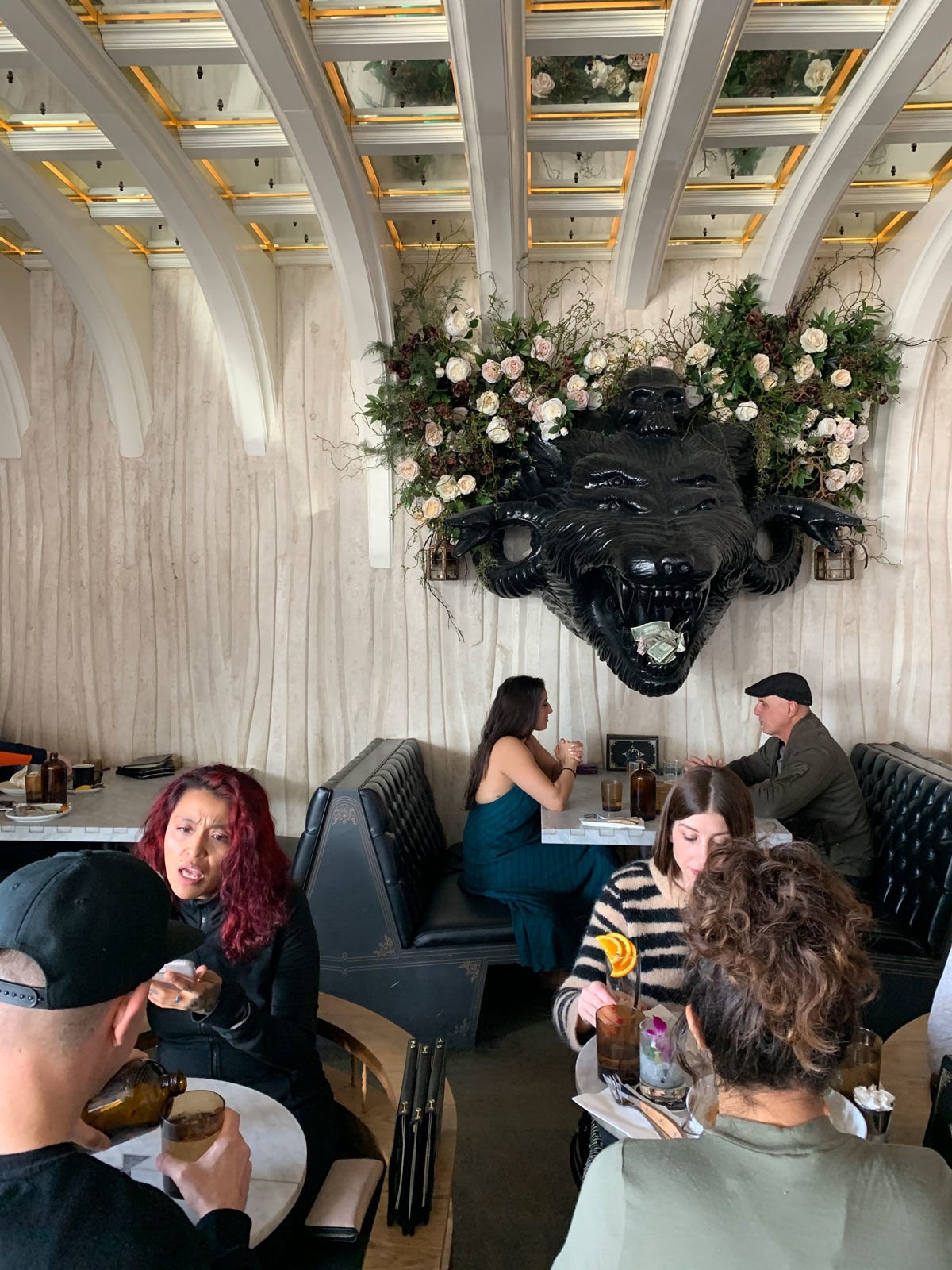 Previously, plant-based restaurants had a reputation as antiseptic prayer rooms for self-serious wellness people. Kindred owner Kory Stetina decided not to do that, and enlisted art-restaurant makers Consortium Holdings (Morning Glory, Born & Raised) to build a noisier temple for more entertaining urges. 
In doing so, he positioned Kindred to be the Casbah or CBGB of vegan food and drink. 
Because the plant-based movement is not just here to stay—it's remodeling a sizable wing of the restaurant industry. Overall, the stats are still small. Gallup reports that about 5 percent of Americans claim to be vegetarian, and 3 percent vegan. But a report by The Economist in late 2018 raised eyebrows when it reported a full quarter—25 percent—of Americans in the 25-34 age demo claim to be either vegetarian or vegan.
There's a good chance some of those people secretly cheeseburger in the dark. But even if they're pretending to be plant-based, that means the lifestyle is now an aspiration, a status badge for an entire age demo. 
If your eyes are open, you know it's at least partially real. Meatless Mondays have been growing in number for years. Serena Williams and Tom Brady are vegan. So are Ellen Degeneres, Bill Clinton, Joaquin Phoenix, Paul McCartney—just lots of famous people. Plant-based meat companies like Impossible and Beyond are booming. Some of the world's top chefs have plant-based menus (at French Laundry, we preferred the plant-based menu) or even entire restaurants (like ABCV from Jean-Georges in New York). 
In San Diego, Kindred is the weird and fuzzy center of the movement. It's not a trap meant to get omnivores drunk on Prohibition cocktails and guilt them into declaring legumes the one true god. At least from an outsider's perspective, there doesn't seem to be any agenda aside from being an exciting restaurant. And it's pulling this off. 
Kindred's vision of the future isn't the only one, but it is one of them. And their brunch is excellent whether you're omnivore, vegan, or merely ambivalent and hungry.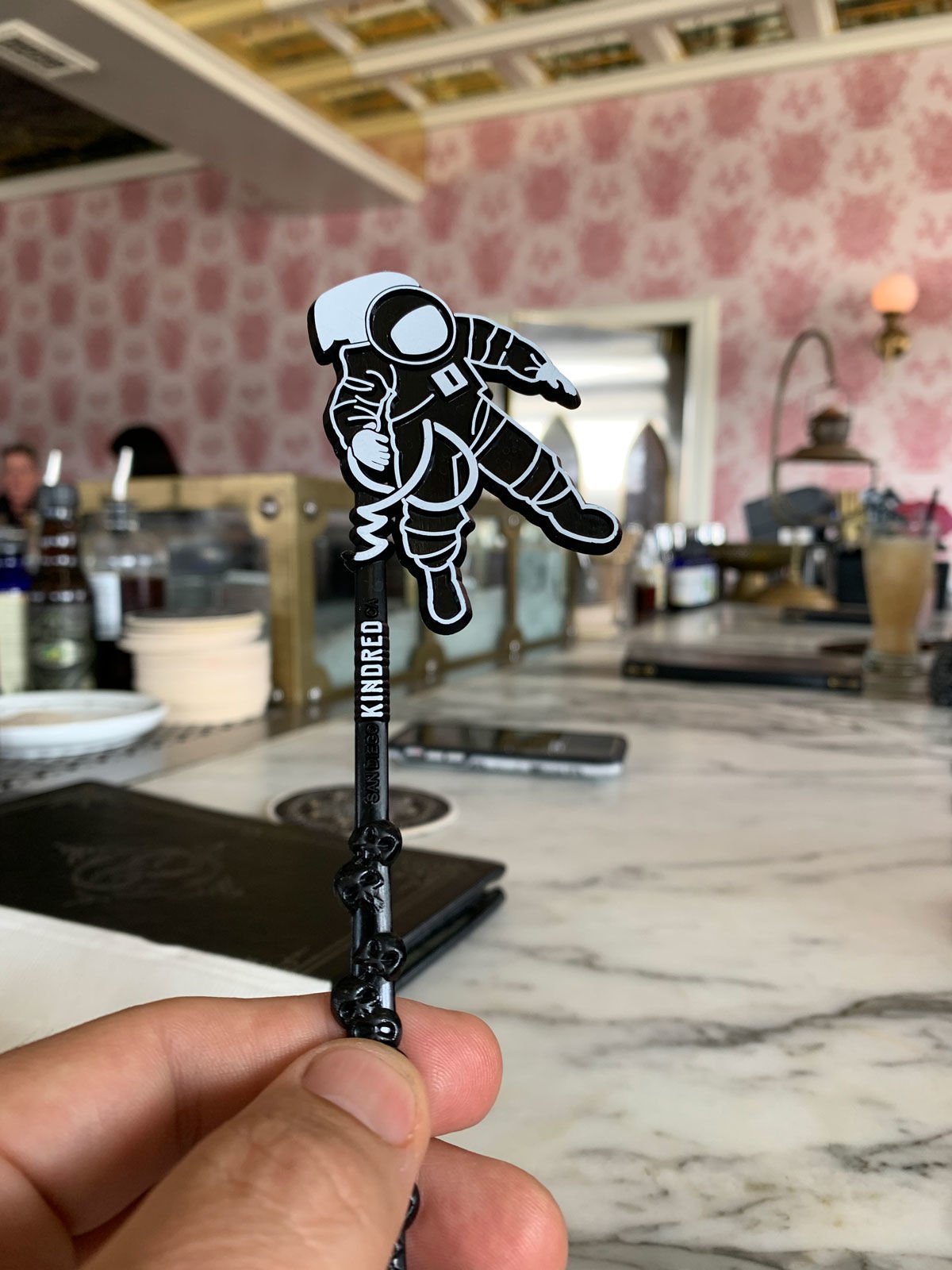 Kindred, 1503 30th St., South Park