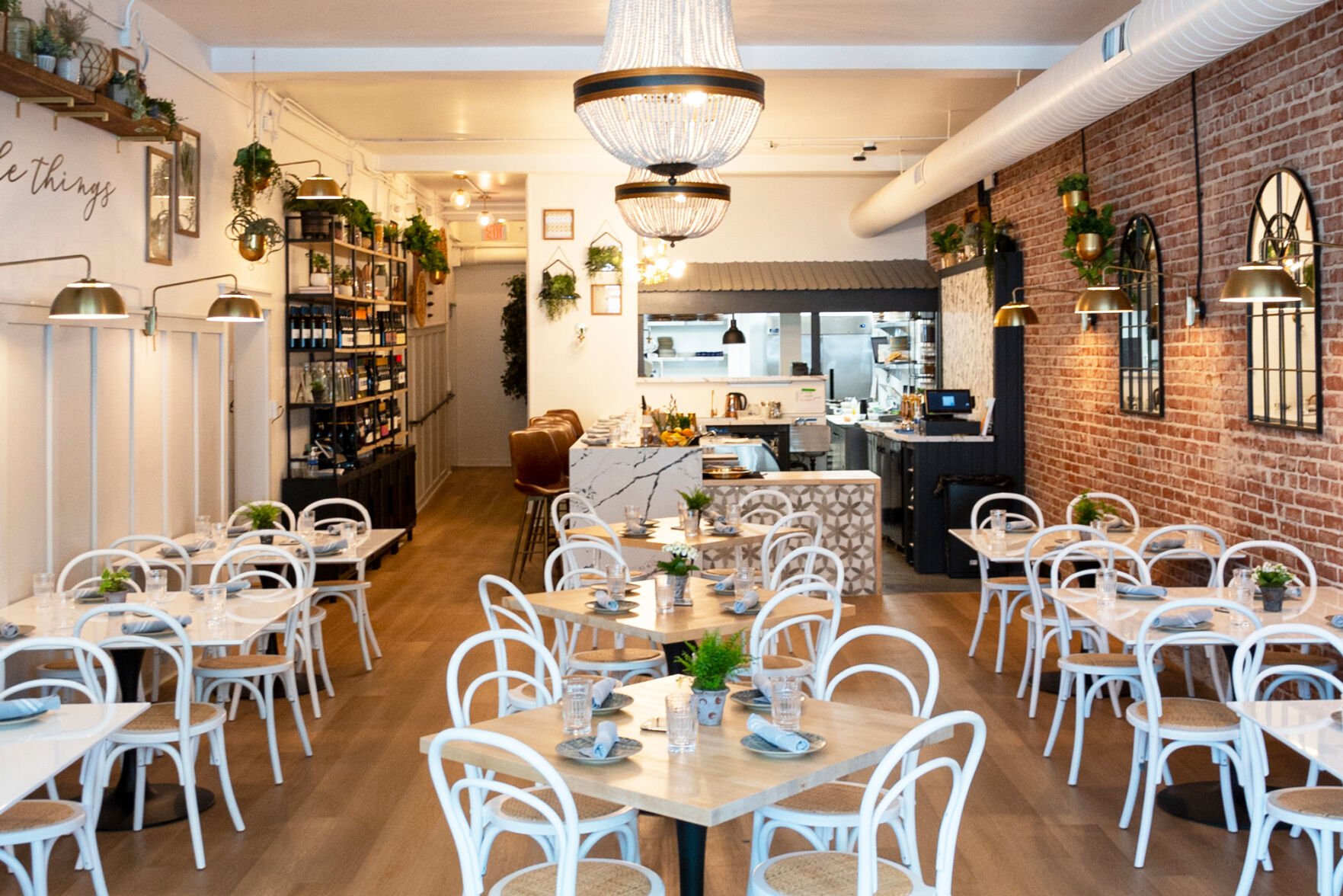 All Photos by Luke Johnson
There is no fire in Ronnie Schwandt's kitchen. The chef is executing his entire menu on two small induction burners, which look like very fancy camping stoves. To pull this off, he's had to use other means of maximizing flavor. He points to jars around the dining room—all vegetables in various stages of fermentation, including figs. He'll also give his sous vide machine all the work it can handle.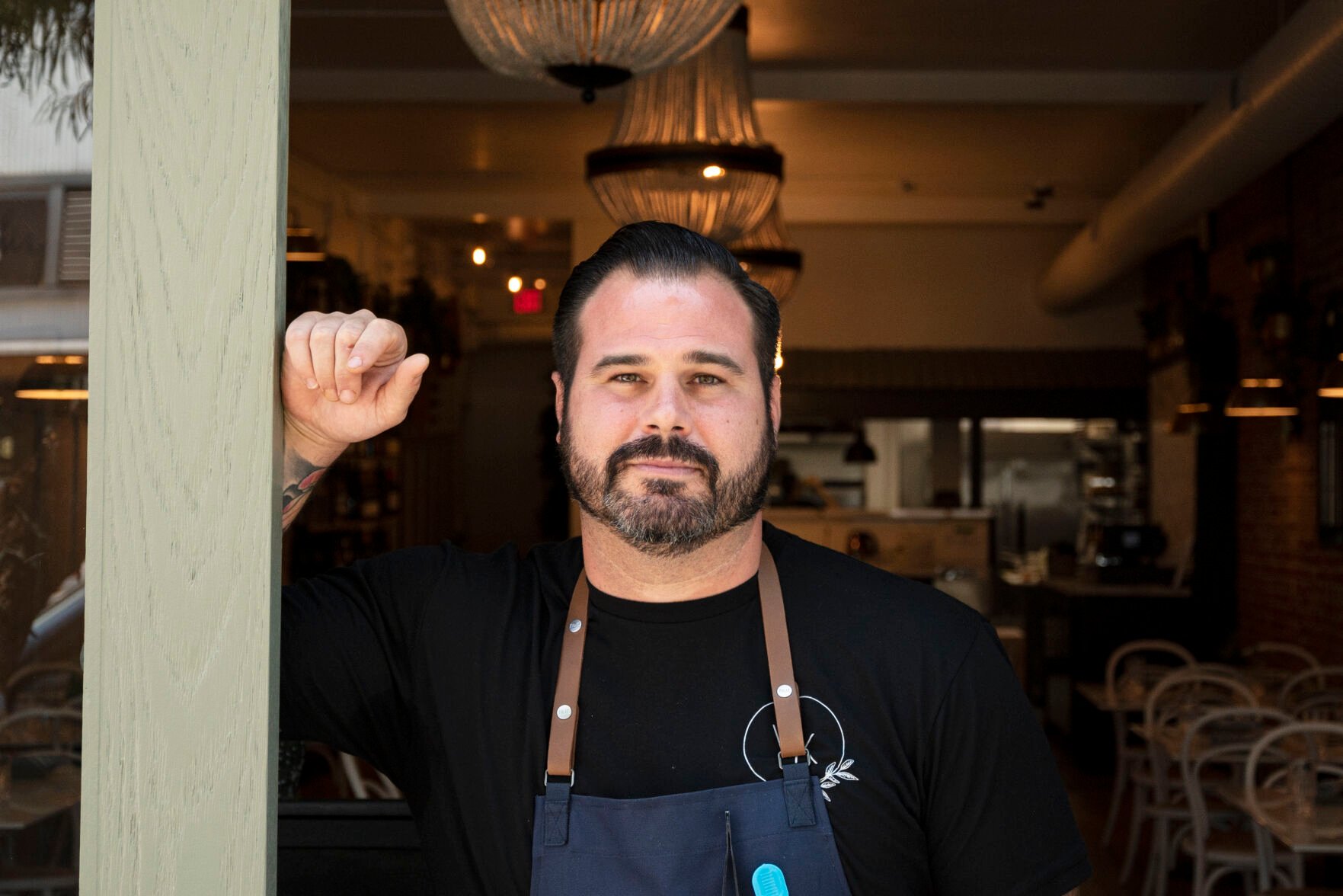 "I love it," he says. "Hopefully people will be wowed by the food and then realize we're doing everything on these two little burners."
Judging by the food on Verbena Kitchen's debut menu (it opens to the public July 14), it's a promising start. Try his sous-vide Morrocan-spiced lamb loin that's bold and beautiful from the use of ras el hanout (a North African spice blend with cinnamon, cumin, coriander, allspice, black pepper, ginger, salt), cooled by a side of local-farm cauliflower tabbouleh salad. Or the wagyu beef tartare with cured egg yolk, fermented mushrooms, dijon aioli, and capers. Fermentation just makes food better (see: coffee, beer, bread, wine). It adds a subtle, perfect funk to a classic dish. (Let's normalize the use of "funk" to compliment.)
The only question will be whether Schwandt and his small team can meet the demand. A chef of his experience opening a quaint shop in North Park is notable. He cooked under Michelin-starred Jason McLeod at Amaya, then with Matt Gordon at Blue Bridge Hospitality, and Brad Wise at Trust Restaurant Group. People will show up for this. He has smartly restricted his dinner menu to 12 dishes total (farmers' market salads, ceviches, oysters, hand-stretched mozzarella, and deviled eggs as sides), and 14 for brunch (both menus below).
Anyone familiar with San Diego's food scene may get a little swoon of déjà vu when they walk in. It feels like we've got a new Café Chloe in town. Chloe left behind a charming crater in this city. For 14 years, the East Village bistro brought a soft sophistication to a corner that was bracingly urban. Inside, a very good chef cranked out mighty food from a tiny kitchen in a room that felt disarmingly feminine. Like a flower in a bucket of nails.
"The word we used from the very beginning was 'feminine,'" Schwandt says of Verbena's design. The long room alternates between stark white and exposed brick, with a row of ornate chandeliers fancifying the middlespace.
Schwandt's a San Diego native. Everyone involved with the project—his wife, their partner Jillian Ziska (owner of event and design company To Be Designed), and GM Dallas Juanes—are natives.
"My daughter's school is down the street," says Schwandt, who lives in South Park. "Even before we knew we were going to do this, I'd pick her up and take her to the market. She knows all the vendors. The market is going to be a huge part of what we do. Everything will be seasonal. Yesterday morning, Rodney from Kawano Farms dropped off a box of strawberries and asked if I could do something with them. We made some jam."
With just a beer-and-wine license (the space was formerly Splash Wine Bar), Juanes also had to get creative with a roster of wine-based cocktails. Like The Wonky Donkey, a play on the mule with lemongrass-soaked soju, Thai chile simple syrup, grapefruit, and fermented ginger. Or Teatime, an Earl Gray–soaked soju with Foro di Torino vermouth, crème sherry, almond demi, lemon, and rosemary milk wash.
"The milk essentially creates curds and whey, extracting the color and the tannins from the tea," he explains. "We strain out the curds, leave the whey, and it creates this real round, velvety mouthfeel."
It tastes like lemon and rosemary, feels like velour—almost creamy, a real magic trick.
With Verbena Kitchen's arrival, as well as the incoming Hoxton Manor from original Dija Mara chef Ryan Costanza—some real good food is about to come out of some tiny kitchens in North Park.
Verbena Kitchen opens Wednesday, July 14. 3043 University Avenue, North Park.