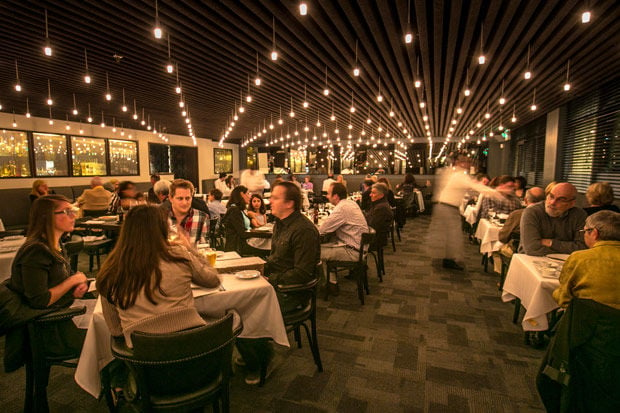 Market Del Mar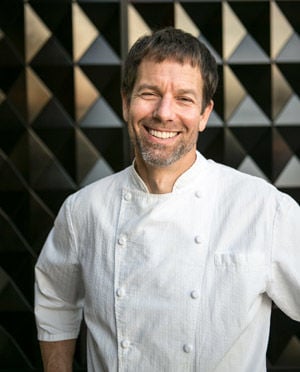 Chef Carl Schroeder 
Market Del Mar
3702 Via de la Valle, Del Mar
TROY'S PICKS
Duck liver pate
Artichoke + salumi salad
Spice-seared lamb
For years, Via de La Valle in Del Mar has been bookended by two chef-driven restaurants—Pamplemousse to the west with chef Geoffrey Strauss, and Market to the east with James Beard nominee Carl Schroeder. In between, you had the reliable Fish Market, classic Jewish deli Milton's, and bettors anonymous clubhouse Red Tracton's. All very respectable, but not on the same level.
Located in the polo-playing hinterlands, Market has the toughest location. Just look next door, where a restaurant seems to fail every year. Market has not only survived, but thrived since 2006 because of chef-owner Schroeder's talent and his elite staff that fears him. Being located on the billionaire trail into Rancho Santa Fe doesn't hurt, either.
Now two of the city's hottest restaurateurs—Matt Gordon and Tracy Borkum—have opened new spots nearby in Flower Hill Promenade. They haven't been nominated for James Beard Awards. But their presence does narrow the gap between the quality of Market and the quality of everything else in the area.
Maybe that's why chef-owner Schroeder decided to remodel. He didn't say so. I'm guessing. But competition makes you show up earlier to work, do some sit-ups, and renovate your restaurant. Market closed for two weeks in October to completely remodel under talented designer Paul Basile (who also handled Schroeder's other restaurant, Bankers Hill Bar + Restaurant), then reopened as its new self.
If Market needed anything, it was new guts. And maybe I expected too much, but the redesign feels mostly like a muting. Instead of bright orange, it's dark woods with black leather chairs and slate booths. If transformed, it's mostly in the color, quality, and heft of its materials. I had hoped for some art and design freak-outs—especially since the office-building exterior has been forced upon it. Along all the walls are a series of attractive, funky mirrors. Jutting at all angles like the side panels of a Mars rover, they offer different voyeuristic views of the dining room. The private dining area to the side has been opened up, a great move that enlarges the space.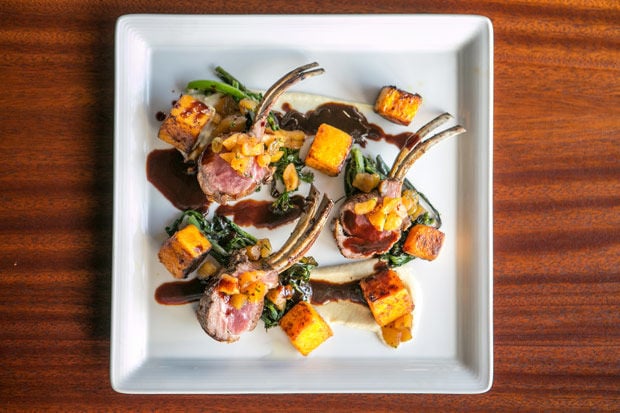 COMPLETE CONFIT: Roasted duck breast confit with cranberry marmalade
The main statement piece is the ceiling—which was lowered and studded with 200-plus pin lights. The idea is inspiring. Dining under a constellation! But the effect is blurry-eyed, wattage-induced vertigo. Our server says they're removing them all.
"It's well-rehearsed detail management. And details are what separates a $25-an-entrée restaurant from a screw-it-we're-at-Market restaurant."
The other big change is the lounge area. The sushi bar has been removed, replaced with a wood-burning brick oven for breads and meats. Unlike most regulars—whose reaction seems to be either chagrin or rage—I think it's a great move. Much as I appreciate the sushi arts, you come to Market to see what Schroeder and his trained staff can cook. A brick oven gives him another tool to create things like his carnitas tacos, executed perfectly with crispy-chewy tortilla rounds, pulled pork, cabbage, cilantro, and lime. Schroeder tops the street food with a super-refined avocado-lime cream sauce—which is like putting a cashmere sweater on an auto mechanic—and it works wonders. Street tacos for $15? Yep, but they are four of the bigger street tacos you'll see. Market isn't cheap, but it's also not stingy with portions.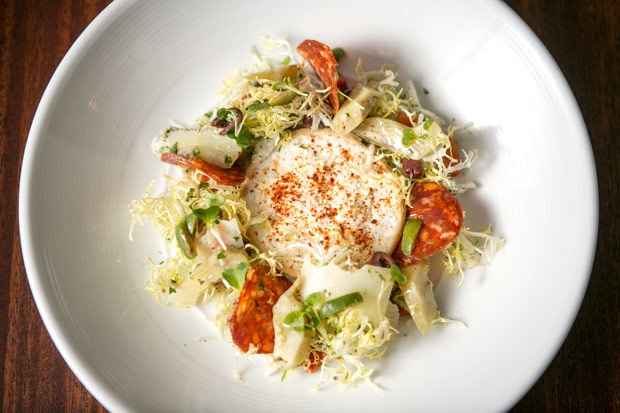 THE LIGHT SIDE: Braised artichoke and fennel salumi salad with warm goat cheese tart
Schroeder's Korean-glazed chicken skewers show what a well-trained cook and a brick oven can add to the carnivore experience—crisping the outside without drying the interior. It fell a little short of the umami flood I was expecting, but it's nearly there and balanced by the vinegar-sweet sticky rice. For salads, the braised artichoke with fennel salumi salad is a distant, more evolved relative of antipasti, served with a warm goat cheese tart that is one of the better things you'll ever put in your mouth.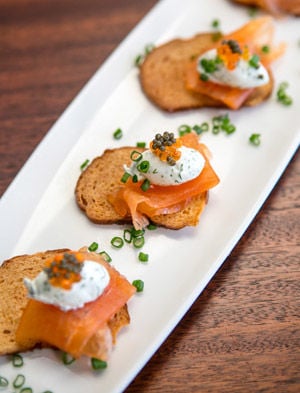 APPETITE BOOSTER: House-cured salmon amuse-bouche with dill crème fraîche and duet of caviar
Every meal at Market starts with an amuse-bouche (ours was a very good house-made potato chip with artichoke dip and Meyer lemon aioli). Between dishes, our server penetrates our table from three corners and two sides. He rearranges a knife so that it's perpendicular to the bread plate. He positions a wine glass so that it's ready for arrival of the next dish. He may have fixed a rogue cowlick on my coif, not sure. Two managers casually roam the floor and double-check for astray parts. It's not Orwellian soullessness. It's well-rehearsed detail management. And details are what separates a $25-an-entrée restaurant from a screw-it-we're-at-Market restaurant.
Schroeder's preparation of duck confit is hearty and warm, if a tad traditional. Big slices of roasted duck breast in a cranberry marmalade and caramelized duck jus sit next to two piles of leg confit. Atop the confit are large rounds of crispy skin, which rest there like dish closures. Our fennel-roasted grouper lacks a single flavor that really pops, but over two nights we did not have a single bad dish. Three, in particular, were excellent. First, duck liver pâté. The first problem with pâtés is that California outlawed foie gras. The second problem with pâtés is temperature. Most restaurants serve them too cold, which essentially ices their oh-jesus flavor. The third problem with pâtés is they incite pretentious people to utter the words "The problem with pâtés…"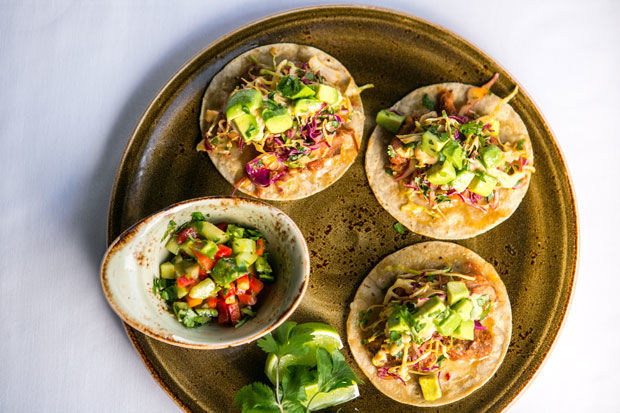 FROM STREET TO TABLE: Carnitas tacos with avocado-lime cream sauce
Schroeder's is one of the best I've ever had, cut with a not-too-acidic huckleberry citrus sauce (I would drink this on its own until diabetes befell me) and thick, buttery levain toast. Follow that up with spice-seared rack of lamb (over fennel purée, under golden raisin-apple chutney), and finish off with his chocolate butterscotch trio (chocolate molten-lava soufflé, butterscotch custard, vanilla-malt ice cream coated with pretzel bits). Your pleasure index will rise significantly.
The "new" Market is heavier, richer, more substantial. I'd call it a slight improvement, but moreover, a new mood. The food and service are as they've always been—world-class, now with brick oven.