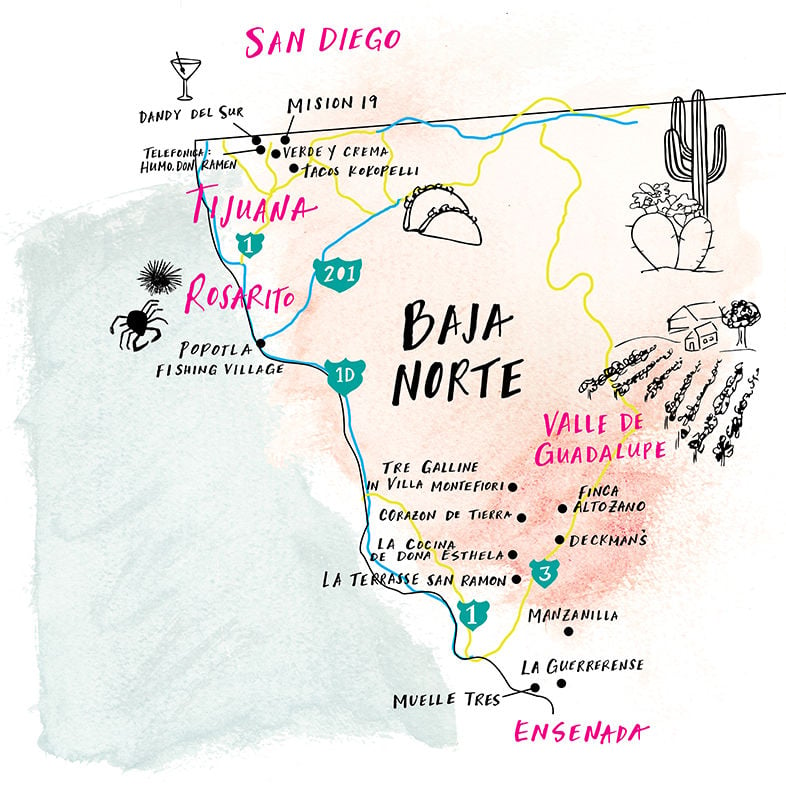 Illustration by Katie Hart | Photos by Jaime Fritsch
Illustration by Katie Hart | Photos by Jaime Fritsch
Tijuana
TELEFONICA
Like a permanent food truck party. Must-trys: bacon sausage topped with bacon candy at Humo; kimchi fried rice at Don Ramen.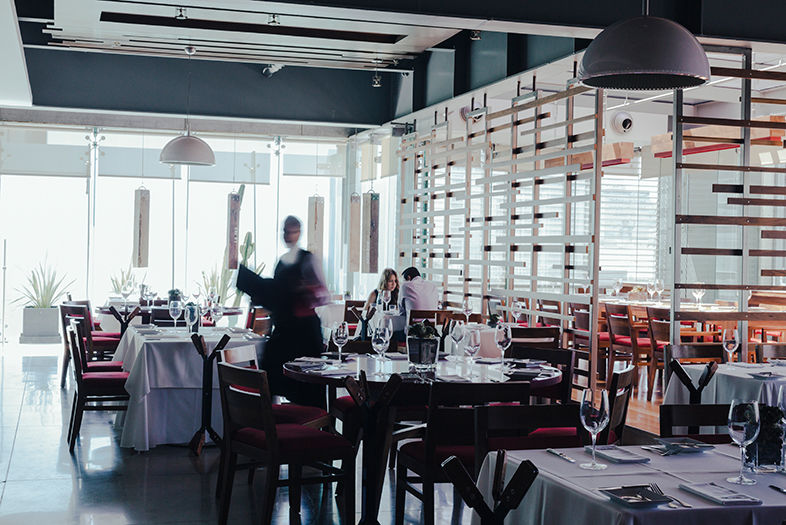 MISIÓN 19
DANDY DEL SUR
Every city has its soul-soothing dive bar, and this is Tijuana's. Order the jerky in spicy gravy.
TACOS KOKOPELLI
Taco culture meets the mind of a chef. Try the Kraken (grilled octopus in Mexican pesto) or the Mala Costra (chili stuffed with marlin, cheese, and grasshoppers).
VERDE Y CREMA
A culinary high point, from chefs Jair Téllez and Martin Vargas. Get Korean barbecue tacos with carne asada and kimchi.
MISIÓN 19
Chef Javier Plascencia is a star of Baja cuisine. Misión 19 is his modern showroom atop a LEED-certified high-rise.
Rosarito
POPOTLA
Let other gringos stop at Puerto Nuevo. This is the fishing village you want, with giant spider crabs in garlic sauce, sea urchins, oysters, you name it.
Ensenada
LA GUERRERENSE
Doña Banderas has been serving tostadas with fresh local seafood (octopus, Pismo clam, sea urchin) since 1960. Try the peanut-almond salsa.
MUELLE 3
Chef Benito Molina is a legend in Ensenada. At this waterfront hang, the house ceviche (shrimp, fish, octopus, clams) will blow your mind.
MANZANILLA
This is Molina's flagship, often cited as the birthplace of modern Baja cuisine (where he cooks with his wife, Solange Muris).
Valle de Guadalupe
LA TERRASSE SAN ROMAN
The eco-friendly Alximia winery looks like a spaceship, and pioneering chef Martin San Roman serves "Baja Provençal" on their terrace.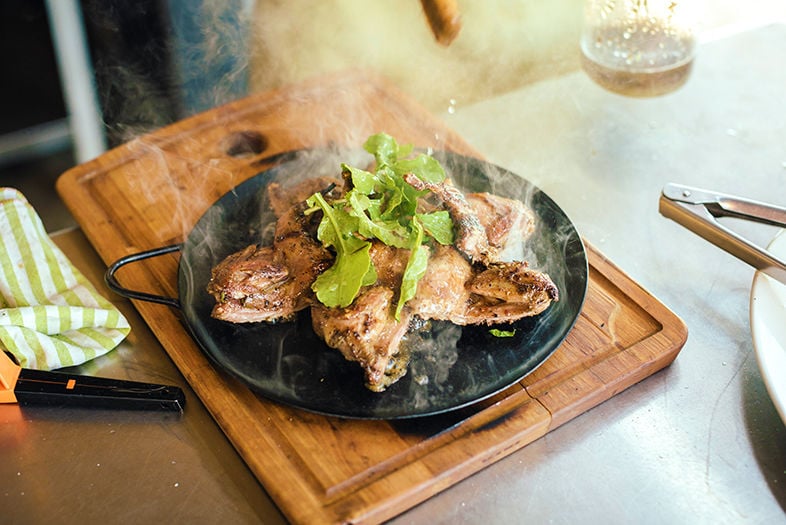 Finca Altozano
LA COCINA DE DOÑA ESTHELA
Esthela is a local legend who turned her home into a restaurant, serving Sinaloa-style breakfasts like machaca and eggs. Buy her bottled salsa.
TRE GALLINE AT VILLA MONTEFIORI
Baja fuses with high-end Italian fare. The Dal Bon family of chefs are heroes in Todos Santos, and their new Valle spot features spit-roasted meats and house-made pastas.
DECKMAN'S EN EL MOGOR
Michelin-starred chef Drew Deckman cooks under pine trees and the Baja stars. Everything here is wood-smoked and delicious.
CORAZÓN DE TIERRA
In a gorgeous wood-and-glass building, chef Diego Hernández has become world-renowned for turning out stunning prix fixe masterpieces.
FINCA ALTOZANO
Javier Plascencia, again. This is his outdoor wine country kitchen, with oysters and lamb roasting on the grill station and wine aplenty. Sit under his giant oak tree for days.
---
More in Mexican Food: