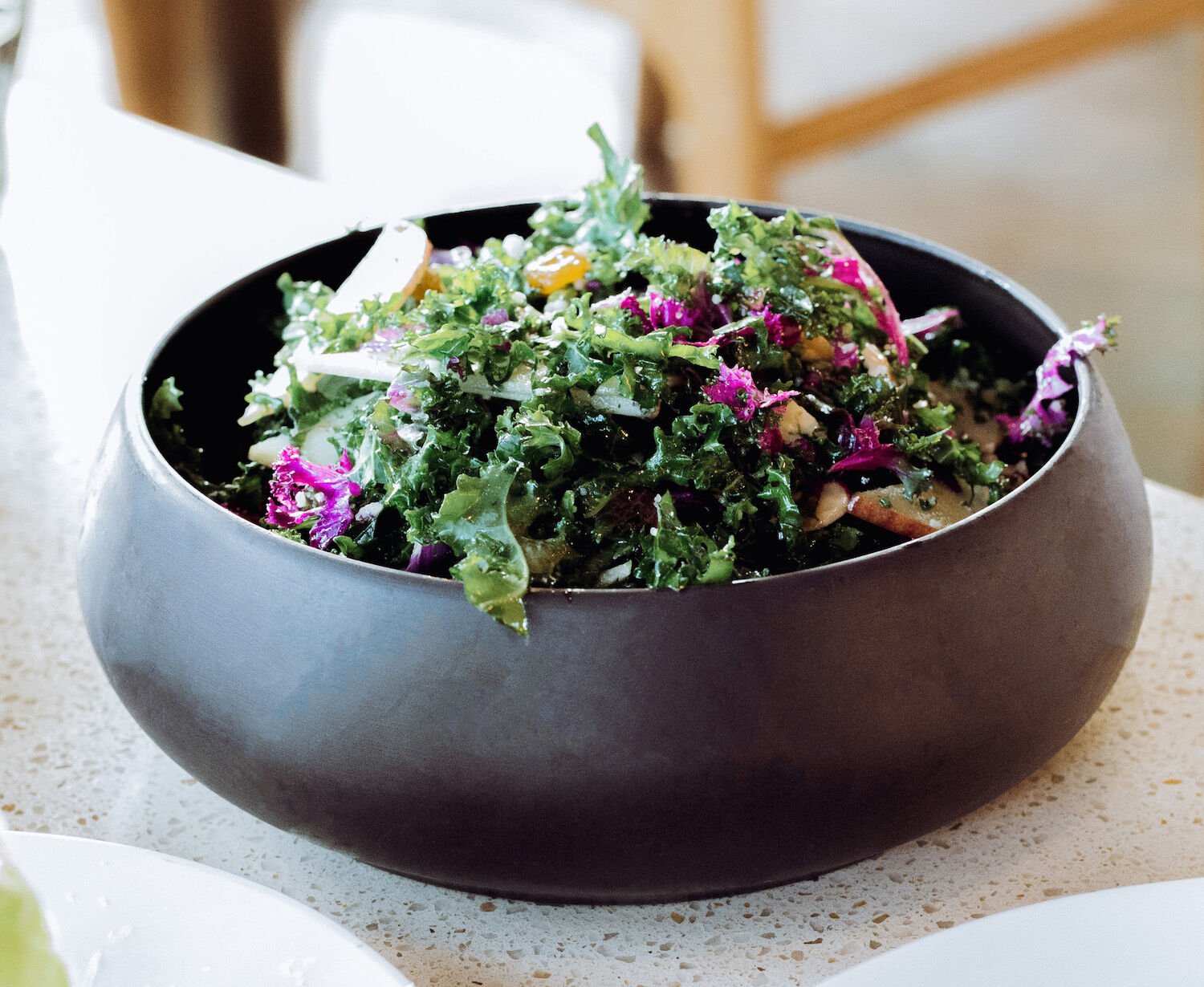 Courtesy of Kettner Exchange
Executive chef Brian Redzikowski of Kettner Exchange (KEX) in Little Italy is the master of a fast and yummy crowd pleaser. The KEX kale salad is just that.
"Back when I was at the Thompson Hotel, we needed a simple salad that was a crowd pleaser. My brother was killing it with a kale salad in Boulder," says chef Brian. "We decided to give it a shot. We had some different ingredients around the kitchen that we put together… All the components came together, and we've been using it at the restaurants ever since."
Prior to KEX, chef Brian's path to San Diego began with attending the Culinary Institute of America and roles in some of the nation's top kitchens such as Nobu Aspen, Le Cirque in NYC and Joël Robuchon, the only three-Michelin-star rated restaurant in Las Vegas.
On top of a stacked resume, chef Brian was also on Iron Chef Showdown. All that to say, you should probably give his salad recipe a shot.
The dynamic combination of fuji apples, almonds, golden raisins, Parmigiano-Reggiano, and a lemon pepper vinaigrette atop a bed of earthy kale makes for just the right combination of salty and sweet. With an only half hour prep time, it's a quick and easy recipe that you can whip up anytime.
To make chef Brian Redzikowski's KEX kale salad, follow the instructions below:
KEX Kale Salad 
Servings: 3 ea
Cooking / Prepping Time: 30 min
Salad Ingredients:
1ea bunch green kale stems removed, thinly sliced
1ea bunch purple kale stems removed, thinly sliced
1ea Fiji Apple
1/4 cup toasted almonds
1/4 cup golden raisins
1/4 cup parmesan cheese, freshly grated
Dressing Ingredients:
10-12 ea lemons, segmented squeezed and seeds removed. (You will need 2 cups of lemon)
1 oz salt
1T whole black peppercorns
5 oz sugar
50 oz grape seed oil
5 oz olive oil
Instructions:
1). Blend all dressing ingredients together using a Vita Prep or high power blender, puree until smooth.
2). Assemble, season kale with salt.
3). Slice the apple thin.
4). Add parmesan, sprinkle almonds and raisins. Toss all together
5). Add dressing to your liking.
6). Plate and enjoy!