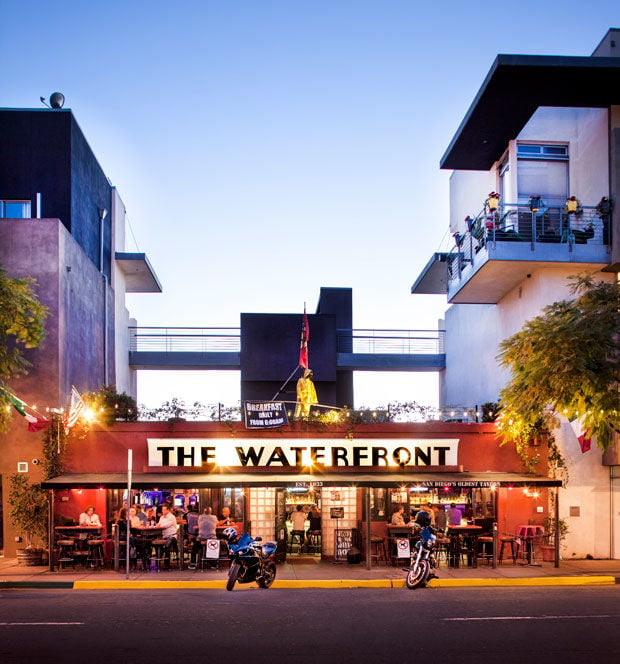 The Waterfront Bar & Grill | photo by Paul Body
Turning 80
Opened by Chaffee Grant and Clair Blakley shortly after the repeal of Prohibition, the bar changed ownership several times over the past 80 years, until Nancy Nichols became the sole owner in the 1980s. Nichols still co-owns the bar with grandsons Chad Cline and
Jason Nichols
Beer and More Beer
Customers drive the Waterfront's beer selection—to the tune of roughly 4,000 pints served per week.
One for the Books
Established on December 5, 1933, "San Diego's Oldest Tavern" holds the oldest full liquor license in the city.
Menu Favorites
The Waterfront is famous for its juicy burgers, but the popcorn is also a hit, with about a case a day popped.
Naming the Bar
The establishment got its name because at the time it was the closest bar/restaurant to the water.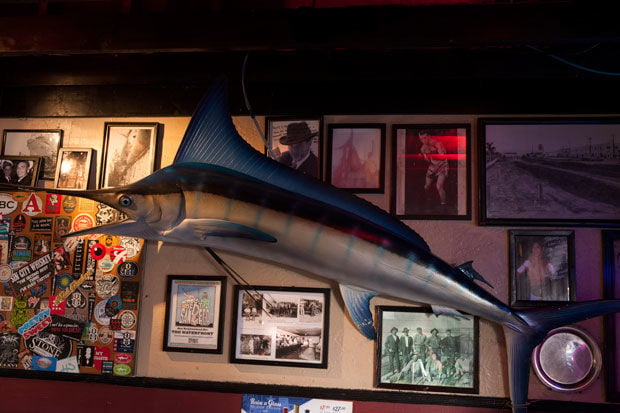 Wall of photos at the Waterfront | photo by Paul Body
Design by Customer
When Nichols took over the bar, the walls were bare. One fisherman friend brought his photo in and asked her to hang it—then another, and another. And so the collection started. There's also a photo of Nichols and her parents sipping a drink from back in the day: Scotch and milk
Got Ghosts?
There may be a few, at least according to the bar's night cleaning crew.
Breakfast and a Beer
Night owls and early birds alike can get their fill of both food and drink, thanks to opening hours from 6 a.m. to 2 a.m.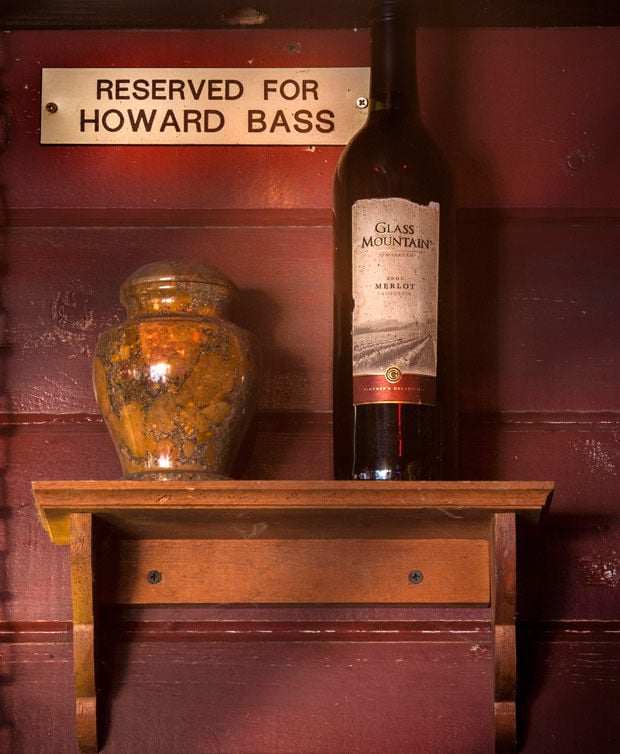 Howard Bass Memoriam | photo by Paul Body
In Memoriam
Regular customer Howard Bass so revered the bar where he drank his daily Merlot that he asked to have his ashes placed there when he died. His wish was granted: Look on the north side wall, behind the bar, next to a bottle of wine.
Who's Who
From judges and lawyers to fishermen and oil workers, an eclectic crowd has always frequented the Waterfront. Few fights occur today, but back in the '40s, one Navy sailor lost his—ahem— family jewels in a fight over a fisherman's wife.
Famous Faces
Among the celebrity clients that have bellied up to the bar is actor Bill Murray