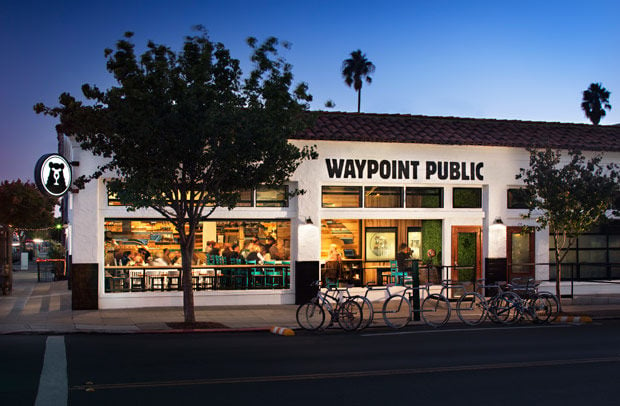 Waypoint Public
3794 30th Street,
North Park
TROY'S PICKS
Po' boy tacos
Blood sausage
Pappardelle
Knowing that wine goes with food is like knowing guitars go with rock 'n' roll. Pairing beer with dinner, on the other hand, takes a newish kind of faith. It's not like Escoffier made his name serving his peach melba with Belgian ale. Until the current craft beer boom, there simply wasn't enough variety to make the experiment very exciting. ("And for course three through six, we'll just leave this pony keg of Heineken at your table.")
Even during craft beer's first couple of decades, pairing it with food was a pretty awful idea. To differentiate from watered-down mainstream lagers, upstarts like Sam Adams and Sierra Nevada made heavy, palate-wrecking beers. Instead of gracefully accentuating the briny oceanic flavor of a scallop, they gracefully beat the crap out of it.
But things have changed. Lighter, subtler, "session" craft beer is in. It's a friend of food. And there's no better place to integrate beer into the meal plan than San Diego, which is to craft beer what Napa is to angry Cabernets.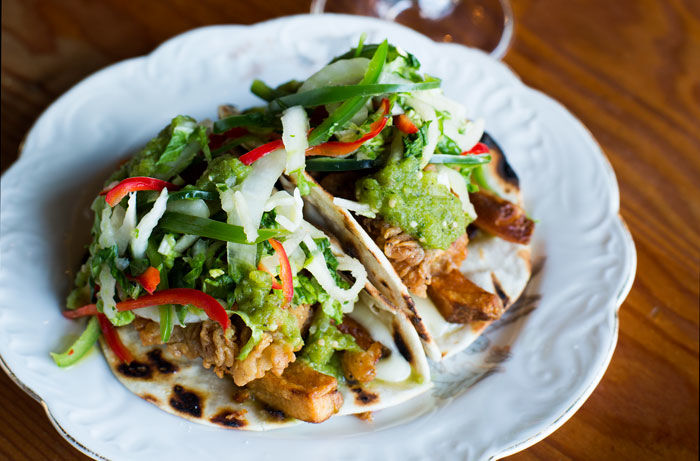 Po'boy tacos
Chefs have tinkered with beer-pairing dinners for the last few years. Some longer than that. But the time is ripe for a full-on craft beer bistro—one with a real-deal chef and an exhaustive beer list that pretends it's a 300-bottle wine list from the '90s. After all, we know what to expect of wine and food. Beer and food is a largely uncharted, exciting new direction. It may not be the future, but it is a future.
And Waypoint Public is it.
Owner Brian Jensen first had success with Bottlecraft, a craft beer specialty shop. News broke last year that The Linkery was calling it a day. Loved, loathed, and highly discussed, The Linkery was the leading voice of San Diego's farm-to-table movement. Its iconic location—a cavernous garage-style building on a prominent corner of 30th Street—is like the Sears Tower of San Diego's most progressive part of town. Jensen took it over. Jensen is not a Starbucks franchisee, so he was already off to a good start.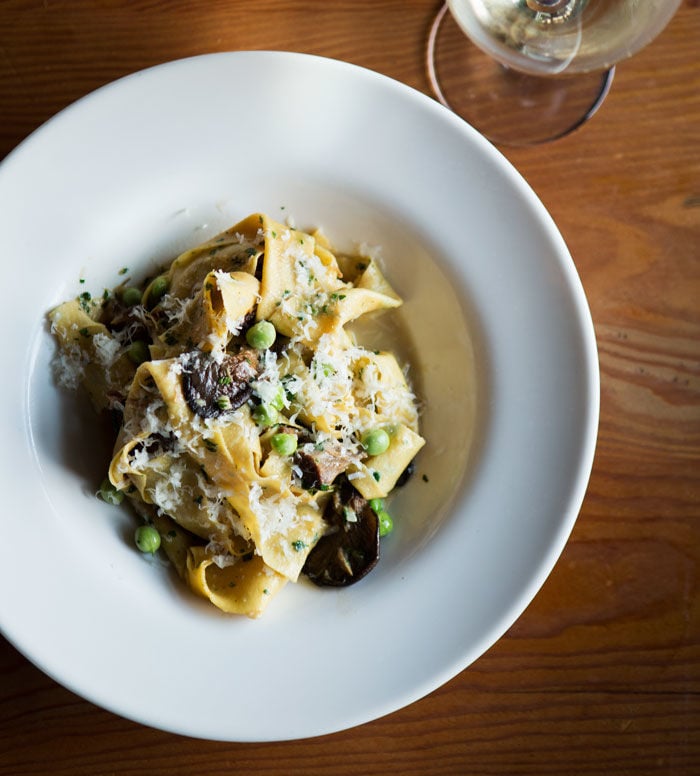 Pappardelle
All guesses were that he'd open yet another craft beer bar with "small plates" (read: half-assed nibbles to fulfill the "food" requirement of a liquor license). But then Jensen partnered with chef Amanda Baumgarten, a talent who'd worked as a sous in four Michelin-starred restaurants (including Melisse and Patina in L.A.) before coming to San Diego for a year at Herringbone. Their plan was a very intentional marriage of craft beer and top-notch bistro fare.
"Lighter, subtler, 'session' craft beer is in. It's a friend of food. And there's no better place to integrate beer into the meal plan than San Diego."
They smartly blew out the building's last street-facing wall, making Waypoint completely roll-up garage doors on both sides. It's just all light and air—like a yeasty greenhouse that grows stylish 30-somethings—and it's terribly welcoming. One wall is fake shrubbery. There's a chandelier made of antlers. And the entire southern wall is like an art gallery dedicated to this decade's fascination with reclaimed wood. There's door-wood, construction zone wood, fence wood, dresser drawer wood, wood wood. Above the bar are three TVs: One for the requisite ESPN, and two for the ever-changing, massive beer list, with 28 on tap and about 50 by the bottle. It's like a NASDAQ ticker for beerheads.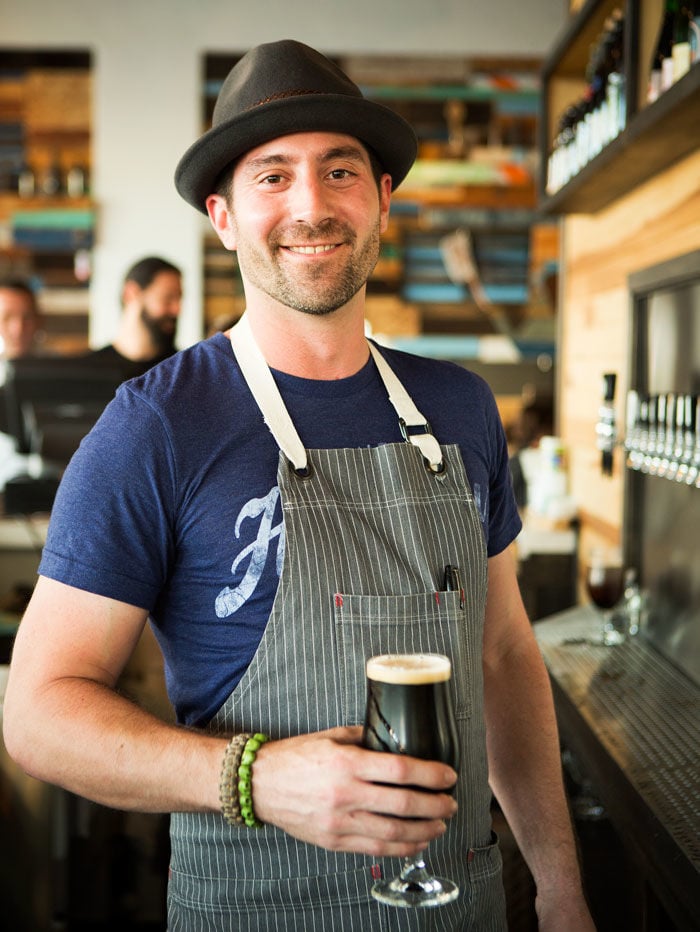 Bartender Ben Marquart
Baumgarten's menu is—well, what can we say about styles in the modern, globalized kitchen? Let's try California-beer-French. Not many beer bars do blood sausage, and hers is made with pork blood, Belgian quad (a fancy beer), brandy, bacon, cream, and all sorts of spices. Served over toasted levain with apple butter, roasted apple, and creamed cabbage, it's excellently sweet, with the spreadable texture that makes boudin noir so appealing (and polarizing). I try Jensen's suggested pairing of a wee heavy Scottish Ale, and it's a nice call—big blow for big blow. If that sounds too Michelin-starry, the excellent fried oyster tacos—with aioli, French fries, spicy slaw, and smoked tomatillo salsa—prove Baumgarten's also adept at Louisiana pier-fishin' food (suggested pairing: Belgian Ale, rauchbier).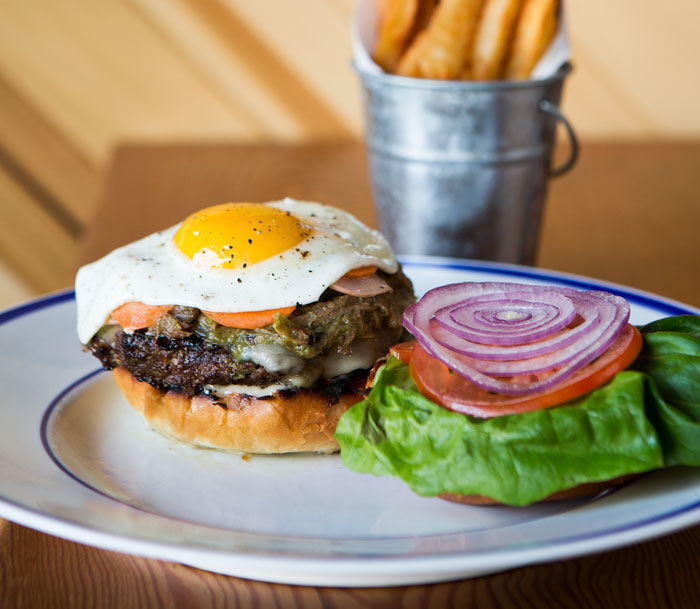 Waypoint Burger
For another app, the menu offers a warm "charred" octopus. But the crust of the single tentacle—cooked sous vide for nine hours—is the blackest I've ever seen. It's a tad too close to a house fire for my tastes, even if the interior meat is perfectly tender (suggested pairing: Berliner Weisse, Gose). And with only walnut oil, lemon juice, feta, and walnuts, her kale salad feels more like a kale pile (pairing: saison, lager). Baumgarten smartly realizes that any respectable burger program should cater to the two camps—minimalists and topping-stuffers. The Waypoint has a protein load with beef patty (short rib/chuck/brisket), fried egg, mozzarella, and pulled pork (slow-braised in OJ, caramelized apples, and jalapeños). It could be overwhelming, but pickled carrots, radishes, and more jalapeños give it ample acid. For less fuss, they serve it "Public style," which involves beef, a bun, lettuce, tomato, onion, and mozzarella. The best things on the plate, though, are the thick-cut fries—cooked three times (boiled, blanched, fried). The menu tells me to wash it down with an IPA. I do what menu says.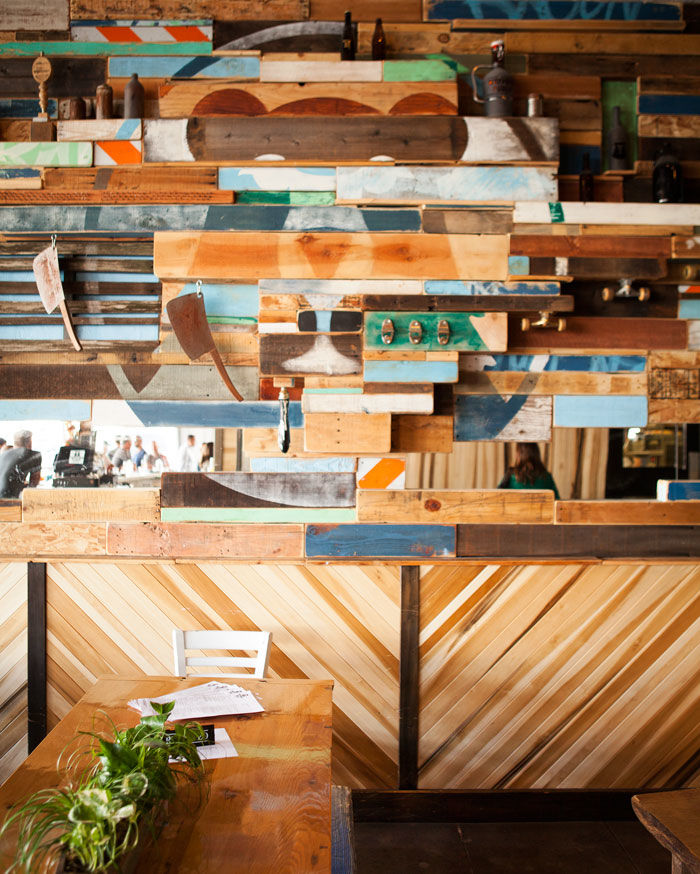 Waypoint Public
Ordering a dinner entrée at a pub isn't chief among the natural impulses in life simply because, in the past, people who cared so much for beer didn't have time to care for dinner. That'll be a main challenge for Waypoint: overcoming the pub crowd's instinct for finger food. But I'll say this: The kitchen served me two of the better dinner entrées I've had. First, the most perfectly cooked piece of sturgeon—brilliant sear, medium-rare inside next to duck fat forked potatoes (suggested pairing: IPA, American Wild Ale). Second, the housemade pappardelle, with a made-to-order sauce of veal jus, oyster mushrooms, butter, and Parm. It's simplicity executed perfectly, with separated, al dente pasta ribbons and a shockingly flavorful à la minute sauce (pairing: American Brown, Belgian Dubbel).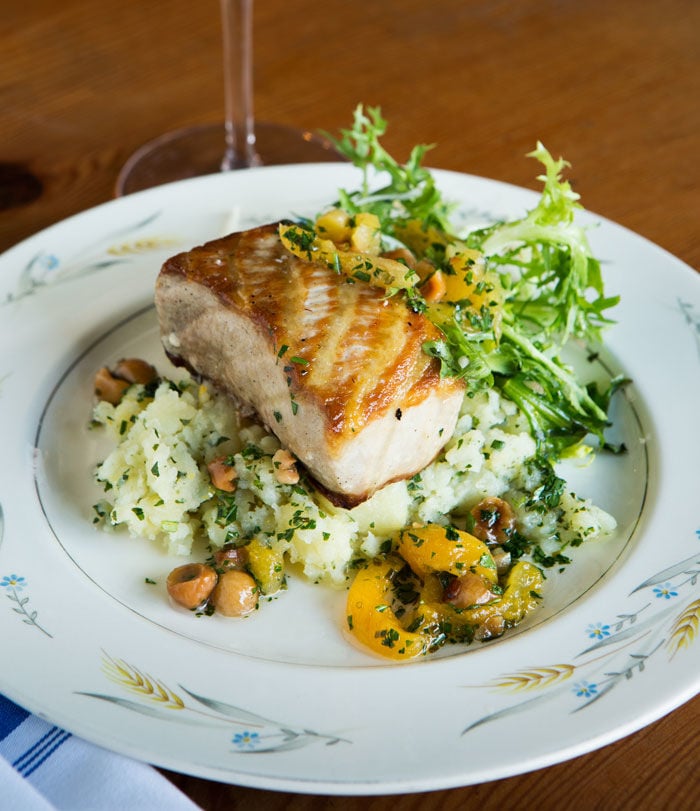 Pan-seared roasted sturgeon
The Aspen Ridge flatiron steak isn't as successful. A friend's order of medium-rare is served rare, and the compound butter—made with blue cheese, bacon, and sundried tomato—comes in an enormous, un-melted terrine that almost covers the entire steak. The reality is that every steak house is a butter bath. But seeing the cold, hard truth—before you dig in—is a little jarring. So maybe I'm a little too butter-dainty. For a steak pairing, Jensen recommends the Quadruple or Belgian Strong Ale.
With a full play section for kids, Waypoint has also joined the reproductive hipster movement. Nice to have a place to take our kids that doesn't have a mascot or servers with seven-minute birthday songs. This is definitely better than your usual beer pub. And it's a major testing ground for beer's arrival on the dinner scene.