The Old Globe Theatre celebrated a big win on Sunday night as A Gentleman's Guide to Love and Murder won the Tony Award for Best Musical, a first in the theatre's history.
Managing Director Michael G. Murphy enjoyed his second trip to the Tony Awards in New York. He and Artistic Director Barry Edelstein joined cast and crew members on stage at Radio City Music Hall to accept the final award of the night.
A Gentleman's Guide to Love and Murder won three other Tony Awards after receiving 10 nominations, the most of any production this season. Best Direction of a Musical went to Darko Tresnjak, a former co-artistic director at The Old Globe. The show also picked up accolades for Best Book and Best Costume Design. (Read our original review of show here.)
Lead actor Jefferson Mays received a nomination for Best Performance by a Leading Actor for his portrayal of eight different characters, all ill-fated heirs to an English dukedom. Murphy describes Mays in three words: "amazingly talented genius."
Murphy remembered when the play was first being considered for production at The Old Globe. "I don't normally laugh out loud at a script even if it's funny," he says. But he was laughing when reading A Gentleman's Guide.
The award-winning Old Globe Theatre is no stranger to big-name awards. The theatre has been a part of numerous Tony Award winners, the last of which went to Norbert Leo Butz for Best Performance by a Leading Actor in Dirty Rotten Scoundrels in 2005.
The Old Globe Theatre has also been celebrating success in the local performing arts community for decades. The theatre was the recipient of a regional Tony award in 1984, one of the first theatres to accept the honor. The newly awarded Best Musical honor helps to remind everyone how important San Diego is for the national theatre scene, Murphy explains. "San Diego is a good place to develop work and has intelligent audiences who know theatre."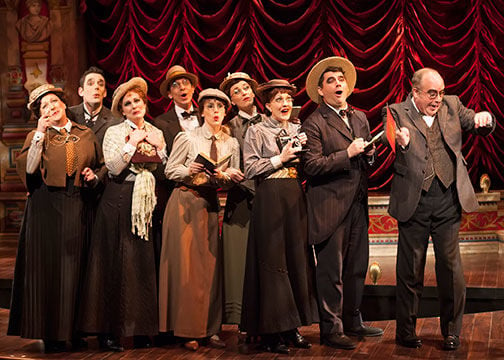 Henry DiRocco