From 1995 to 2002, Mike Dee toiled in the Padres' front office to build Petco Park. He left before that happened. But now, after stints with the Boston Red Sox and the Miami Dolphins, Dee has come full circle as the new president of the Padres.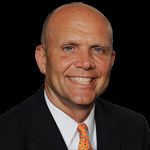 You left San Diego before Petco Park opened. How does it feel to come back and work here?
It's a great feeling walking in here every day. Not a day goes by when I don't stop and think about what went into making this place happen. I hope that never wears off.
Compare Petco Park to other pro venues—baseball and football.
Very high. Top five percent. I hear that from people all over the country.
You were in San Diego when Larry Lucchino was president of the Padres. Do you plan to replicate anything from that front office?
It's a different time, but circum-stances are similar. There has been a breach in faith with the longtime fans in the direction of the franchise. So we'll try to duplicate the energy level, and transparency and honesty and communication with the fans. We want to engage our fans. We need to be ingrained into the fabric of the community.
How do you plan to reach out and recapture the hearts of Padres fans?
It's going to be both a digital effort, with social media, and an analog effort. Analog: You just have to be on the streets. People don't care what you know until they know you care.
Is it only possible to fill seats at Petco Park if the team is winning?
I am very encouraged by the fact that despite a payroll cut and a lack of enthusiasm around the team by previous ownership, we still drew over two million fans last year. Winning changes everything. But I think the foundation is sound.
What component of the team needs to be bolstered for the Padres to be a contender?
Every team is looking for pitching depth, which we have. And everybody in baseball is looking for offense.
Is Bud Black's job on the line this year?
No. Buddy is a terrific leader and a very good manager.
What will Trevor Hoffman's role in the front office develop into?
Trevor has a real job (laughs). He's our minor league pitching coordinator for Double-A and Triple-A. It's a new position.
Are you planning to bring back the brown-and-yellow uniforms?
We'll wear them one weekend, to celebrate the National League Championship team of 1984—when we play the Cubs on May 22–25. Longer-term than that? We'll see.