This week's very special guest is Brendan Watters, the new CEO of Ballast Point and co-founder of Kings and Convicts Brewing Co. Kings and Convicts is the small brewery from the Chicago area that just purchased Ballast Point last month from Constellation Brands. Ballast Point shook the craft beer world when they sold to Constellation Brands for $1 billion over four years ago.
We got to know Brendan during this interview and learn more about his background—he started Kings and Convicts in 2015 after having a longtime career in the hotel industry. He was CEO of a hotel firm that he sold to Red Lion for $8 million, and he has an MBA from the London Business School. Brendan jokes that he is the "convict" in "Kings and Convicts" because of his Australian roots, and says his business partner, Christopher Bradley, is the "king" because of his British heritage. Brendan has been visiting San Diego regularly for the past 20 years, and says he is working on fully relocating to San Diego. During the rest of the interview, Brendan gives us the details as to how he acquired the famous San Diego craft beer brand.
For Two People, $50, Brendan chose Pizza Port. David chose Thai Joint on Adams because their warm larb salad is superb. Troy chose TJ Birrieria—one of the stops on his journey to find the best birria in San Diego.
In Hot Plates, Chef Angelo Sosa gave Troy, and us, the exclusive news that he recently left Death by Tequila to pursue a new project in San Diego. Sam the Cooking Guy is opening a two-story restaurant in Seaport Village called Graze by Sam the Cooking Guy. San Telmo Argentine Cafe (which made our Best Restaurants list in 2018) closed its location on Seventh and Broadway, but their catering business will remain open.
This week's Hot Topic is about how an Australian news site is saying that charcuterie boards are over, and declared that French fry boards will be the entertaining trend of 2020. Charcuterie boards have been all over Instagram and in food magazines this past holiday season, including in the November Food Lovers' Guide of San Diego Magazine. So, what does our Australian guest have to say about this?
We want to hear from our listeners! Do you have a question for Troy about what it's like to be a restaurant critic? Need a restaurant recommendation? Is there a guest you want us to book on the show? Let us know! You can call us at 619-744-0535 and leave a voicemail, or if you're too shy, you can email us at [email protected].
Subscribe to the Happy Half Hour on Spotify, iTunes, or Google Play. We're also on iHeartRadio now! Or you can listen below. Come back next for Part 2 of our end-of-year wrap up.
Recent Episodes
For all previous episodes, click here.
Would you like to sponsor a podcast episode at your restaurant or bar? Email David, our producer and digital media director.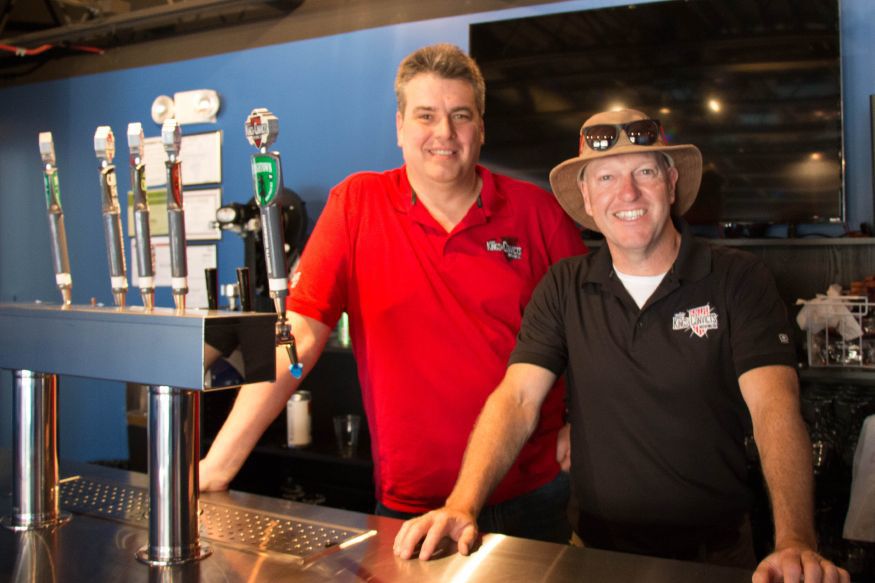 Kings & Convicts Brewing founders Chris Bradley (left) and Brendan Watters (right) are the new owners of Ballast Point | Photo courtesy of Bay Bird Public Relations