We've got another exciting Happy Half Hour episode for you! This week, we're recording from our sponsor, 10 Barrel Brewing. We got to speak with brewer Ben Shirley who recommended the creamy and crisp Frosty Mug or the most popular IPA, Cali Love.
Our special guest this week is Jojo Ruiz, the head chef at the new Serea seafood restaurant at the Hotel Del Coronado. Serea is the iconic resort's new oceanfront eatery that replaced 1500 Ocean, and Chef Jojo, who opened Lionfish and also worked at Ironside, has created a "sea-to-table" menu of sustainable seafood sourced from local fishermen. Jojo explained how San Diego is at the forefront of the sea-to-table movement, and he thinks that the mackerel fish and the Soupfin shark are underrated in the culinary world. His pick for Two People, $50 is Cantina Mayahuel, and the staff suggested Phuong Trang and Shank & Bone for pho, Il Dandy, and brunch at Fort Oak.
In Hot Plates, the owner of the popular Breakfast Republic chain opened a new brunch spot in North Park, North Park Breakfast Company, to help alleviate the crowds at Breakfast Republic. The Guild Hotel downtown just opened with a new restaurant, Luca, with Chef Justin Vaiciunas from Food Network's "Cutthroat Kitchen" leading the kitchen. Lastly, there's a new happy hour in town! Wayfarer Bread in Bird Rock just launched a summertime happy hour on Fridays, Saturdays, and Sundays from 3 p.m. to 7 p.m., and will include a changing menu with various crudités, dips, and a local brewery or winery.
This week's Hot Topic is about a polarizing beverage: LaCroix sparkling water. CNN said the brand's popularity with Millennials is fizzing out, and sales of the lightly flavored, fizzy beverage are "in freefall." As Americans drink more seltzer than ever before (sales of the beverage have doubled in the past five years), there's lots of competition now, especially for the boozy kind. Nevertheless, Jojo still prefers a LaCroix over a beer after a long day at work.
It's not too late to join us for our live taping of Happy Half Hour at Eppig Brewing's Waterfront Biergarten next week, July 8, at 3 p.m. We will be sampling the first of three collaboration beers we are doing with Eppig, Fall, and Coronado brewing in celebration of our Best of San Diego issue. There is no charge to come down, but there will be discounts for everyone in our Insider's Program. We hope to see you there!
As always, we want to hear from our listeners! Call us at 619-744-0535 and leave a message. Or if you're too shy to call, you can email [email protected]. You can give us your recommendations for Two People, $50, tell us about any news happening in San Diego's culinary world, or let us know who you'd like to hear featured as a guest on the podcast.
Subscribe to the Happy Half Hour on Spotify, iTunes or Google Play, or listen below. Check back later this week for our next regular episode!
Recent Episodes
For all previous episodes, click here.
Would you like to sponsor a podcast episode at your restaurant or bar? Email David, our producer and digital media director.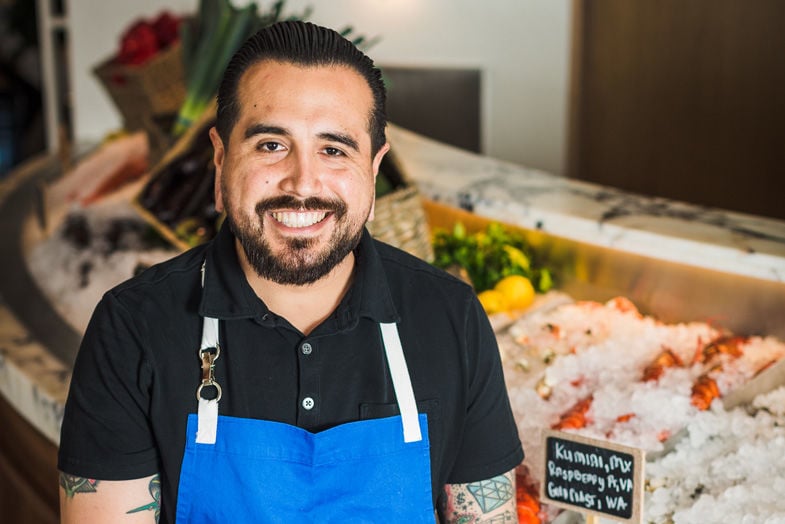 Chef Jojo Ruiz | Photo: Justin McChensey-Wachs