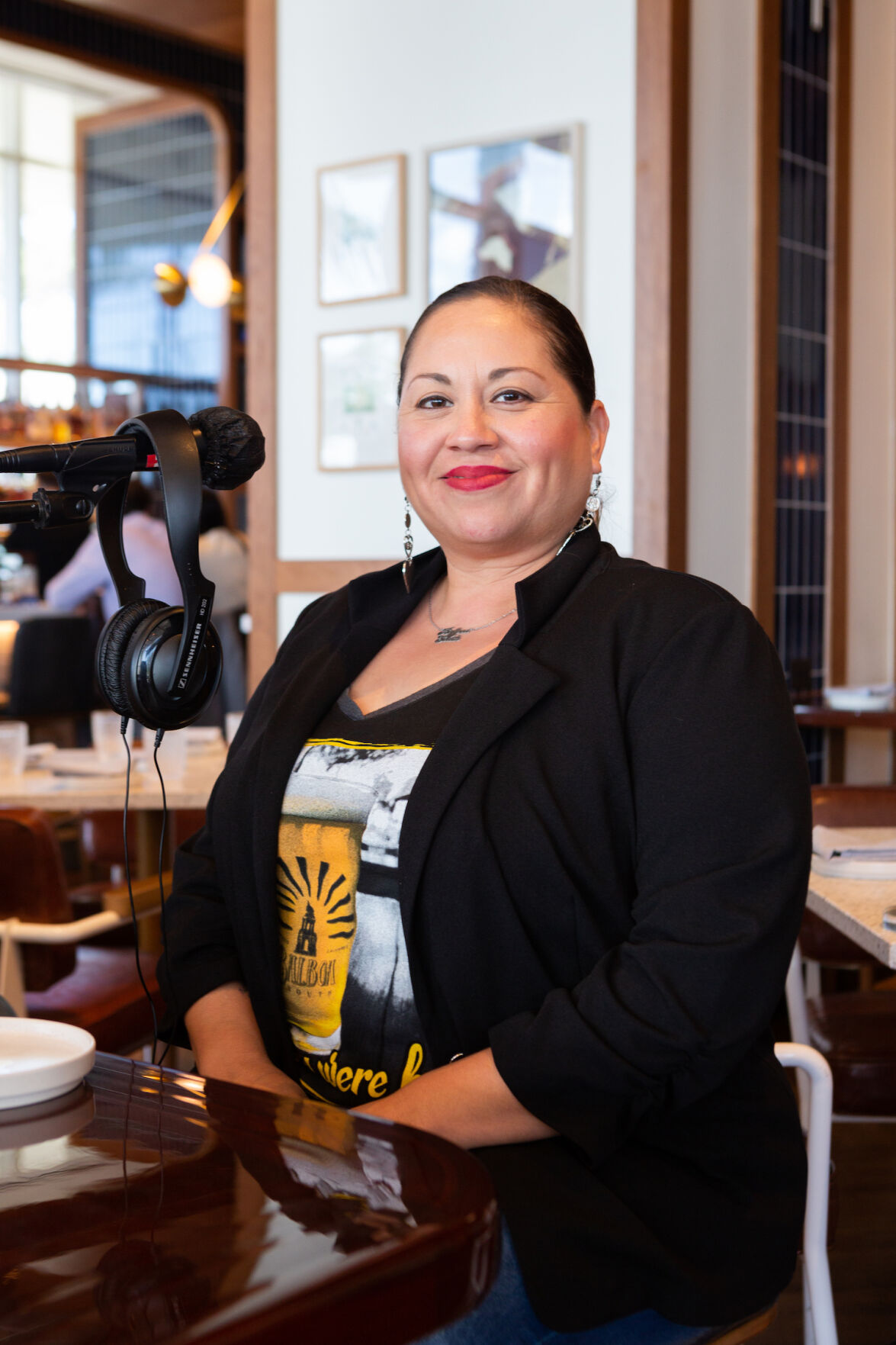 Credit: Marius Ludner
Mariana Cardenas went home that day, gathered her five kids, and told them the news. Then she called all the government assistance programs and informed them the Cardenas family no longer needed their help.
"My oldest son is autistic," she explains. "Two weeks earlier he'd told me he wanted to go to art school and I had to tell him we couldn't afford it. So I got to tell him he was going."
The this that happened is one of my favorite stories of good I've come across in the San Diego food and drink scene. Mariana shares her story on today's podcast. How she'd taken a job as a janitor for the Navy in Chula Vista, and worked her way into the kitchen. How she spent 16 years in the Navy, eventually becoming executive chef of the region. When the pandemic hit, she left and took a job at beloved local burger joint, The Balboa. She'd been working there for four months when the owner called her to his office.
"I thought I was gonna get fired," she says.
He asked her if she wanted The Balboa.
"Of course I like working here," she replied.
Did she want to own it, he clarified.
"Sure," she laughed. "But I can't afford that, I'm on government assistance."
He gave her The Balboa—a very successful restaurant and bar. Flat out gave it to her, because she'd shown up for him, treated the place as she would her own restaurant; was someone to believe in. It changed her life forever.
After telling her kids, Mariana called a longtime coworker and friend. They'd both toiled to the bone at the Navy, dreamed together during breaks in their shifts. Eventually they started buying Lotto tickets. Mariana pinky swore that if she ever won, she'd give him a million dollars. He pinky promised the same.
Her first order of business as the owner of The Balboa South was to make good on that promise. She gave him half the business, made him a partner.
"The Balboa is my lottery ticket, and a promise is a promise," she says.
We all share a meal with the two chefs behind Hudson + Nash, the newly reimagined signature restaurant at Hilton San Diego Bayfront, perched on the water. Chef de cuisine Alexander Huizar just arrived two days ago from Vegas, where he was sous at Delila at the Wynn (before that he was chef de partie at French Laundry, and sous for a handful of Michael Symon restaurants). Executive sous chef Laoro Martinez is from Tijuana where he went to culinary school.
Together, they're creating a new "Baja to Bay" concept at H+N. Best dishes we try: the bigeye tuna poke tossed in Sriracha-miso; Thai wings in sweet chile sauce; and oh dear god try the whole fish taco—fish served whole on a board with three salsas (verde, rojo, and macha), pickled onions, street corn, cilantro slaw, chile toreados, corn tortillas, and pork belly.
In the news, we talk about a new gourmet concept opening in various San Diego gas stations called Tiko Tiko, serving shawarma; Herb & Wood chef Carlos Anthony is doing a rematch of his Food Network battle with Joe Sasto, where guests get to eat and judge and all the money goes to CJ's Smile and Ronald McDonald House; we announce Ranch 45 is starting Wine Wednesdays simply because the husband-and-wife restaurant and butcher shop/gourmet store is one of the most underrated culinary gems in the city (they're dry-aging bone marrow in there, for cryin out loud); and Italian breakout star Amalfi is opening a new all-day restaurant, called Enoteca Italiana.
In "Two People, Fifty Bucks," I point people to a longtime favorite that has been sold to one of its longtime cooks and is in great hands (and also, show up for the new owner)—Supannee Thai; Mariana loves the birria at Dolche Cafe Mexifood in Chula Vista; David, who forsook beer a while back, admits a heavy love for the 30 Hop IPA at Poorhouse Brewing with the roast beef sandwich from pop-up Big Jim's Roast Beef; chef Laoro has a thing for the lasagna at Seneca Trattoria; and chef Alex raves about the jalapeño mac n cheese at Neighborhood.
Hope you enjoy the podcast. What an incredible story. See ya next week.