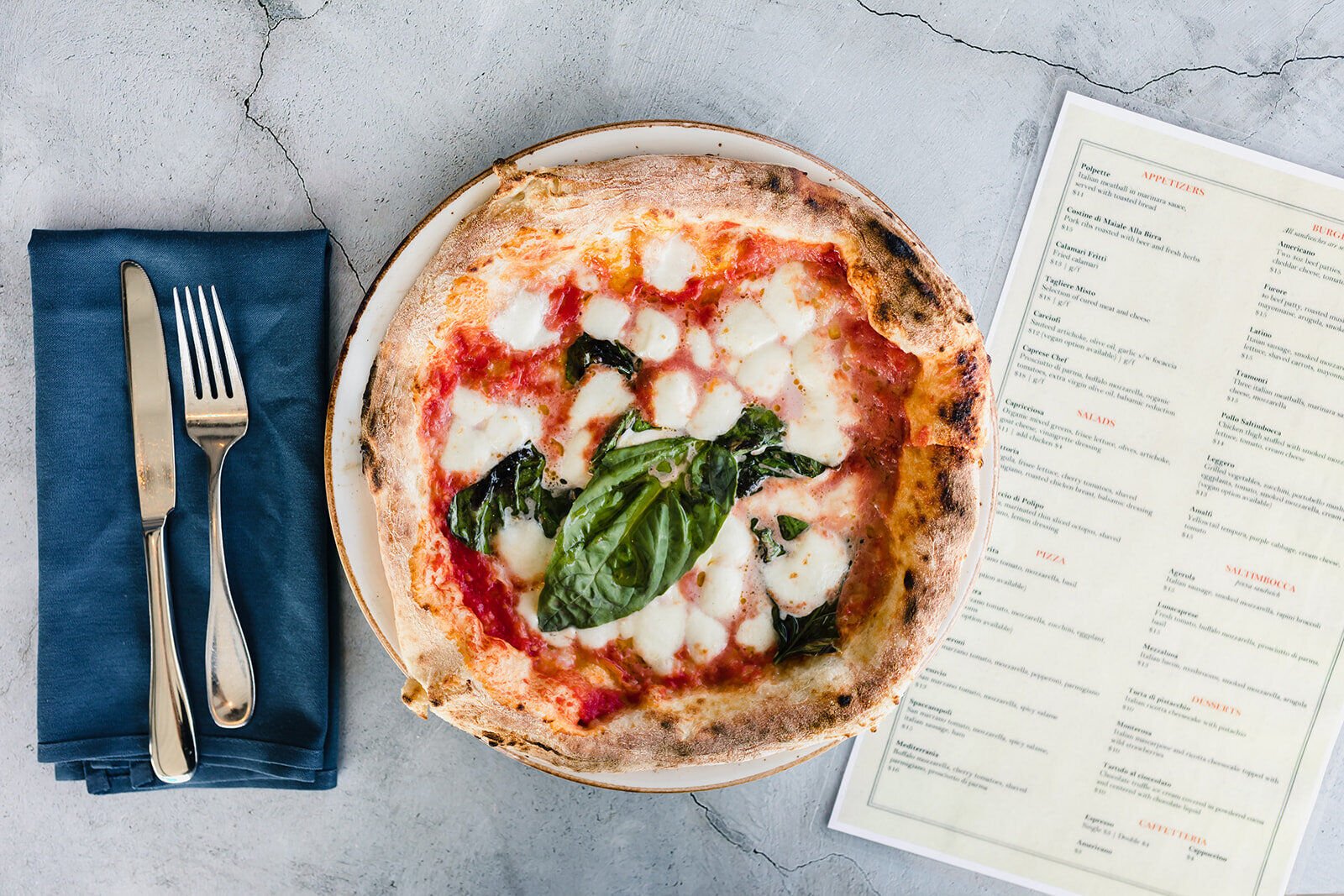 Lake San Marcos is such a mystery to me. Like if you took the water feature from a miniature golf course and expanded that over a couple miles—that's what it would be. A human-made oasis. Fake? You bet. Kinda magical? Also that. And that's the kind of hokey water hocus pocus I live for. I'm the kind of guy who thinks sequins is the height of American culture.
This podcast we recorded live from the Mister A's of Lake San Marcos—Amalfi Cucina Italiana. Chef Marcello Avitabile is a six-time World Pizza Champion (read the review here). The four owners are all Italian, all friends who met while working at another one of the top Italian food spots in the city, Buona Forchetta (Avitabile was the longtime exec chef).
It's the second stop on our Delicious IPA Tour with Stone Brewing. (Note: These have been great events where we gather and sip and taste, available to those of you who join our Insiders program… you should sign up). One of the first "Beer vs. Wine Dinners" I ever went to was hosted by Stone. Wine has always been hailed as the perfect beverage for food. Since its inception, Stone has seemed fixated on proving that craft beer paired as well, if not better, than wine. Early on, I was skeptical if not scoffing. I went to the dinner thinking "this is a gimmick but there is quality food and beer."
And, wow. Beer won the night. The 200-plus people there that night voted it in a landslide. And it wasn't close on my card, either. I was shocked. Being a nerd, I dug into the science of it, and turns out beer has so many more flavor compounds than wine (due to the increased number of ingredients—hops, malt, etc.) This isn't a slag against wine, which is a quality portion of my life. Just beverage facts.
Anyway, point is. Stone Delicious IPA is what their brewers have been tinkering with all these years. Their perfect food pairing beer. They came to us and said, "Hey, let's do a tour to celebrate what we think is a pretty awesome achievement, and let's use it to highlight some local restaurants and cooks and indie businesses."
Easy sell. So this week we pair it with Avitabile's primavera pizza—marinated zucchini and red bell peppers and eggplant, buffalo mozzarella, EVOO, fresh basil, all baked and blistered in 60 seconds in their hell-hot pizza oven. It's a doozy, and the strong, lightly citrusy hops stand up the char on the crust, making it a perfect pair.
We sit down and talk with the owners Giuseppe Annunziata and Emiliano Muslija about Amalfi, and why they're importing 90 percent of their ingredients from the Italian coast they're from.
In the news, we're pretty jazzed about Azuki Sushi's new omakase spot; Breakfast Republic makes the move on expanding to other cities; discuss the bizarro ambition of space-portal alien tiki lounge Mothership in South Park, and Amalfi announces the opening of their second restaurant in North County.
For "Two People, Fifty Bucks," David raves about the Aleppo chicken at Callie; Emiliano points people to Akai Hana Sushi in Rancho Bernardo; Guiseppe expresses his desire to try the raved-about Sushi Tadokoro; and I am still a little floored by the ube pancakes at The Holding Company—where they've got an all-ages brunch on their rooftop overlooking the O.B. pier. It's an all-ages brunch, which is great because just because some of us chose to procreate doesn't mean we died.
The podcast is fully back. Thanks for being patient as we moved offices over the summer. Full steam. See ya next week.