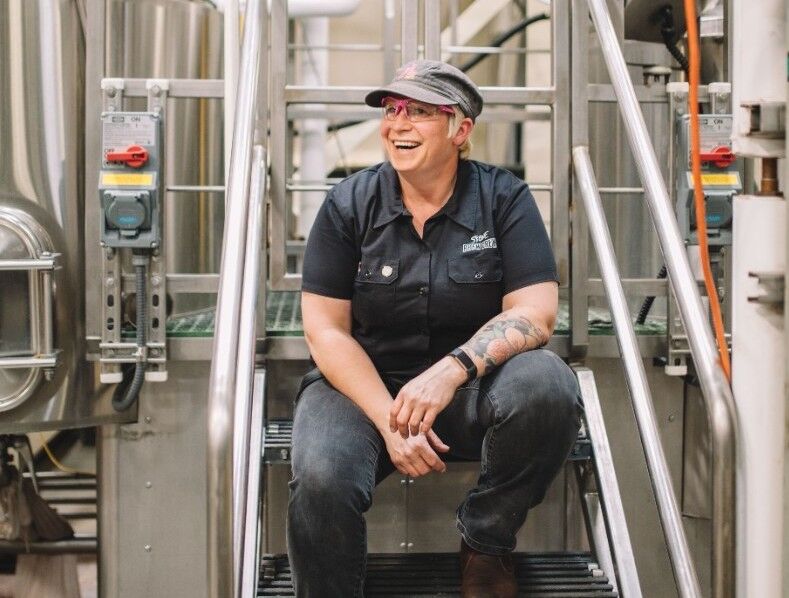 Courtesy of Laura Ulrich
Listen, I know it can seem like some of us at San Diego Magazine basically eat tacos and taste beer for a living. But it's in pursuit of the story. Whatever it takes to get to the grist of it all. For you. You deserve this. And if that raises our BAC a tad, we're there for you.
For Stone Brewing's Laura Ulrich, on the other hand, sampling IPAs is a major part of a hard day's work. Officially one of Stone's "small batch brewers," it's Laura's job to research and develop new suds, tweaking recipes—and naming brews after her favorite songs—using Stone's seven-barrel system in Escondido. She devised two new versions of our beloved Delicious IPA: Delicious Citrus and Delicious Double, both as perfect with a Wagyu patty as their forerunner.
Laura's now one of the key creatives in the Stone brewing operation. But it didn't happen overnight. She started out 19 years ago on the packaging line. She was a brewer, then a brewery trainer, before landing her spot among the small-batch masterminds.
"I've seen the whole house," she says.
Laura's also a founding member of Pink Boots Society, a nonprofit that highlights women's contributions to craft beer, as well as wine, spirits, and other brews. The org offers scholarships to help close the industry's education gap and holds brew days for women to come together and invent new blends. Laura also heads Women of Stone, inspiring, supporting, and promoting the company's women employees and brainstorming ways to draw more women to Stone. The mission, she says, is to make sure that women know, "in craft beer, there's a place for you."
Troy and David sat down with Laura at Balboa South to eat burgers, drink Delicious IPA, and learn about Laura's envy-inducing job and her work to shatter her industry's glass ceiling.
Her tip for aspiring beer makers: Make sure you've got a professional email. Laura reveals that Stone nearly passed on her application after taking a peek at her Yahoo handle. (For what it's worth, Laura, I would immediately buy IPAs from anyone contacting me from "[email protected]")
In news, New York institution Prince Street Pizza touches down in downtown San Diego; local chefs settle old beef with hot lamb (there will probably be lamb) on new Food Network series Superchef Grudge Match; formerly of La Dona in O.B., the hard-working chef Gaby Lopez helms a new namesake restaurant, Casa Gabriela in La Mesa; and Heritage Barbeque launches 10,000 square feet of beer and Texas brisket in Oceanside.
This week's "Two People, Fifty Bucks" will make you crave Italian: Laura's filling up on bread and burrata at Tribute Pizza; David's ordering ahead at Little Italy's Mona Lisa; and Troy embraces balance this wellness month by pairing bike rides with lardo pizza at Catania. (You'll notice the audio gets odd right around here—Troy's life-with-a-toddler brain brought out the wrong restaurant name. We fixed it for him!)
See ya next week.