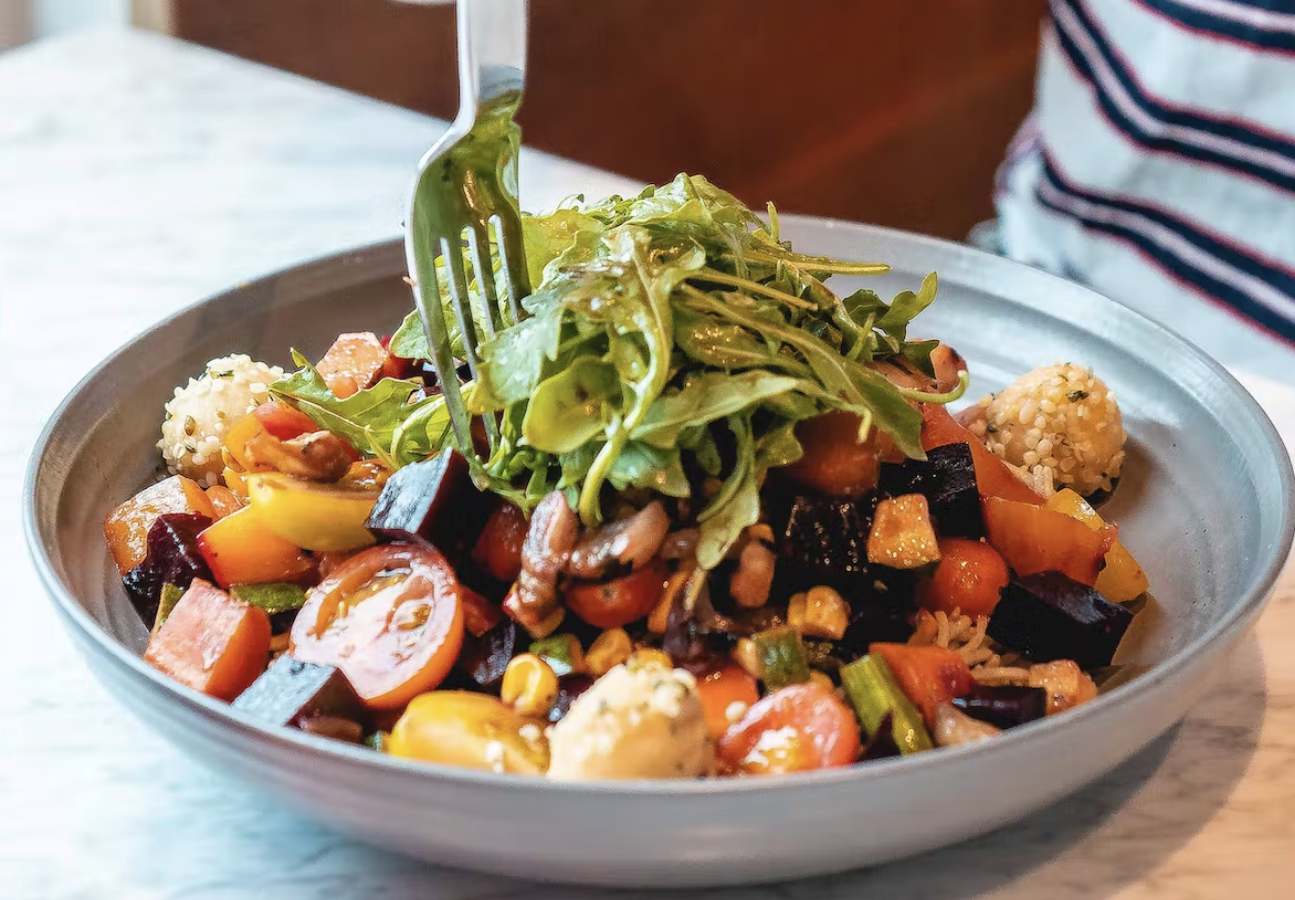 Courtesy of Parakeet Cafe
This cafe is one of the better places in San Diego to eat clean, sure. It's also parents' love for their daughter. This damn good salad—loaded with all kinds of greens and seeds and micronutrients in various natural forms—was all for her. Every parent knows the feeling. When your kid is sick or hurt, you will do the wildest things you never thought you'd do, uproot your life, quit jobs, take four extra jobs, do whatever it takes to help them regain their health.
Parakeet Cafe is what Carol Roizen could do. When she and her husband Jonathan Goldwasser found out their then-young daughter Michelle had tumors on her spine, Carol uprooted their lives and dedicated everything she was to creating the healthiest food she could possibly get her daughter to eat. And it turned into a healthy breakfast/lunch concept that started in La Jolla, then Little Italy, and now they're about to open four more locations across Southern California (Carlsbad, Beverly Hills, Brentwood, and Newport).
For wellness month at SDM, we invited Carol and and Jonathan into the SDM offices to tell their family's story. The whole month, we're focusing on people in the food and drink scene who are making food and drink that's focused on health. Check out the January issue here; maybe even subscribe–we send the beautiful glossy mag to your house every month. Like a real magazine. It's wild.
In the news, Heritage Barbecue is opening this week in Oceanside—a massive house of slow-cookery from pitmaster Danny Castillo and his wife, who started their good-meat cue spot in San Juan Capistrano as a pop-up in 2017 and it went bonkers; they were a finalist on Food Network's Great Food Truck Race and now Lia's Lumpia has set down permanent roots in Barrio Logan; the owners of Local Tap House in Oceanside have opened a modern west-coast take on the east coast classic: the Jewish deli (pastrami everywhere!); and we get more details on Bivouac Ciderworks' big expansion, as they plan the Bivouac Adventure Lodge next door in North Park.
For "Two People, Fifty Bucks," Carol points to one of the greatest sushi restaurants in San Diego, the one that started it all—Sushi Ota in P.B.; David (surprise surprise!) finds yet another soup that he can't live without—the birria udon with brisket at El Barbecue; and I was reminded this week of a San Diego classic that's perfect for rainy weather soul sads: the polenta plate at Cucina Urbana.
Our next podcast, we'll talk with one of San Diego's young farmers who's been supplying San Diego's first three-star Michelin restaurant with the raw materials for that kind of greatness: Spencer Rudolph of Sage Hill Ranch Gardens.