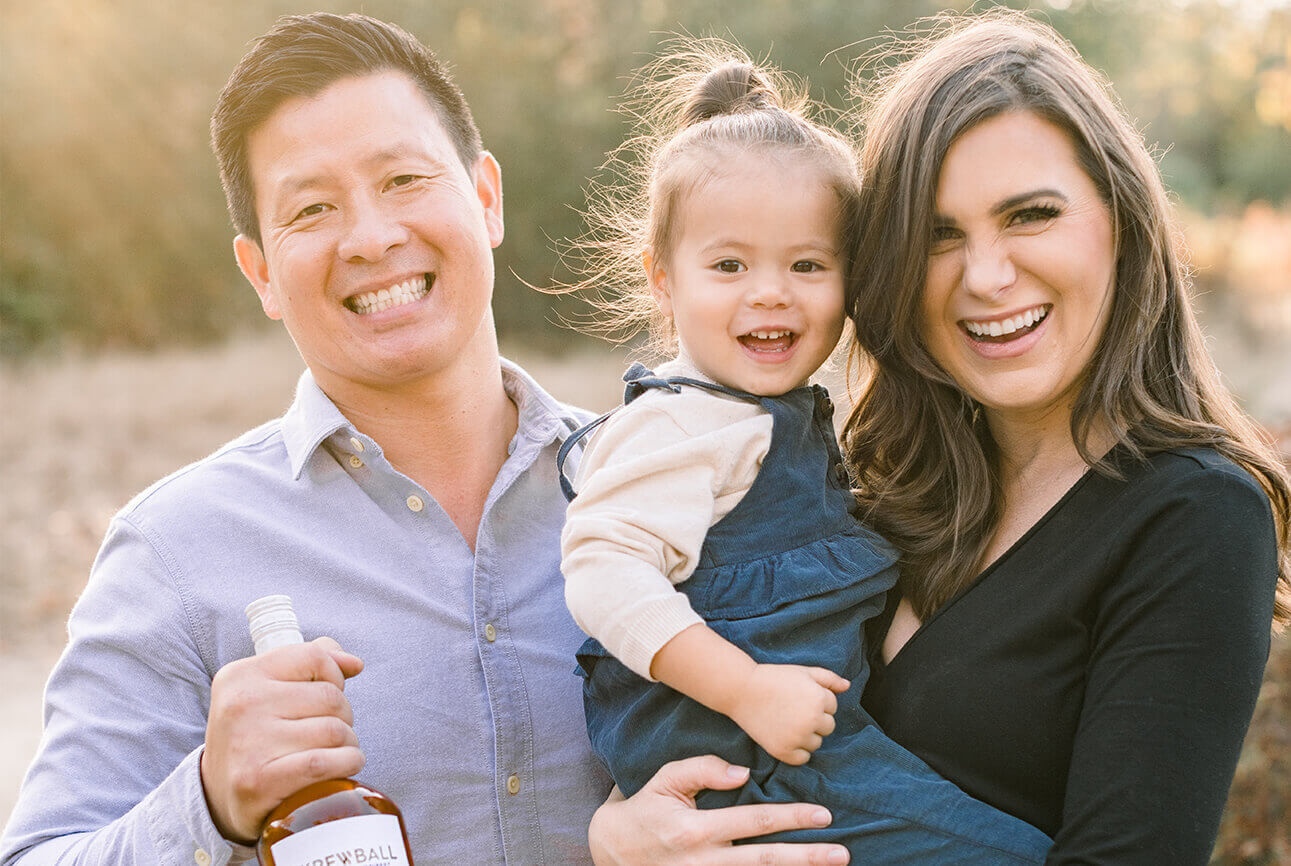 The story of Skrewball deserves its own biopic, if not a 30-part Netflix series. On the surface, you see a good-time peanut butter whiskey from San Diego—one that defied all naysayers and became one of the top-selling spirits in the country. And then you talk to co-owner Steve Yeng and every twist of his life story makes your eyes bulge and your heart alternately sink and soar.
His family fled the genocidal Khmer Rouge regime, living in Thai refugee camps. In the San Diego Magazine offices for this podcast, he pulls out a few photos from those days. In one, the family is standing in a foot of muddy water (the town routinely flooded). In another, children eat lunch near a fence made of sharp, deadly spears (it's the cafeteria of the makeshift school).
"My father saw his own father shot in the camps," says Steve, whose grandparents were both killed.
The Yeng family—mom, dad, three boys—stayed in the camps for six years. As Steve explains it, Russia's Red Army would routinely bomb the camps, forcing everyone into below-ground shelters. In those cramped, poorly ventilated quarters, Steve contracted polio from one of the other children (the disease is not eradicated in parts of the world without access to healthcare). For the next five years, he would have to undergo multiple surgeries to correct his imbalanced bone growth. Until age seven, he managed to move around using two flip-flops on his feet, and another two on his hands.
Eventually, his family managed to make it to the U.S.—specifically, to Ocean Beach—living in a garage without running water. His dad found a job at O.B. Donuts (which the family still owns). And peanut butter became a symbol of a better life for the young Yeng brothers.
From that point on, against every odd and with just the right amount of audacity, Yeng became the American dream.
This podcast is the longest we've ever recorded. Mostly because David and I sat there rapt, a little heartbroken and wholly inspired. Settle in, or digest it in parts. It's worth it.
See you next week, guys.