Welcome back! We're taping this week's episode at Kashi, which we learned is still headquartered in Solana Beach and is celebrating its 35th anniversary. We talked about the company's rebranding and some new products that they've launched recently.
This week's special guest is Gina Marsaglia, who founded Pizza Port with her brother, Vince, in Solana Beach back in 1987. Pizza Port is a stalwart of the Solana Beach Community, and they still have the original location on Highway 101 in addition to four other locations throughout the county. A sixth Pizza Port location is also coming soon, as they're looking to expand to Imperial Beach.
Gina shares details of Pizza Port's origin story: She bought the restaurant when she was in her early 20s, and moved from San Luis Obispo to take over the then-sleepy pizza stand when the opportunity came up to purchase it. The early days were rough—she and her brother had to sleep in the restaurant for three months after purchasing it because they couldn't afford an apartment. Vince started experimenting with brewing beer in the back of the restaurant, and his hobby became a cornerstone of the business when friends urged them to start selling the beer in the restaurant. They put craft beer on the menu in 1992, and the rest is history.
Gina tells us what their best-selling beer is (and shares her personal favorite), and said her pick for Two People, $50 is Sushi Kuchi in Carlsbad. Lauren's pick was Little Frenchie in Coronado, and Troy liked Il Dandy, which he is reviewing for our upcoming October issue.
In Hot Plates, we learned that Aqui Es Texcoco, the famous lamb barbacoa spot in Chula Vista, relocated to a larger location. The owners also opened a new restaurant, De Cabeza. Up in North County, the Apple Festival at Palomar Mountain State Park is canceled for this year—a release said the festival became too popular and the park couldn't handle the number of people that have been showing up (but they plan to bring the festival back in 2020).
This week's Hot Topic is about the effect of increasing the minimum wage for restaurant workers. A recent article from The Gothamist says New York's restaurant industry witnessed "a strong economic expansion" as wages grew between 2013 and 2018, and that the city's restaurants are doing much better compared to 12 other cities that have not undergone a minimum wage hike. Troy shared his take on this study since he's extensively covered this issue, and Gina gives us the business owner perspective.
Thanks for listening, and we'd love to hear from you! Call us at 619-744-0535 and leave a message. Or if you're too shy to call, you can email [email protected]. You can give us your recommendations for Two People, $50, tell us about any news happening in San Diego's culinary world, let us know who you'd like to hear featured as a guest on the podcast, or ask Troy a question!
Subscribe to the Happy Half Hour on Spotify, iTunes or Google Play, or listen below.
Recent Episodes
For all previous episodes, click here.
Would you like to sponsor a podcast episode at your restaurant or bar? Email David, our producer and digital media director.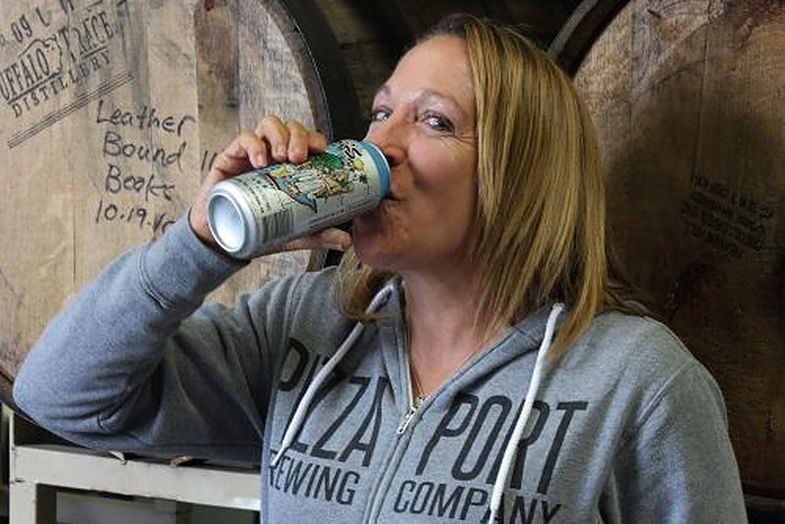 Gina Marsaglia | Photo courtesy of Pizza Port