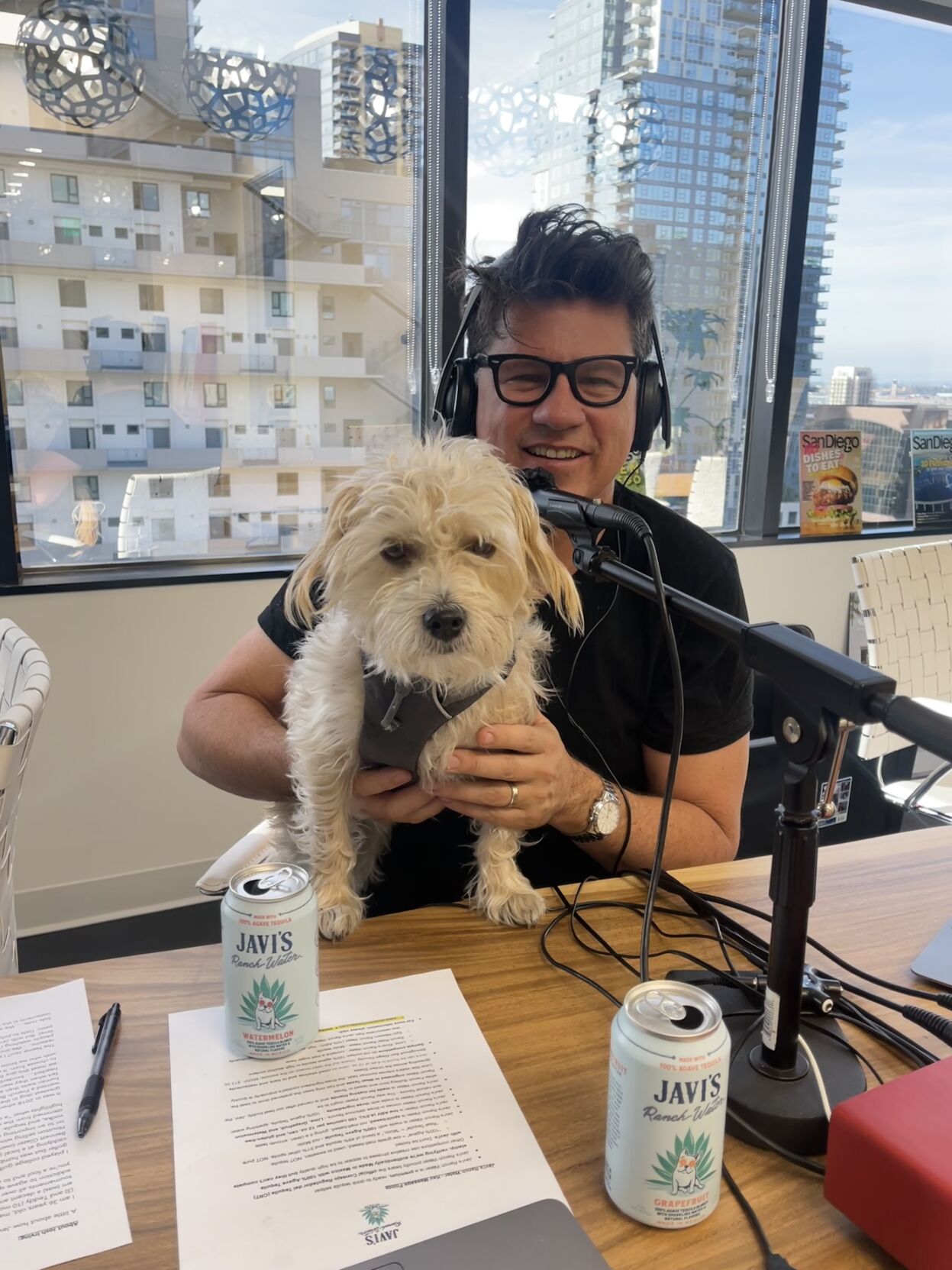 Photo Credit: David Martin
Oh man. Dear god. Thanks, you all.
This year, you downloaded episodes of our podcast 276,977 times. As a San Diego media company just trying to create things of value where you'll learn something, think about something in a different way—that's a huge number. I'm sure Joe Rogan sneezes that number, but for us it's pretty great. A lot of sneezes.
When we launched "Happy Half Hour" in 2016, we had zero or near-zero idea what we were doing. Flailing at mics. Loghorrea-ing our way into the digital void. All we knew was that to stay relevant in media, you have to embrace new forms of storytelling. So much tire kicking. David Martin was (and is) in a band (you should listen to his band here). He knew how to record stuff.
Our friend, Arsalun Tafazoli (who owns CH Projects, which is restaurant Jesus now in San Diego, but at that point was more of a midsize pack of creative lunatics), agreed to be our first guest. Former editor in chief Erin Chambers-Smith and I sat and talked with him—randomly about food and drink and hospitality and ideas for two hours. We didn't know anything about "mic proximity," so the recording sounded like we'd be talking from very far away in another room… and then very loudly in your ear, like those close-talker people… and then like we were underwater… back yelling in your ear….
Afterward, exhausted but pumped that we had taken this leap of technological faith, David announced, "Yeah no way we can air that." That recording exists on a hard drive somewhere, partially or fully inaudible but earnest and hopeful.
So we tried again, staying close to the mic this time. We kept it under an hour. We developed a few "segment ideas." And we invited guest after guest from the San Diego food scene. We even won a big national award for it. When we were nominated, we laughed because we were up against Harvard, Red Bull, Inc. Magazine, a few other massive media entities. And whoa, they said we won. Still not sure if that was real. They sent us an award or an email or something. Kinda blacked out.
Now it's different. Claire and I are the owners of SDM. Be honest, I had to take almost a year off to help rebuild this lovely iconic media company. And now we're rebuilt, we've got our team, and we're back in the groove. In 2023, we've got big plans for "Happy Half Hour," including a rebrand (I tried to change the name because it sounds too perky and I like to pretend I'm more moribund and moody, but David said that was a terrible idea for branding so I said OK).
Anyway, for this final podcast of the year, we look back on the year that was. I lay out a hit list of the "10 Best Things I Ate This Year," like the corn pinion soup at Wolf in the Woods, dirty hash browns at Born & Raised, and the ube pancakes at The Holding Company.  David gives his "Top Five Soups"—including one at Wormwood, one at Shank & Bone, and a few other gems. If you've listened to this podcast, you know that soup is David's love language. And he's a former culinary instructor at the New England Culinary Institute, so he really knows his mirepoix. Finally, we go through some of the biggest news of the year (go, Convoy) and the trends that marked San Diego's food and drink scene (birria everywhere).
Then we talk to the creator of what has become one of the official drinks of San Diego Magazine's offices—Javi's Ranch Water, 100-percent pure agave tequila, soda water, then natural flavorings. And whaddya know, owner/creator Josh Irving turns out to be a really likable, soulful fella. He named the drink after his dog (Javi, who's the mascot on the can). Josh was a great golfer in high school, dreamed of going pro. Lucky for us, he didn't succeed at that. Became a caddy. Befriended a guy who ran a liquor company, offered him a job. He fell in love with tequila and the people and culture of Mexico, and created his own tequila company using real, 100% agave tequila. And then he gifted us the canned delight that is Javi's, which is now either enhancing or decimating the production of the SDM team.
Thanks again so damn much for your support, everyone. Much more to come. Enjoy the holidays.