On today's Happy Half Hour, Troy Johnson, David Martin, and Archana Ram are talking the latest dining and drinking news, like the prospect of Target Express coming to North Park and Salt & Straw's winter debut in San Diego. Plus, The Goods coffee and donut shop hits Carlsbad, and Smoking Gun is now open in the Gaslamp.
Today's special guest is Morgan Tenwick, Modern Times' quality manager and the only female advanced cicerone in the world. She talks nerdy to us about yeast, fermentation, cell counts, and just how many gallons of beer Modern Times has had to dump for quality control (spoiler alert: not much). She also tells us what it's like to work in her male-dominated industry. Fun fact: women were the first brewers.
Plus, the Moscow Mule mug may kill you, and Oprah is launching her own brand of packaged foods.
And we share our recommendations for Two People/$50, including Daofu, Café Gratitude, It's Raw Poke Shop, and Hundred Proof.
Subscribe to the Happy Half Hour on iTunes or Google Play, or listen below.
Recent Episodes
For all previous episodes, click here.
---
Would you like to sponsor a podcast episode at your restaurant or bar? Email David, our producer and digital media director.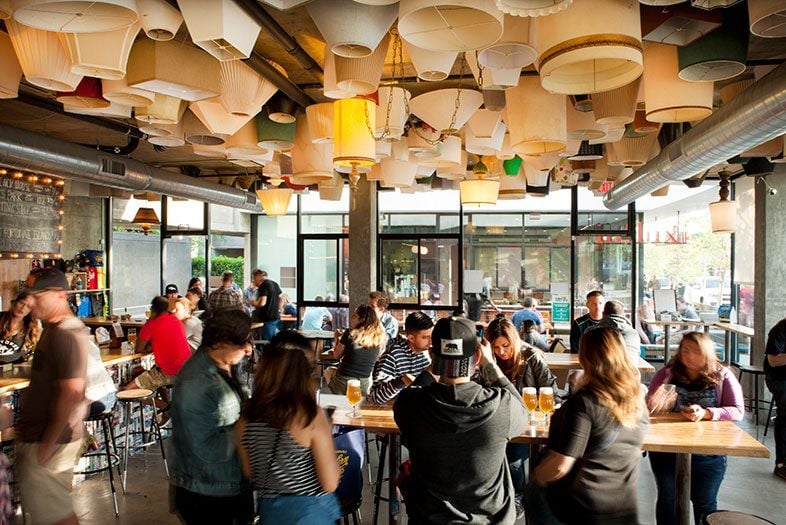 The Modern Times Flavordome in North Park. | Photo: Paul Body