Happy new year—we're back with our first episode of 2018! Hosts Erin Chambers Smith and Troy Johnson, along with producer Archana Ram kick things off from Petco's headquarters in Rancho Bernardo.
In Hot Plates, we talk about the re-opening of K Sandwiches, a new poke spot in Westfield UTC, and a boutique in Point Loma Village that's launched a beauty and cocktails event series.
And have you heard? The Impossible Burger is finally available in San Diego, at Jaynes Gastropub in Normal Heights and Trattoria Ponte Vecchio in Del Mar. The plant-based burger, made of wheat, coconut oil, and potatoes, also has heme, a unique ingredient that makes the veggie burger "bleed." Producer David has tried it, and he chimes in on the Impossible's taste.
Our guest is David Mead, co-founder of Baby Clydesdale, a local line of small-batch sauces, including a preservative-free sriracha and vegan pesto. He talks about growing his business, selling at farmers' market, and why everyone starting a business should watch Mad Men. (He's also featured in this month's San Diego Magazine cover story about local farmers' markets.)
We end with Two People/$50, including Pampas Argentine Grill, Cantina Mayahuel, Mastiff Sausage Company, Top of the Hyatt, and Hawthorn Coffee.
Subscribe to the Happy Half Hour on iTunes or Google Play, or listen below.
Recent Episodes
For all previous episodes, click here.
---
Would you like to sponsor a podcast episode at your restaurant or bar? Email David, our producer and digital media director.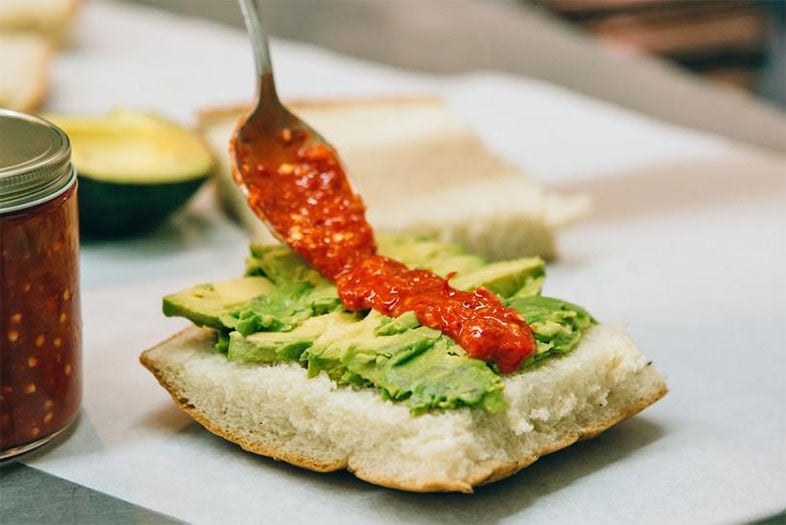 Baby Clydesdale