On today's Happy Half Hour episode hosts Erin Chambers Smith and Troy Johnson, along with producer Archana Ram are coming at you from the Manchester Grand Hyatt inside Brew30, their new modern gastropub that pours 30 different local craft beers (including one from Tijuana). We're chatting with assistant food and beverage director Matt Rapping about their Super Bowl specials—giveaways, beer deals, and prizes!—plus their Freshfor30 beer collaboration with Stone Brewing Co. Plus, they have the Impossible Burger, which we're taste-testing on the show.
In other restaurant news, Harumama opens in Little Italy, Salud expands, and Cesar's in Rancho Santa Fe switches concepts.
Today's guest is Judith Downie, an archivist at Cal State San Marcos who's working on the Brewchive, a collection of historic papers related to San Diego's beer scene—think recipes, brewer logs, and more. She gives us the scoop on Greg Koch before he launched Stone and how women played a big role in beer during the pre-Prohibition era.
In Hot Topics, we discuss the Ingniter incubator and whether it's a worthwhile model for new breweries.
We end with Two People/$50, including Campfire, Hanna's Gourmet, and When Pigs Fly.
Subscribe to the Happy Half Hour on iTunes or Google Play, or listen below.
Recent Episodes
For all previous episodes, click here.
---
Would you like to sponsor a podcast episode at your restaurant or bar? Email David, our producer and digital media director.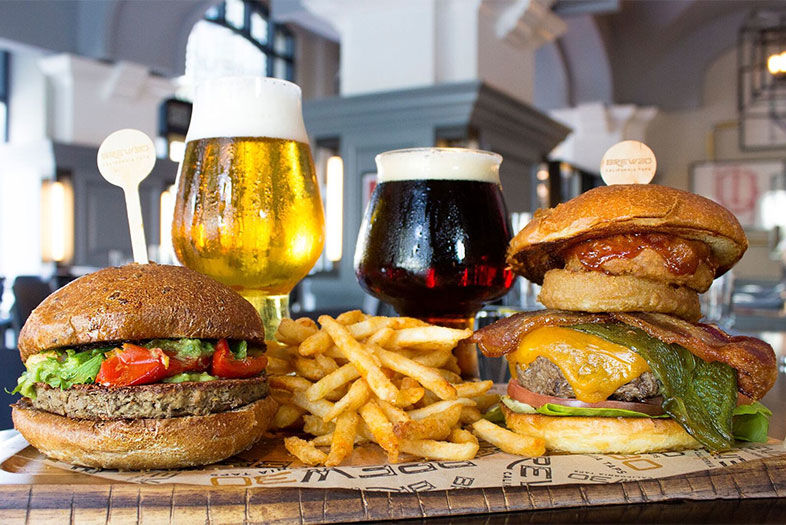 Burgers and beer at Brew30.