On today's episode, hosts Erin Chambers Smith and Troy Johnson along with producer Archana Ram are talking restaurant openings, including Maestoso in Hillcrest and La Colombe café at Westfield UTC. Plus, we're sharing all the details about a contest we're hosting with Puesto, where your own personal taco recipe could land on Puesto's menu. Get all the info here—and submit by March 31!
This week's guest is Jordan Brownwood, co-owner of Royale, a burger and craft cocktail eatery situated between Point Loma and Ocean Beach. Jordan, who previously worked as a bartender at bars like Rare Form and Tamarindo, talks about how he launched the concept as a food cart in Austin before opening as a pop-up within Park & Rec. Late last year, they debuted their own brick and mortar on Voltaire Street in the old Session Public space. On top of the restaurant, he and his wife also run a 15-acre avocado, citrus, and hops farm in Escondido. As Troy says, apparently the man hates free time.
Our hot topic is about the 13 food-centric words that Merriam-Webster added to its latest edition, everything from kombucha to natto.
We end with Two People/$50, including Nonna, Little Lion, and Shank & Bone.
And have you voted in our Best Restaurants poll yet? You have until Friday!
Subscribe to the Happy Half Hour on iTunes or Google Play, or listen below.
Recent Episodes
For all previous episodes, click here.
---
Would you like to sponsor a podcast episode at your restaurant or bar? Email David, our producer and digital media director.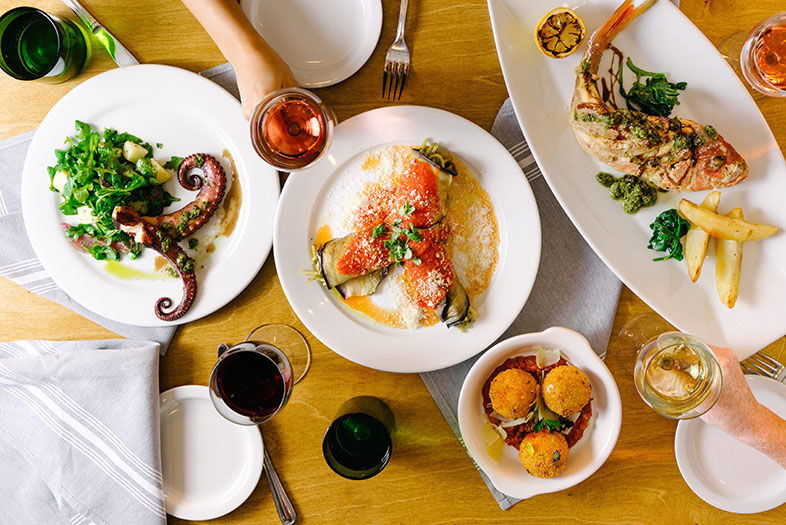 Nonna | Photo: James Tran