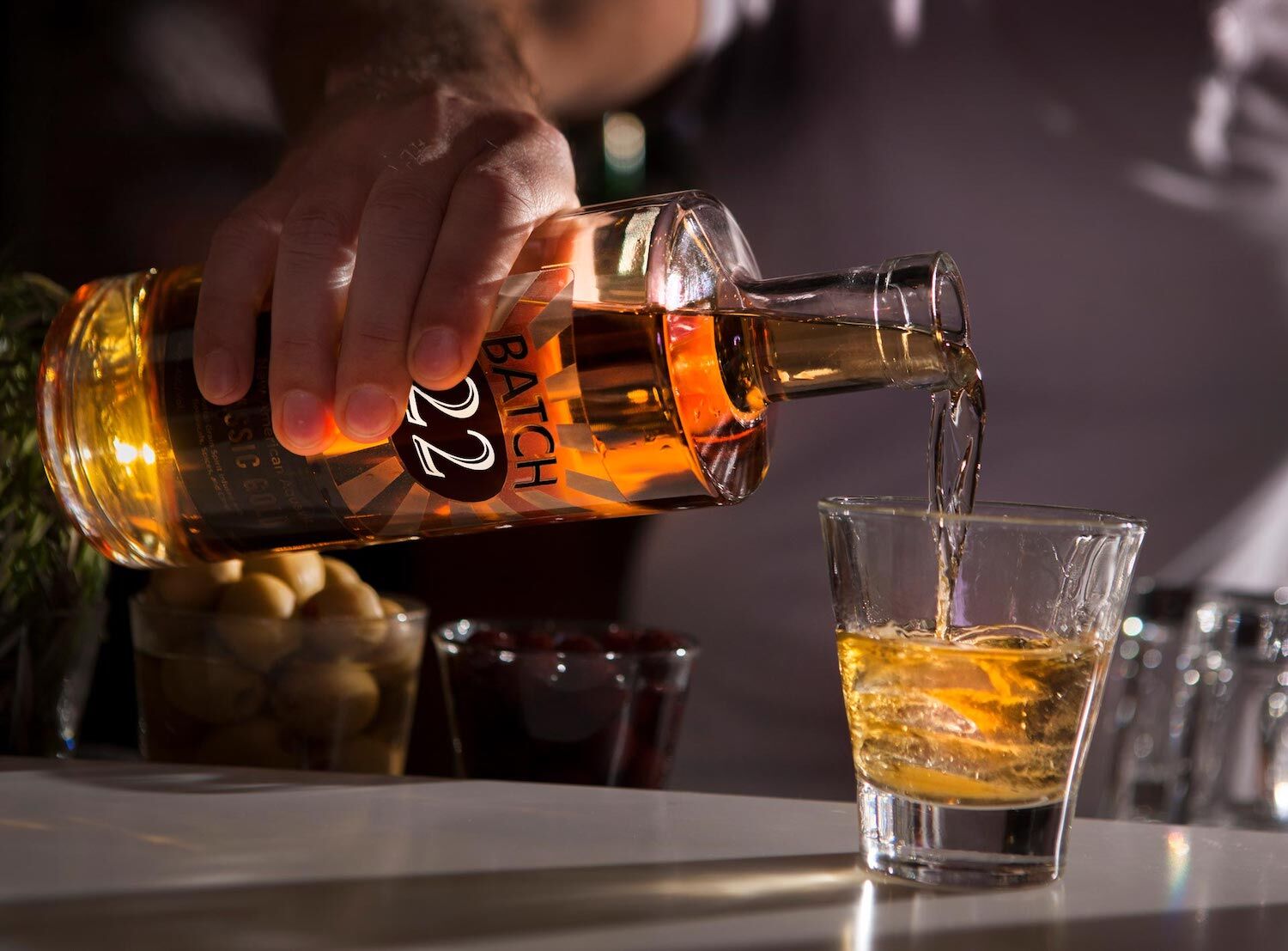 Courtesy of Aquavit
During the pandemic, actor Matthew Arkin got a call from his dad, Alan Arkin.
"My dad says, 'Hey, you know you can make aquavit at home?'" Matthew explains, sipping a damn delicious aquavit tonic in the SDM conference room. Matthew's response was, essentially, "Uh, thanks, dad."
In Scandinavia, aquavit (the word means water of life) is everything. There are more than 200 songs dedicated to it. In the U.S., it's mostly known as the stuff they drink in Scandinavia—a bracing blast of northern booze that helps wash down the pickled herring.
A couple weeks went by and Matthew's dad called again. He says the thing about the aquavit again. Whether genuinely inspired or just to get his dad to shut up about it, Matthew decided to give it a go. He made a batch—a warmer, smoother version you could sip like bourbon. He stuck it in the freezer and figured he'd forget about it forever.
A year later, friends intervened. Visiting one day, Marc Marosi (a stand-in for George Clooney, a dapper fellow) tasted it. Loved it. Told Matthew he could sell it. "I don't drink, but I want more of this," Marc said at the time. So they called their old friend Bruce Glassman, a San Diego-based food and drinks writer (and former SDM beer columnist) to help perfect the recipe.
After finding the perfect mix on the 22nd try, the new American aquavit—Batch 22—was born. The title is also an ode to the man whose random call started the idea, since Alan Arkin famously starred in the 1970s film, Catch 22.
Was it really any good? To find out, the three friends—all now in their 60s—set out on a cross-country road trip. With a hundred mason jars full of their small-batch aquavit, they'd drive city to city and let the bartenders of America tell them if they were nuts or not.
And every time, the bartenders were floored. They were also thankful it wasn't yet another tequila, another small-batch bourbon. In an evolved cocktail industry constantly looking for something new—this smooth, small-batch aquavit stands out.
In just under six months, Batch 22 won several awards from across the country. It is shockingly delicious, not the aquavit most Americans know. The golden-hued spirit tastes of caraway and rye and dill and citrus. As if you liquefied a quality rye bread and put it in a bottle. According to the EU, the dominant flavor of aquavit must come from caraway and must have a minimum 37.5% ABV. Batch 22's three most prominent notes are citrus, caraway, and dill. Unlike traditional aquavit, Batch 22 is smooth, sippable, and exceptionally mixable.
The three friends come into the San Diego Magazine offices for one of the more hilarious (and, at times, bawdy) episodes of HHH we've had in a long while. We assemble around the conference room, Bruce acts as bartender. We drink, we laugh.
In news, Pacific Beach is getting its own al fresco food hall brought to you by food collective Mission + Garnet for a six-concept eatery from local restaurateur, Scott Slater. Perfecte Rocher has settled in as the new director of culinary operations for Consortium Holdings' most recent project: the Lafayette Hotel in North Park and the venerated golden-age hipster beacon of San Diego history. WashMobile, the family-owned spot for tortas (Mexican sandwiches), is setting up shop at NOVO Brazil Brewing Co. once a week—their first pop-up in San Diego. Soichi Sushi is opening next door in the former De Nada Kitchen on Adams Ave. Sonoran-inspired BBQ spot, Papalito, plans to open in South Park, adding to their map with hubs in North Park and East Village. Lastly, Amplified East Village has been aquired by long time PR head, Aubree Miller. It is being revamped as modbom. They will be switching to more cocktail focused and Drew Bent, also of Papalito, will be leasing the kitchen.
If you wanna meet Glassman, Arkin, and Marosi and try their creation, they're launching a new cocktail with Understory at the Sky Deck on April 1.