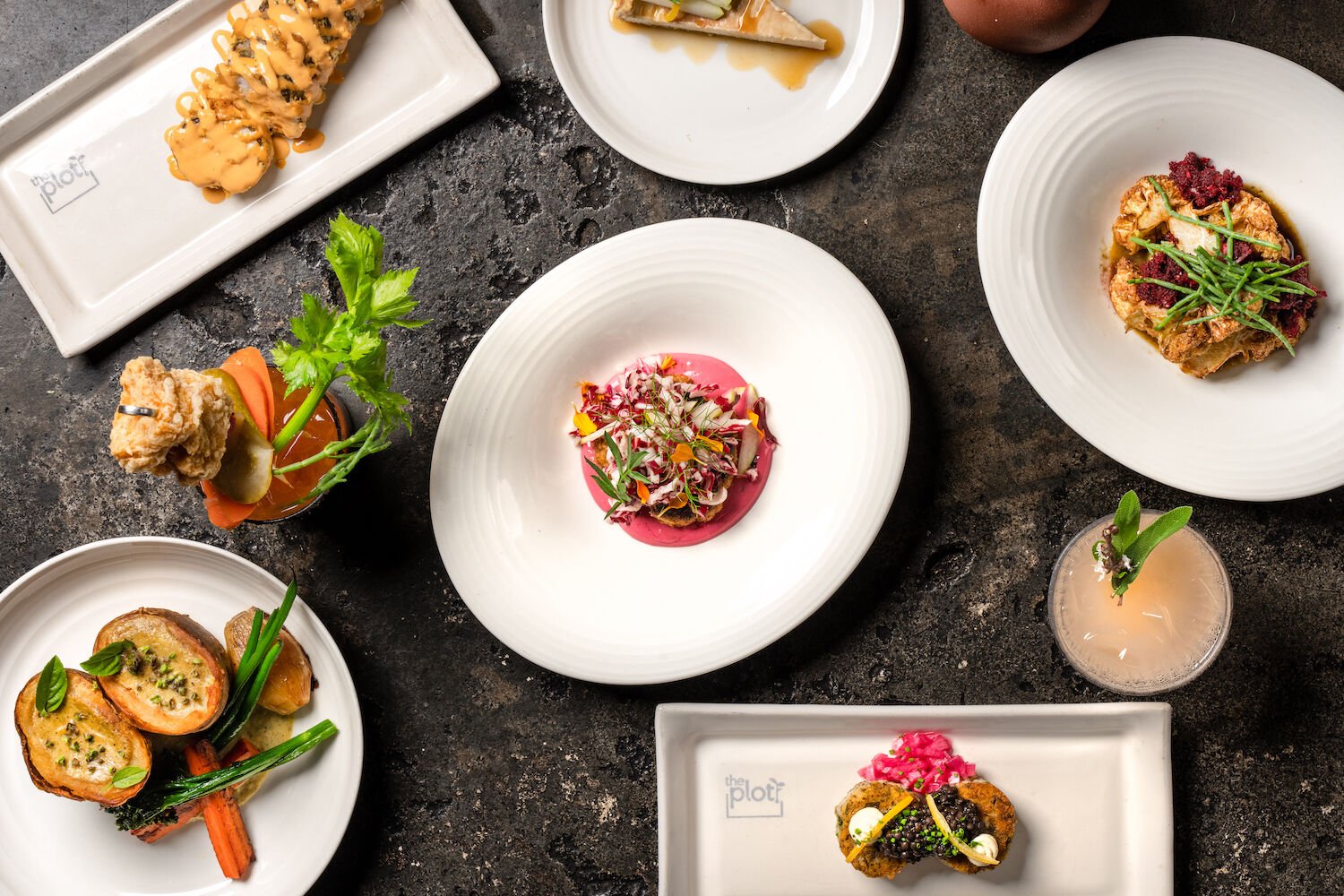 Photo Credit: James Tran
They don't have a trash can in their kitchen. A fully operational, busy restaurant kitchen without a trash can. OK, that's hyperbole. They do have a small one that is rarely ever used. The Plot in Oceanside keeps 99 percent of what they do out of the landfill. That is not normal.
December is our "Environment Issue" of San Diego Magazine. As I wrote in my note at the beginning of the issue, it's not about being perfect and it's not an evangelical radical screed against any and all industry. The issue is dedicated to people in San Diego doing small and massive things to try to minimize our negative impact on the environment. That's why for the restaurant review, I headed up to the fully plant-based restaurant run by Davin and Jessica Waite.
The husband-and-wife duo own not just The Plot but also Wrench & Rodent (sushi), White Noodle (ramen), and Shootz Fish & Beer. They join us on the podcast to talk through how, specifically, they're trying to not only minimize waste in restaurants, but go beyond that and pave a path for a regenerative restaurant scene. They don't claim to be perfect, either. But orange rinds are never thrown out, but turned into salsas and other foods. Leftover sushi rice is sent to a local refinery and turned into a flavored vinegar. A lot of the techniques they're using are not forward-thinking; they're intentionally backwards.
"Turns out the best way for the future is in the past," says Davin.
This is how restaurants used to work—way back in the beginning of their time. Food was grown in the back, cooked in the front.
"There was a time when things were actually advertised as 'disposable,' and that was seen as a positive thing, a selling point," says Jessica.
What you need to do fairly soon is go eat their potato salad and carrot tacos.
For news, we discuss the biggie: San Diego's Addison at Fairmont Grand Del Mar earned three-star Michelin status. There are only 14 three-star Michelin restaurants in the country. Seven in California. There are none in L.A. We talk about what effect this will have on the overall food scene. Also, in bittersweet news—during the pandemic Bankers Hill Bar + Restaurant had to shut down, but the good news is that fairly excellent local restaurant Common Stock is taking over the space and will open a new concept early next year. And the Top of the Hyatt has turned their 40th floor perch into a pretty nutso holiday extravaganza (they even got an electric train and bunk beds) you gotta see.
For "Two People, Fifty Bucks," Jessica (who's been plant-based almost her entire life) says the "Super Vegan" at Pokez in Downtown is her go-to; Davin raves about upstart tiny pizza and wine joint in Oceanside called Allmine; David points to the oysters and cocktails at Botanica in North Park; and I drove to Bonita this weekend because a friend of mine raved about the chicken in a strip mall, and I can confirm El Pollo Grill is some truly great chicken.
That's it for this week. Thanks so damn much for listening, guys.