Welcome back to the Happy Half Hour! This week we're taping from the Hilton San Diego Del Mar, which is just steps away from the Del Mar Fairgrounds. This week's special guest is Angelo Sosa, chef and owner of Death By Tequila, a Baja-Asian restaurant in Encinitas. Angelo has worked at Jean Georges and for Alain Ducasse, and in New York he ran the Michelin- recommended Añejo in Manhattan's Hell's Kitchen. You may also know Angelo from Top Chef Season 7, in which he was runner-up, and from Season 8 of Top Chef All-Stars. Angelo just moved to San Diego from New York a little over a year ago, but his restaurant has already been garnering a lot of press. His pick for Two People, $50, was Muzita Abyssinian Bistro, and the staff like George's Level2, An's Dry Cleaning, and Din Tai Fung.
Angelo thought he was joining us only to talk about an upcoming charity dinner he is cooking at, the seventh annual Baja Bash in Coronado on June 22 which benefits the nonprofit WildCoast. He had no idea on the day of this taping that Death By Tequila won this year's readers' choice award for "Best New Restaurant" or that his restaurant was featured on the cover, so we had a big reveal! Check out our Facebook page to see how the surprise news was unveiled.
In Hot Plates, we talked about the new cocktail menu at George's Level2, Denmark-based Joe & the Juice opening at One Paseo (and what makes this beverage chain different), and the new Italian marketplace, RoVino The Foodery, that's set to open in East Village.
David's 60 Second Beer Review is back! This week, he's sipping on Eppig Brewing's Count Maltula Cereal Imperial Milk Stout. We also had a caller ask the podcast team for recommendations on good gluten-free beers, listen in to find out the top picks.
This week's Hot Topic is news from elsewhere: Faviken, the restaurant in Sweden that has two Michelin stars and was featured on "Chef's Table," is going to close in December. Chef Magnus Nilsson told the Los Angeles Times that he's creatively tapped out and just done with the restaurant. Is it a smart decision for a restaurant owner or chef to quit when they realize their heart isn't in it anymore, even if the restaurant is wildly successful? Hear Angelo and the staff weigh in.
It's time again for San Diego Magazine's annual Best Restaurants party! On June 12, San Diego's top chefs and winners of this year's critic's and readers' picks will serve their signature dishes to an intimate crowd at Pirch at UTC. This year, we're hosting a pre-party at Room & Board, which includes a live taping of the Happy Half Hour! Get your tickets now—they will sell out!
We want to hear from our listeners! Call us at 619-744-0535 and leave a message or email [email protected]. You can give us your recommendations for Two People, $50, tell us about any news happening in San Diego's culinary world, or let us know who you'd like to hear featured as a guest on the podcast.
Subscribe to the Happy Half Hour on Spotify, iTunes or Google Play, or listen below.
Recent Episodes
For all previous episodes, click here.
Would you like to sponsor a podcast episode at your restaurant or bar? Email David, our producer and digital media director.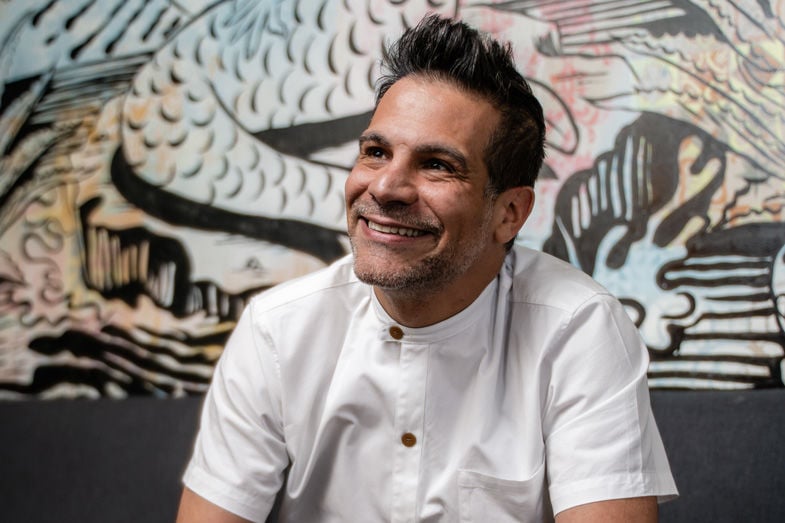 Angelo Sosa | Photo by James Tran