We are wrapping up 2019 with two year-end episodes to discuss the best food, coolest trends, biggest headlines, and saddest goodbyes in San Diego's restaurant scene. This special episode is Part 1.
Some big headlines this year included Addison becoming the first and only restaurant in San Diego to receive a Michelin Star. We also discussed the news that the owner of The Patio Group was charged by the federal government in an alleged $300 million fraud scheme, and Matt Gordon closed Urban Solace, which Troy called a "city icon." El Jardin also had a big year with the hiring of chef Claudette Zepeda-Wilkins, gaining national acclaim, and then closing for a rebranding without Zepeda-Wilkins. Also, Cutwater Spirits was bought by Anheuser-Busch, and Constellation Brands sold off Ballast Point to a small brewery in Illinois.
We also revealed the overall most-read story of 2019 on the San Diego Magazine website. Hint: It has something to do with food. Troy's most-read stories this year were "First Look of Il Dandy," "The Best Soup Dumplings in San Diego," "The Problem with Bright Red Tuna," and "Restaurants Are Dying; Here's the Solution."
Also in this episode, the team plus David reveal their personal best restaurants, best dishes, best breweries and saddest closures of 2019. Some places on their lists include: Original 40 Brewing Company, Fort Oak, De Cabeza, Animae, and Blue Point.
Thanks for listening, and we'd love to hear from you! What was the best thing you ate at a restaurant in San Diego this year? Or do you have a question for Troy? Call us at 619-744-0535 and leave a message. Or if you're too shy to call, you can email [email protected]. You can also give us your recommendations for Two People, $50, tell us about any news happening in San Diego's culinary world, or let us know who you'd like to hear featured as a guest on the podcast.
Subscribe to the Happy Half Hour on Spotify, iTunes, or Google Play. We're also on iHeartRadio now! Or you can listen below. Come back next for Part 2 of our end-of-year wrap up.
Recent Episodes
For all previous episodes, click here.
Would you like to sponsor a podcast episode at your restaurant or bar? Email David, our producer and digital media director.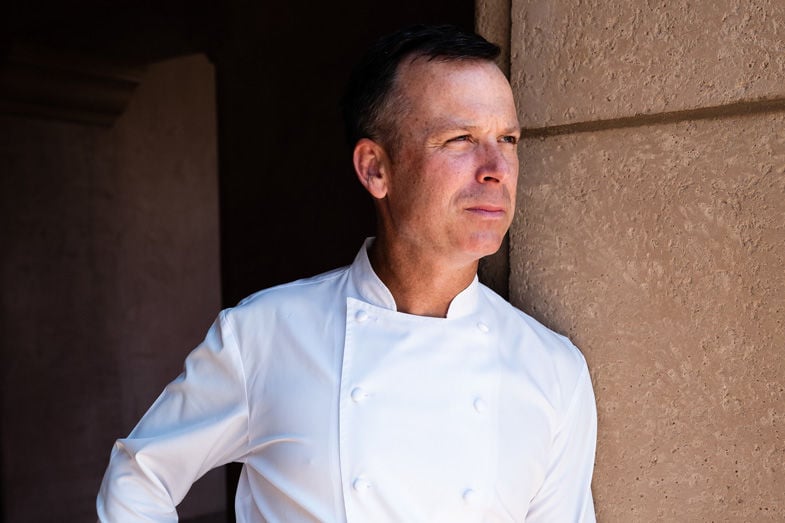 Chef Bradley | Photo by Jim Sullivan