Theater can be wherever you make it, whether within the confines of a traditional proscenium, in an elevator, or inside a neighborhood tavern. While this kind of theater "extends back thousands of years," says La Jolla Playhouse artistic director Christopher Ashley, it is currently trending big time in San Diego, as directors, producers, and artists look for ways to be adventurous and reduce production costs.
Ashley, whose theater has been at the forefront of these outside-the-box stagings, noted the difference between site-specific theater, which means "the performance was inspired by, created from, and performed in the specific location in which it's set," and immersive theater—"shows that are performed in non-traditional spaces." La Jolla Playhouse launched its Without Walls (WoW) program in 2011 with David Leddy's Susurrus, part radio play, part walk in the park, held at the San Diego Botanic Garden.
Last fall, the Playhouse presented its first site-specific WoW Festival, with 20 performances that combined music, theater, art, and dance in unusual spaces in and around the Playhouse Theatre District at UC San Diego.
"There is an unavoidable sense of expectedness when you're in a theater," Ashley says. "Site-based work can shatter that sense of expectation. You are invited to take a more active role in the event, and that causes you to experience it in a more visceral way."
Earlier this year, the Playhouse collaborated with the San Diego Repertory Theatre on El Henry, Herbert Siguenza's (Culture Clash) dystopian take on Shakespeare's Henry IV, Part 1. The WoW production was held at the outdoor SILO space in downtown's Makers Quarter.
The show produced "surprises, surprises, and more surprises," says San Diego Rep artistic director Sam Woodhouse. "The environment can impact what we see and hear and can change from night to night. What a joy and a thrill and an adventure!"
The two-year-old San Diego International Fringe Festival has offered up productions at the Whistle Stop Bar in Golden Hill, Les Girls Theater in the Midway District, and Seaport Village, among others.
Meanwhile, Circle Circle dot dot's San Diego, I Love You recurring series takes audiences on a walking-performance adventure through a specific neighborhood (most recently University Heights), with the story unfolding along the way.
"There is a lot of amazing site-specific theater going on in our city and we are just lucky to be a part of that brave contingent," says Circle Circle dot dot's Patrick Kelly.
There's much more to come, including the Playhouse's partnering with the Museum of Man next summer on Raul Castillo's Border Crossing, and the second WoW Festival in fall 2015.
---
More Fall Arts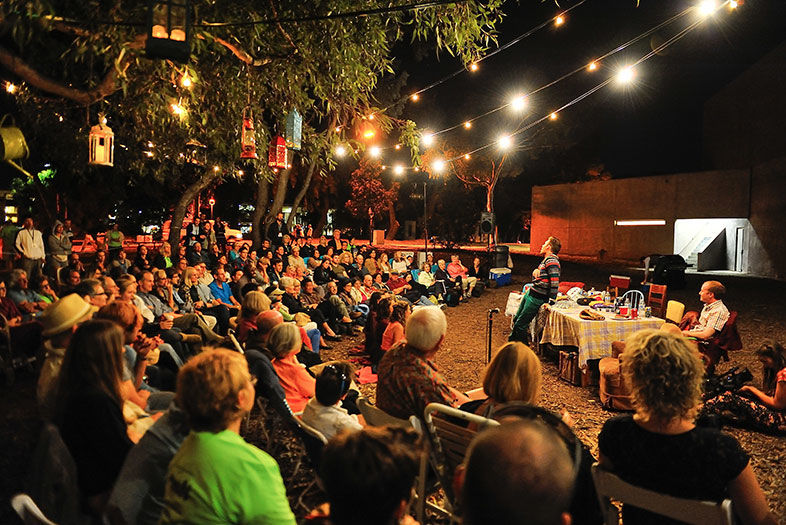 Photography by Daniel Norwood