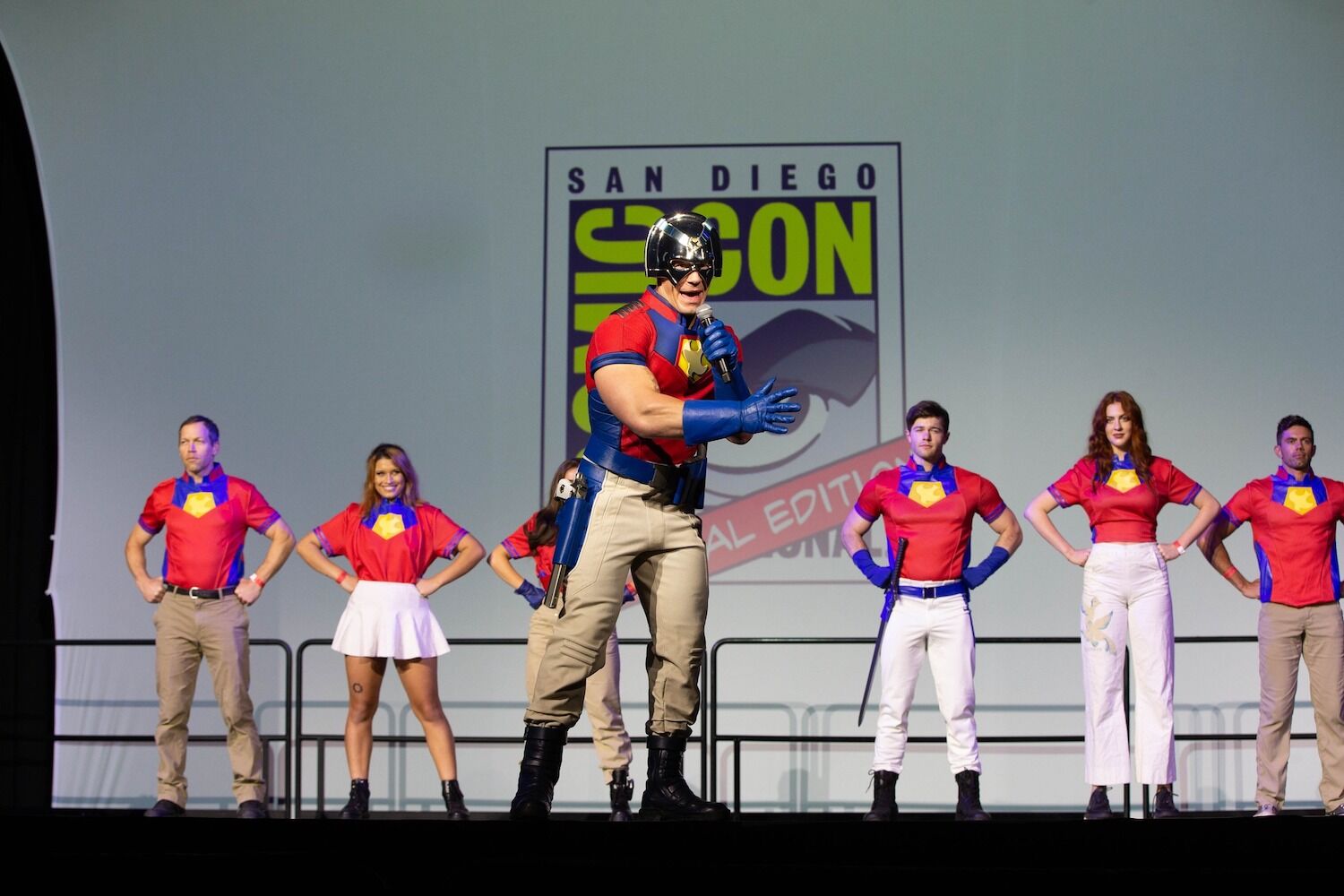 Courtesy of Comic-Con International
And we're back! San Diego Comic-Con (SDCC), one of the city's biggest events, has returned in full force following its cancellation for its July events in 2020 and 2021 due to the COVID-19 pandemic. With more than 130,000 people expected to hit our city streets this weekend, here's everything you need to know about this year's event.
When is San Diego Comic-Con 2022?
San Diego Comic-Con will take place at the San Diego Convention Center from Thursday, July 21 until Sunday, July 24. During the weekend, events are held across the city such as the Gaslamp Quarter, The Hilton San Diego Bayfront Hotel and Petco Park among other locations.
Each day, doors open at 9:30 a.m. and close at 7 p.m. until Saturday; doors close at 5 p.m. on Sunday.
Where Do I Pick-Up My Comic-Con 2022 Badge?
Attendees can pick up their badges at the convention center if it was not mailed to you in advance. Badges will be held in the Registration Area located upstairs in the Sails Pavilion for all attendees, vendors, and retailers.
You'll need to bring a valid photo ID and your badge confirmation; your name must match both forms of verification. Children 12 and under do not need their own badge or ticket to enter with a paying adult. Bulk pick-up or picking up for other guests is not allowed.
Can I Still Get Tickets to San Diego Comic-Con 2022?
Unfortunately, badges are not available for purchase. Ticket holders in 2020 were given the option to roll their tickets over to this year's event and no badge sales were held in 2022.
Guests who lose their badge can get a replacement at the badge solutions desk in Sails Pavilion for a fee. Next year's tickets will go on sale for the general public in late 2022.
Where to Park for Comic-Con 2022
Parking can be difficult during the event. Attendees are encouraged to use public transit or carpool to minimize parking issues. Thanks to SDCC, attendees can also purchase parking ahead of time from either ABM Parking or ACE Parking (more information here).
MTS will run extra routes along the Orange Line, UCSD Blue Lines and the Sycuan Green Line (schedules can be found here).
A free shuttle is available for those staying near Shelter and Harbor Islands, Mission Valley, near the airport, and downtown. Shuttles being at 3 p.m. on Wednesday and run until 12 a.m. From July 21 to July 23, shuttles will run from 5 a.m. to 1 a.m. and from 5 a.m. to 7 p.m. on Sunday. Click here for a list and map of the shuttle's stops.
Comic-Con 2022 Road Closures
Harbor Drive will be closed to traffic on the following days and times:
Thursday: 7 a.m.-10 p.m.
Friday: 7 a.m.-10 p.m
Saturday: 7 a.m.-10 p.m
Sunday: 7 a.m.-8 p.m
Will There Be Food and Drinks Available for Purchase?
Yes, there are a number of small vendors available inside of the convention center during the event as well as a hospitality suite in Grand Ballrooms 8 and 9 inside of the Marriott Marquis from 2 p.m. to midnight Thursday through Saturday. Outside of the convention center, many businesses will be offering Comic-Con themed menus and exclusive offerings as well.
Comic-Con 2022 COVID-19 Policies
This year's event includes COVID-19 policies in place to keep attendees safe. Those entering the convention center—including exhibitors, press, staff, and volunteers—are required to wear approved face coverings, with an exception for children under the age of 5.
Guests must also show proof of vaccination or provide a negative COVID-19 test result within 72 hours of entry. COVID-19 verification wristbands are available for pickup at locations around the city including the San Diego Convention Center, the Marriot Marquis and Marina, and the Omni L Street San Diego Fine Art Gallery. Hours of operation for wristband pick up can be found here.
Beat the lines by downloading the Clear app in partnership with Clear Health Pass to upload and enter your test information prior to the event. Attendees who've verified their vaccination status on the app will be put into a special queue to enter.
Can I Watch San Diego Comic-Con Panels Online?
If you can't make it to this year's event but still want to experience San Diego Comic-Con 2022, you won't have access to panel discussions during the weekend but can stream them live at a later date.
However, Marvel Entertainment will be hosting a live stream from the Marvel booth starting at 1 p.m. PST from Thursday to Saturday and at 11 a.m. PST on Sunday, July 24. It can be streamed on Marvel.com, YouTube, Facebook and Twitch.