Craft beer, edgy boutiques, and thought-provoking art are just some of the reasons to visit North Park. Known as San Diego's hipster neighborhood, this little section of the city is filled with great places to eat, see, and experience. Save this handy North Park guide for the next time you're in the area: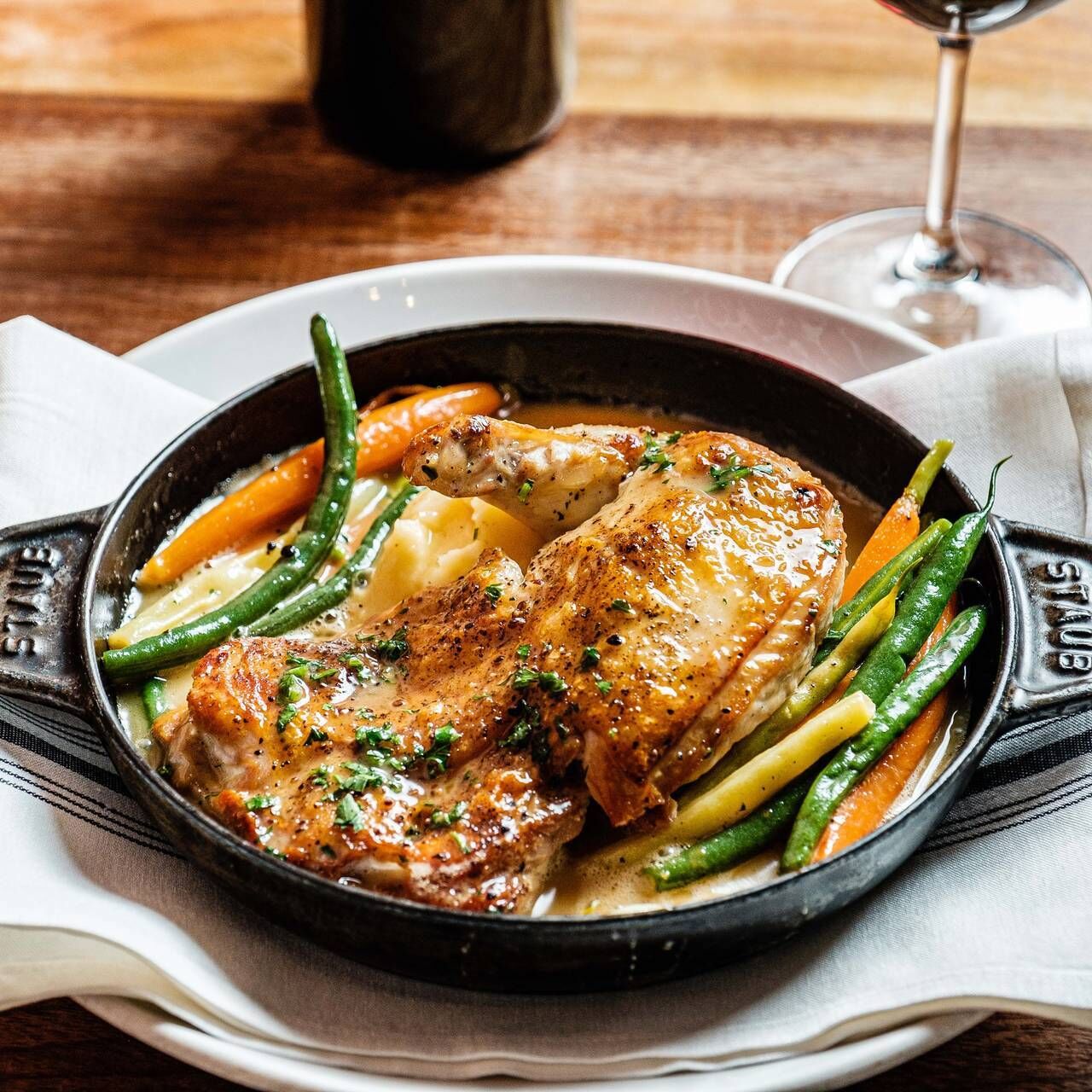 Courtesy of The Smoking Goat
North Park Food & Drink
Original 40 Brewing Company
The Original 40 Brewing Company is a beautifully decorated space where you can settle into the comfy seating with one of the 14 house beers on tap and enjoy atypical pub eats like baby back adobo ribs, gougères, and Castelvetrano olives. Cheers! 3117 University Avenue
Communal Coffee
Perched in the center of University Avenue, Communal Coffee shop offers a variety of caffeine- or booze-packed drinks for whatever kind of buzz you're looking for. Enjoy specialty latte flights, summer cocktails, and wine—or simply snap a pic by their outdoor mural wall for a quick Insta post. Not in the mood for drinks? Buy local goods, merch, or flower arrangements in their shop.2335 University Avenue
Dark Horse Coffee Roasters
Dark Horse Coffee Roasters is another local favorite for getting your caffeine fix while in North Park. Their coffee beverages boast a darker, bolder flavor, and they source direct-trade coffees from around the world. Psst—they also have incredibly tasty vegan donuts on hand to pair with your cup o' Joe.3794 30th Street
The Smoking Goat
The Smoking Goat's rustic interior paired with its delicious French and California cuisine make it a must-stop on your North Park foodie stamp card.3408 30th Street
One Door North
Next door to their flagship North Park restaurant, the owners of The Smoking Goat opened a visually intriguing, outdoor-themed restaurant dedicated to seasonal, handcrafted dishes. Enjoy a flatbread and a cocktail under the comfort of a canvas tent and a classy chandelier at One Door North.3422 30th Street
Atypical Waffle Company
Enjoy either a sweet or savory Belgian-style waffle in the shade of Atypical Waffle Company offering a colorful patio sporting turquoise baseball seats. They taste best paired with this spot's coffee and lemonade.3519 30th Street
Modern Times Beer
Local craft brewery Modern Times is a staple in the city, with three locations including their North Park residence. Stop in for a cold one and browse their 20-plus taps, enjoy some local merchandise, and peek at the Yoda made of floppy disks. And, don't worry, your furry family members are welcome on the patio.3000 Upas Street
Dunedin
Grabbing a flight to New Zealand may be going a bit too far to satisfy your meat pie and lamb burger cravings. Luckily, Dunedin is right around the corner. Offering daily brunch, lunch, dinner, and drinks, this NZ-inspired eatery has plenty of treats to try in its exciting, earthy atmosphere.3501 30th Street
Crazee Burger
If you're feeling up for an adventure, Crazee Burger may be the perfect place to experience something new. The restaurant offers 12 different exotic burger patties, including camel, ostrich, and gator along with beef and vegetarian options as well.3993 30th Street
Underbelly
The line between dining in and dining out is blurred at Underbelly, a funky ramen spot that has windows that flip all the way open to invite in that San Diego sun. Chow down on any of their ramens—made with rich broth and different meats—under the glow of neon lights.3000 Upas Street
Tribute Pizza
Sporting a creative menu in both names and tastes, Tribute Pizza is a local favorite paying homage to the greatest pizzas and pizza makers in the world. They call their style of pizza "Neo-Neapolitan," because it features a hybrid of New York and Neapolitan techniques. 3077 North Park Way
Belching Beaver Brewery
Belching Beaver is a staple around the city, thanks to their unique brews (such as Horchata with Coffee and Peanut Butter Milk Stout) and a lively tasting room in North Park. Come for the beer, stay for the Jenga and board games.4223 30th St
Caffe Calabria
On Mondays and Tuesdays, stop in to Caffe Calabria for some coffee, tea, and fresh pastries. Every other day of the week, experience the Italian neighborhood bar with pizza, cocktails, espresso, and antipastas.3933 30th Street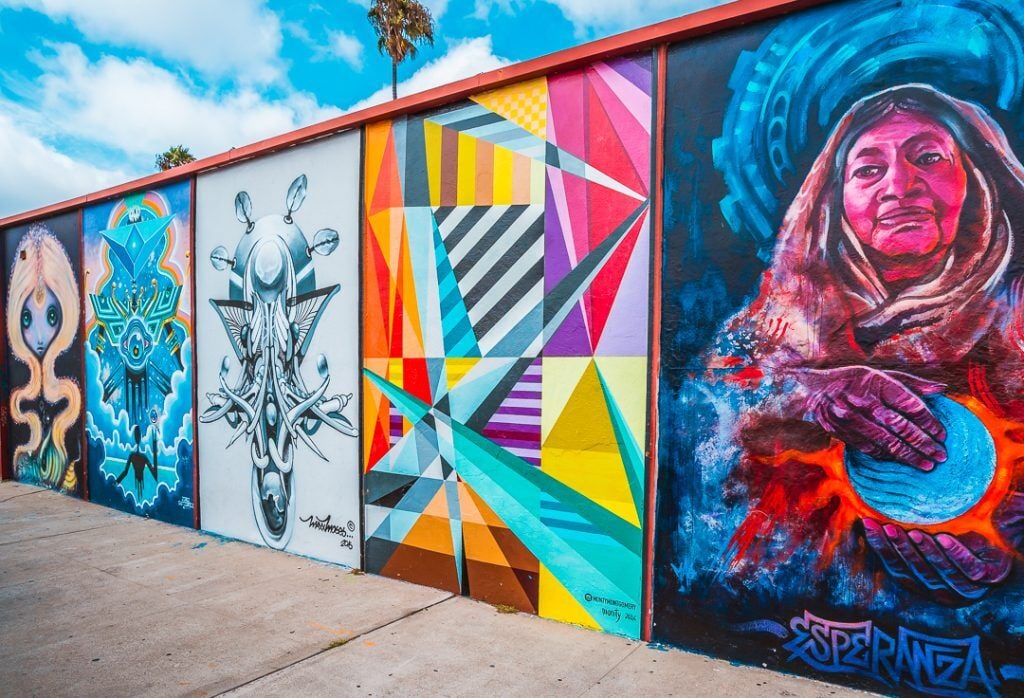 Courtesy of North Park Main Street
Explore North Park
North Park Mini Park
Located behind the Observatory Theater, the mini park plays host to a variety of events through the year for locals to enjoy. From live music to vegan and vintage markets, the space is the epicenter of community gatherings in the neighborhood.3812 29th Street
Juniper Canyon Trail
Juniper Canyon Trail is a hub of hiking, biking, birdwatching, and rock-climbing. If you're on foot, plan for about two-and-a-half hours of trekking to complete the loop. Bring water, but leave four-legged friends at home—no dogs are allowed on the trail.3331 Nutmeg Street
Switzer Canyon
Head to Switzer Canyon if you're looking for a hike with a little less mileage. Acting as the border between North and South Park, this 25-minute jaunt typically includes great views of San Diego's native birds.2800 Maple Street
Mural Walk
North Park is one of San Diego's most colorful neighborhoods, thanks to vibrant murals decorating walls and buildings throughout the area. Use North Park's Mural Guide to scout out a route to spot all your favorites, shopping local stores along the way.
North Park Recreation Center
Looking to learn a new skill or meet some friends (or just get your little ones out of the house for the day)? Head over to North Park's Recreation Center. It offers ceramic classes, sports leagues, kids' camps and cooking lessons, and movies in the park.4044 Idaho Street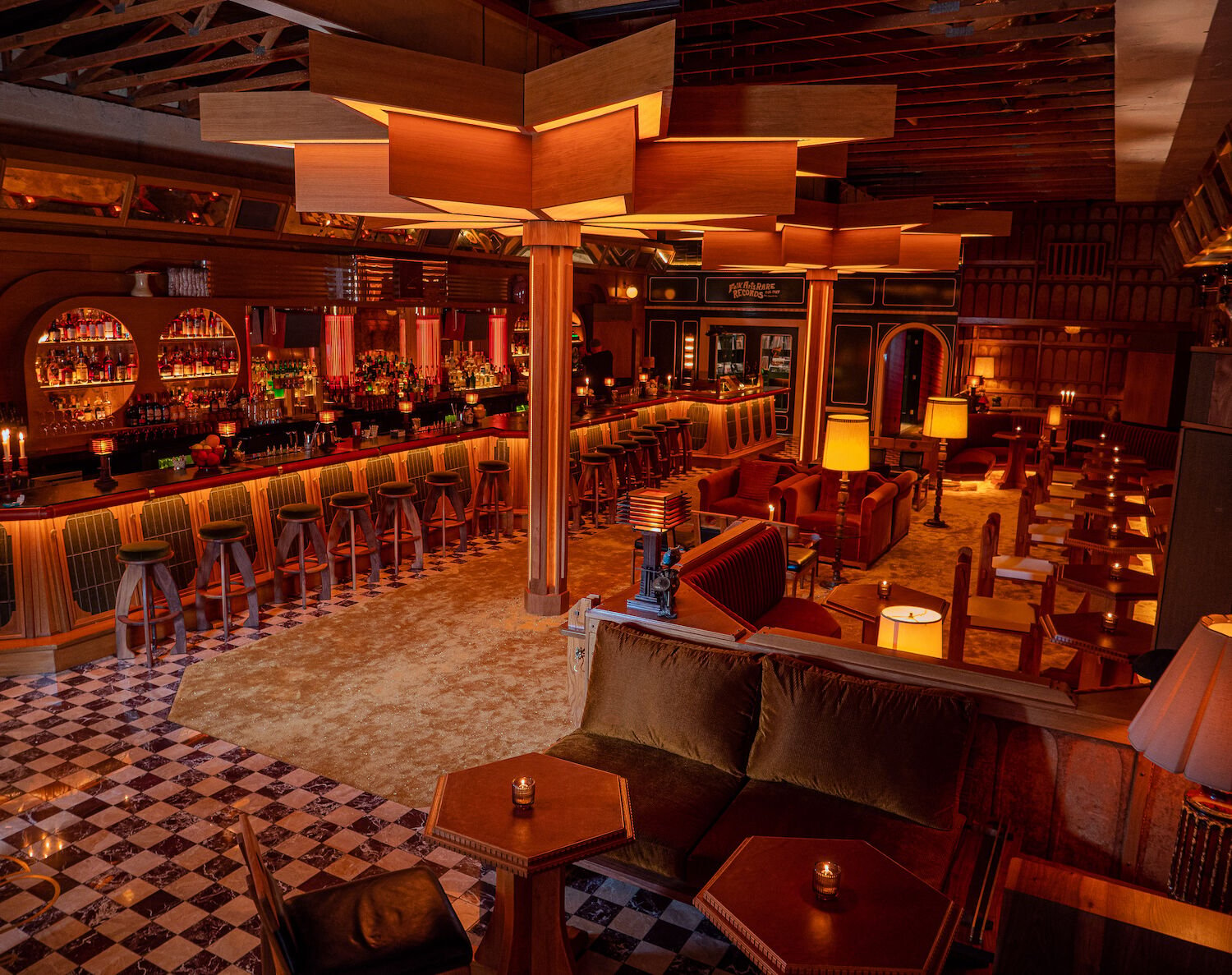 Photo Credit: Riley Dring
Things to Do in North Park
Skin Habit
Skin Habit focuses on personalized facial treatments that target your skin goals— while taking the sticker shock out of your spa day. A 50-minute facial will run you one Benjamin, while 30-minute refreshes cost just under 55 bucks. 3570 30th Street
North Park Observatory
The North Park Observatory is a beautiful, restored 1939 theater that hosts live music (plus the occasional theater show or live podcast recording). The venue is a mosh pit mecca, so don close-toed shoes when stopping by to see bands.2891 University Avenue
Queen Bee's Art & Cultural Center
Queen Bee's is home to an eclectic lineup of events, from jazz jam sessions and concerts with local musicians to sketch comedy shows and dance classes. Recurring events include the monthly San Diego Poetry Slam and weekly Sunday salsa nights.3925 Ohio Street
North Park Thursday Market
Look out for tons of tables packed with fresh produce, homemade baked goods, and local products at the Thursday farmers market. Also slinging gift-worthy picks from small businesses and some tasty prepared food, the market is located right outside the Observatory on North Park Way.3000 North Park Way
Lips San Diego
The only West Coast location of the iconic New York drag club, Lips San Diego hosts fabulous dinner shows Tuesday through Sunday, plus raucous "gospel" drag brunches on Sundays.3036 El Cajon Boulevard
Part Time Lover
Influenced by Japanese listening bars, Part Time Lover's unassuming façade hides a moody, art deco–inspired ambiance with DJs spinning vinyl on a hi-fi sound system and bartenders shaking up craft cocktails.3829 30th Street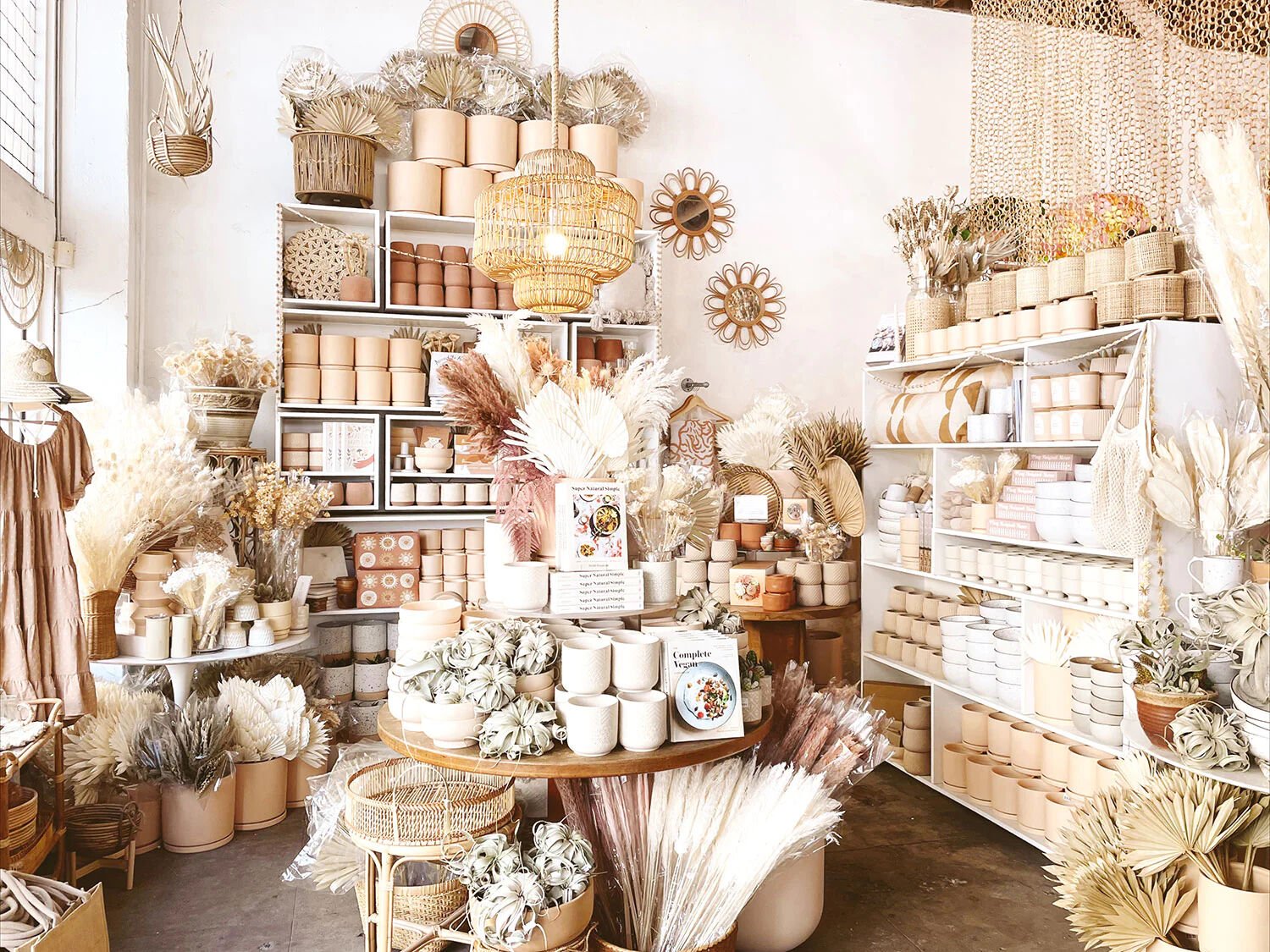 Courtesy of Pigment
North Park Shops & Boutiques
Verbatim Books
Hit Verbatim Books, a local rare and used bookstore, to peruse thousands hardcovers and paperbacks. We love their zine corner with eclectic, independently published booklets and comics. They also regularly host readings and open mic nights.3793 30th Street
Pigment
Glamorous bath products, neon water bottles, cool bar-cart accessories—Pigment has beautiful and trendy home and gift items. You can personalize a plant for your space at their succulent-potting station.3801 30th Street
Artelexia
Artelexia founder Elexia de la Parra sources home- and kitchenware, packaged foods, colorful gifts, and more from Mexico for her vibrant North Park boutique. Check their website for curated shopping guides with themes like "Dorm Ideas" and "Bachelorette Party."3811 Ray Street
Day to Day Vintage
Constantly on the hunt for the perfect graphic tee? Day to Day Vintage is a local favorite for streetwear fans searching for sustainable options. Pick up pre-owned clothes from brands like Levi's and Nike and check out the thrift market that they host every third Saturday of the month.3063 University Avenue
The Girl Can't Help It
Originally established 25 years ago in London and re-opened in North Park, The Girl Can't Help It features pre-loved fashion for all genders. The shop is packed with picks from the 1930s to the '60s—picture sharp suits, swingy dresses, and even filmy vintage sleepwear.3806 Grim Avenue
Sage Sisters
Pop by Sage Sisters for gorgeous, locally sourced flower arrangements in the neighborhood. The charming floral boutique also offers balloons and gifts such as pottery and candles. 3013 University Avenue
Overload
If you are on the move and looking for a place that can keep up with you, skate shop Overload has you covered on all of your skating needs—from colorful decks and durable helmets to funky footwear and fanny packs.3827 30th Street
The Original Paw Pleasers
The Original Paw Pleasers specialize in housemade cakes, ice cream, and cookies just for your pet! Your furry friend's sweet treat can be decorated for any kind of occasion—celebrate summer with a sun-shaped cookie or manifest a home team win with a Padres jersey cake.2818 University Avenue
Red Brontosaurus Records
Buy, sell, and trade vinyl at Red Brontosaurus Records. The music shop maintains an especially comprehensive collection of punk rock albums and also vends retro video games and consoles. Look out for their in-house events in a wide array of genres, like a local and niche version of NPR's Tiny Desk Concerts.3044 North Park Way