San Diego is one seriously book-loving town. How do we know? It's full of charming, local bookstores whose shelves sag under the weight of literary treasures new and used. Stephen King nailed it when he said that "Books are a uniquely portable magic." Whether you're headed to the airport, your couch, or the beach, stop by at one of these bookshops and pick up a bit of magic. Just make sure to pack extra sunscreen if you're beach bound—there's no telling how long you might be under the spell of a good read.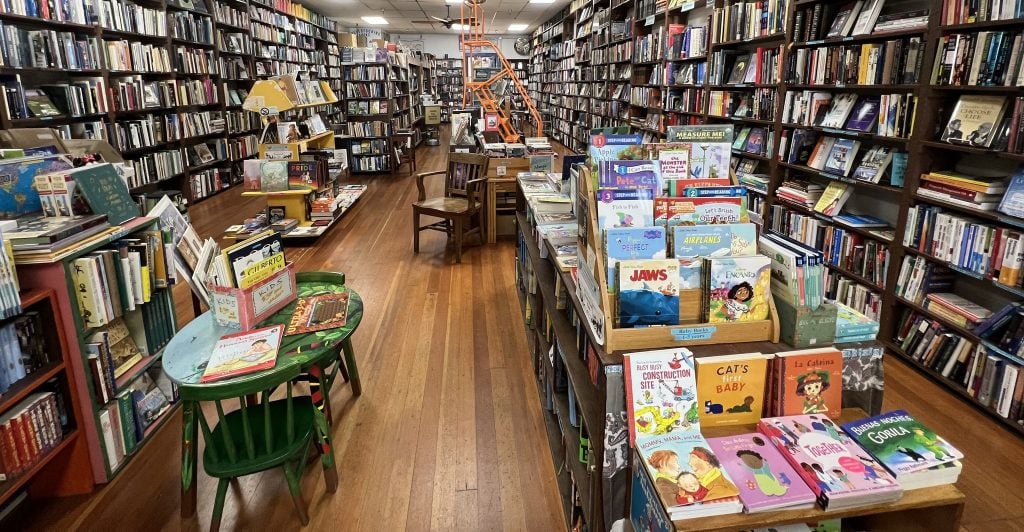 Bluestocking Books
This funky Hillcrest establishment covers all your used book needs from Shakespeare, Atwood, and children's books to newer titles like The Sentence and Be My Baby. Bluestocking also allows you to trade in your old books for store credit to spend on your yearly reading list. Start rummaging!
Hours: Mon. & Tues., 11 a.m. –6 p.m.; Wed. Closed, Thurs. 11 a.m -6 a.m., Fri. and Sat., 10 a.m. –7 p.m.; Sun., 10 a.m. –6 p.m.
3817 Fifth Ave, Hillcrest
La Playa Books
Nestled in Point Loma, La Playa Books has been a thriving outpost for bookworms since 2016, offering a trove of new, used, and antique books. Beyond curating an impressive selection of titles, La Playa hosts community events such as the Wine and Conversation Book Club, a Young Adult Book Club and the dynamic New and Noteworthy Book Club, where caffeinated discussions unfold via Zoom.
Hours: Tues.-Sun., 10 a.m. –5 p.m.
1026 Rosecrans St, Point Loma
Verbatim Books
Located in the heart of North Park, Verbatim Books is the local epicenter for book-lovers and is marked by an eye-catching mural of the shop's name spelled in worn volumes. Stepping inside, you'll encounter a trove of used titles, aside from a handful of local authors looking to build a readership. Stop by for open mics hosted by the Verbatim Poetry Society, held at least monthly. Looking for like-minded readers to converse with? Join the Verbatim community for their Books in the Park til Dark meetup every third Thursday of the month from 5:30 – 7:30 p.m. at Morley Field. They also buy used books, so consider trading in those tattered Stephen King editions for…some more Stephen King?
Hours: Sun. -Mon. 10 a.m. -6 p.m.; Wed. & Thurs. 10 a.m. -6 p.m.; Fri. -Sat. 10 a.m. -7 p.m.; Closed Tuesdays
3793 30 St, North Park
Warwick's
One of San Diego's oldest family-owned bookshops, Warwick's deserves its own history volume: It debuted in Minnesota in 1896; reopened in Waterloo, Iowa in 1916; and finally made its way to La Jolla in 1939. Today, upcoming and well-known authors grace the shop to speak about their work. The shop has hosted a variety of guests including presidents, senators, Pulitzer-Prize winners, best-sellers for author lunches, and provides discounts to local book clubs sourcing their books.
Hours: Mon.–Sat., 9 a.m. –6 p.m.; Sun. 10 a.m. –5:30 p.m.
7812 Girard Ave, La Jolla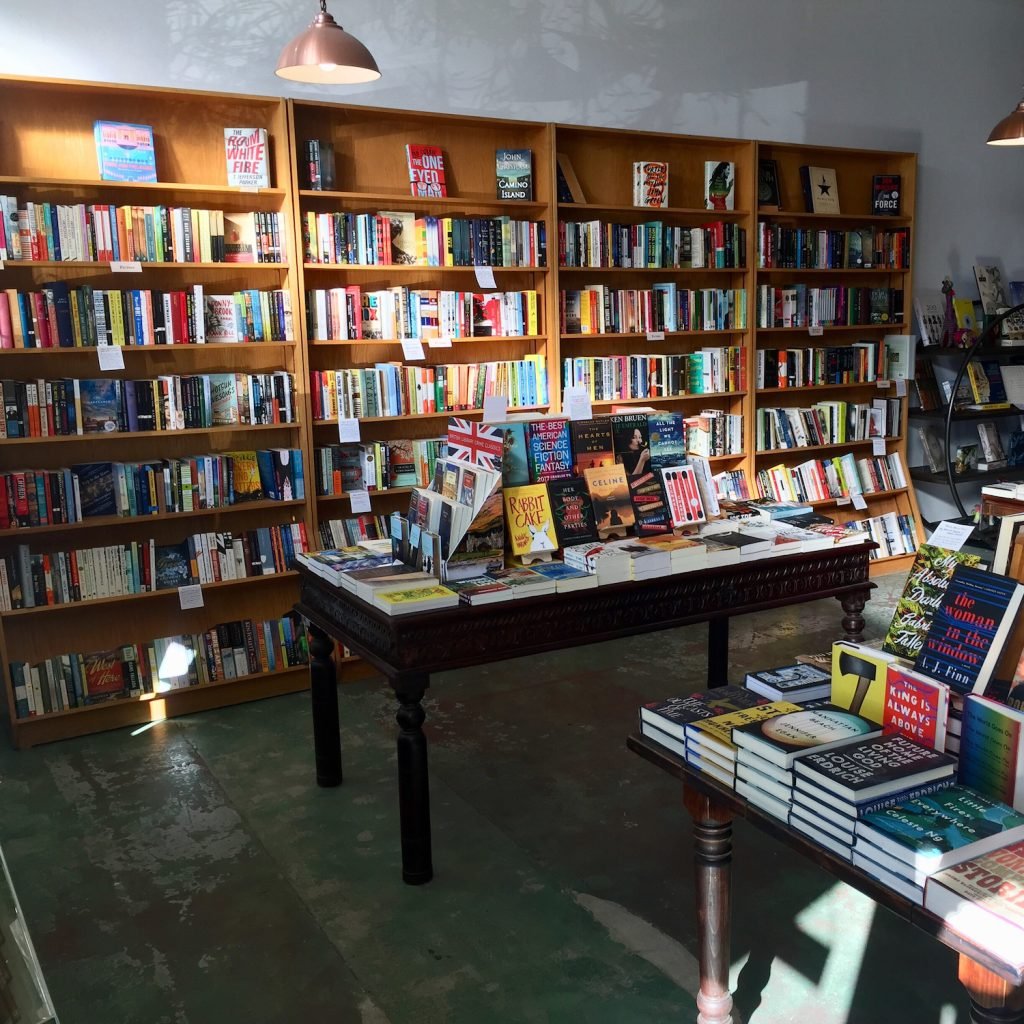 The Book Catapult
Few bookstores can say they started off as a book lover's blog, as this South Park shop did. Owner Seth Marko went from chronicling 117 days of reading James Patterson on his site, now titled The Old School Book Catapult, to launching a bookstore seven years later. The Book Catapult slings a variety of new titles like The Last Ranger and Tomorrow, and Tomorrow, and Tomorrow. The shop also partners with businesses like Communal Coffee to host informal Java-fueled book discussions.
Hours: Mon.–Thurs., 10 a.m. –6 p.m.; Sun. 11 a.m. –5 p.m.; Closed Mon.
3010-B Juniper St, South Park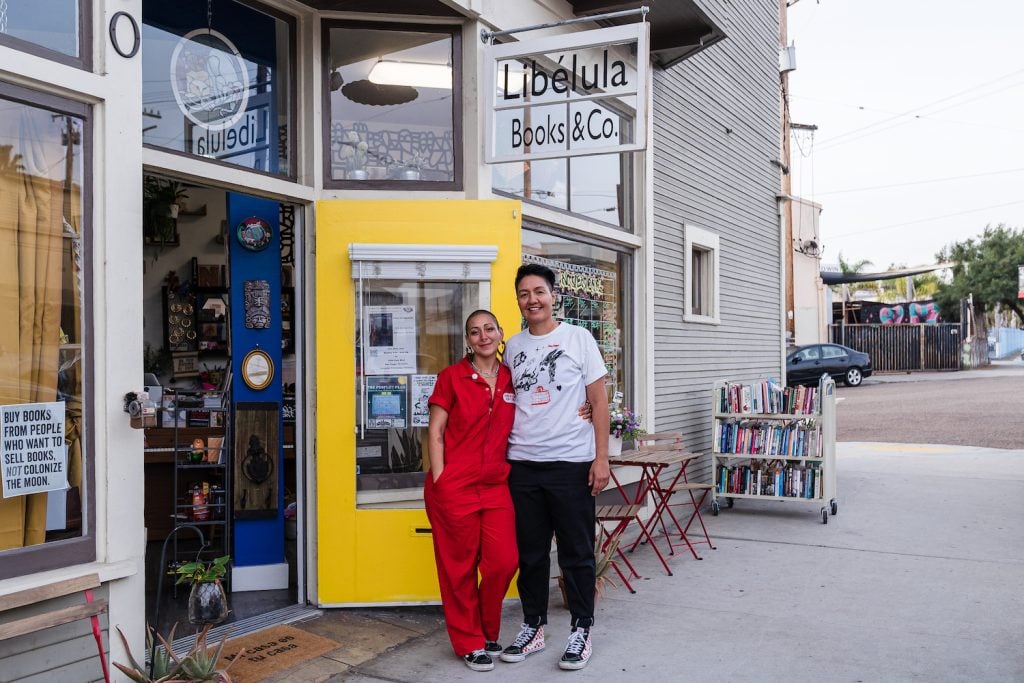 Libélula Books & Co
Located in Barrio Logan, Libélula Books & Co stands as an independent bastion, dedicated to fostering representation, accessibility, and empowerment through literature. Owners Jesi and Celi have curated a collection of new and used books in both English and Spanish, echoing the vibrant diversity of their community. Peruse an array of books, graphic novels, and social justice literature that reaches for the ceiling, all accompanied by the charming presence of their feline shop Billi Books. In an era where giants like Barnes & Noble and Borders have faded, Libélula shines as a refreshing beacon, giving voice and power to local communities, indigenous stories, LGBTQ voices, and independent writers.
Hours: Mon. -Sun. 11 a.m. -6 p.m.
950 S 26th St, Barrio Logan
Meet Cute Romance Bookshop
Featured in our 2023 Best of San Diego Retail, Meet Cute graces North Park as the latest literary gem on the block. The Queer owned, feminist bookstore specializes in romance novels from independent writers including recent favorites from Gabrielle Zevin, Rebecca Yarros, and Bonnie Garmus. Beyond its extensive collection of new books, the shop offers an array of chic notebooks, totes, mugs, and greeting cards, in a variety of pastel colors. For a literary surprise, explore the mystery book specials or their surprise care package tailored to your reading interests. And that's not all–the shop boasts its own podcast, the "Meet Cute BookPod," featuring in-store interviews and panels with like-minded authors and editors.
Hours: Wed. -Sat. 11 a.m. -7 p.m.; Sun. 11 a.m. -5 p.m.; Closed Mon. & Tues.
4048 30th St
Diesel, A Bookstore
Standing strong since 1989, DIESEL, A Bookstore originated in Northern California and has brought their love of reading to Brentwood Los Angeles and Del Mar. A sanctuary for readers of all ages, the store features an expansive children's section, inviting young minds to immerse themselves in the world of literature. With an extensive collection of genres, including a captivating selection of signed books, DIESEL hosts notable author meet-and-greets, participates in various book fairs around San Diego, and even orchestrates virtual events for the wider audience.
Hours: Sun. 10 a.m -6 p.m.; Mon. and Tues., 10am -7 p.m.; Wed. -Sat., 10 a.m. -8 p.m.
12843 El Camino Real
Bay Books
Located on Orange Avenue, the main street of Coronado, this island staple ought to be on your book crawl itinerary. With a giant array of books, plus journals, greeting cards, and magazines, you'll find plenty more than beach reads to stuff into your bag. If your hands aren't completely occupied with reading material on the way out, grab an iced coffee or a tea latte from their hole-in-the-wall cafe next door. Island residents, you're in luck: Bay Books shop provides free shipping to your door.
Hours: Mon.–Sat., 9 a.m. -7 p.m.; Sun. 9 a.m. -6 p.m.
1029 Orange Ave, Coronado
Mysterious Galaxy Bookstore
Lose yourself in a galaxy far, far away… as far as Clairemont Mesa, anyway. Mysterious Galaxy Bookstore transports you to worlds of science fiction, fantasy, mystery, young adult, romance, horror novels. Pick your poison! Delve further into these fictional worlds with the shop's monthly Young Adult, General Book Discussion, or Romance Book clubs.
Hours: Mon. –Fri., 10 a.m. –7 p.m.; Sat. -Sun. 10 a.m. –6 p.m.
5943 Balboa Ave, Clairemont
---
This post contains affiliate links to products and services. We may receive compensation when you click on links.