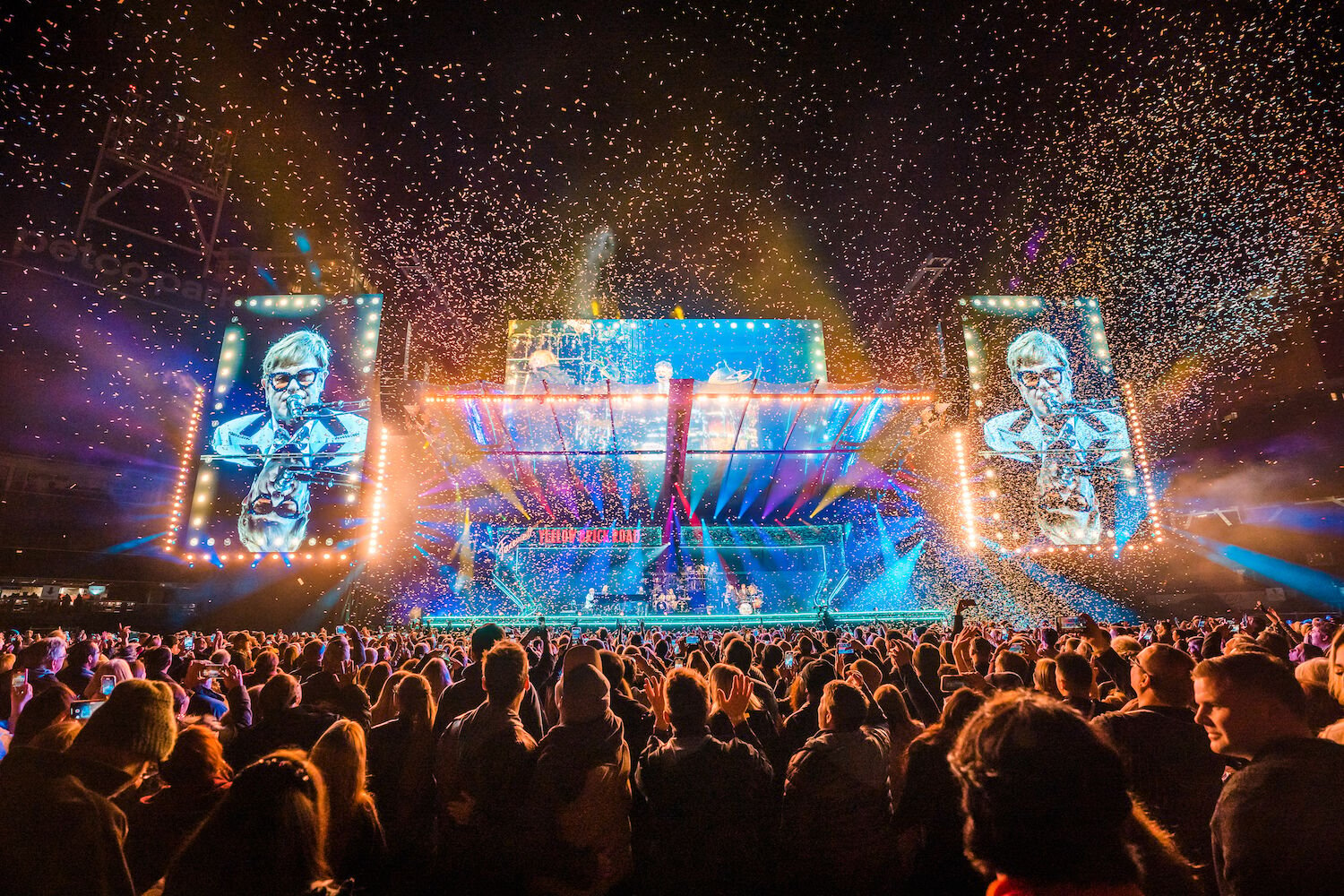 Credit: Eric Scire/Petco Park Events
There's an electricity and sadness in those epic hands, a bit amended by age but awesomely bedazzled. Hands that through the years have both composed some of the most memorably alive pop music the western world will ever know, and desperately dug through bags of drugs.That last point is relevant because the man's whole, unfiltered life is on display one last time. Plus, the best art has both hope and nihilism.These aren't just any hands. On the building-sized video screens lording over Petco Park, Elton John's fingers are 30-feet-long and they dance, really dance. Some of the biggest songs in the history of western pop culture tumble from those fingers into the open air and ricochet off skyscrapers in downtown San Diego one last time.Rocket Man.Daniel.Bennie and the Jets.I Guess That's Why They Call it the Blues.Tiny ****ing Dancer.Songs that billions of people over decades have cranked up to a medically irresponsible volume and sung their hearts out to—sung like these are national anthems to some amazing fictional country we pledge allegiance to and where people gladly fight on Saturdays. Songs we've made love to and songs for our burials. Songs that are no longer songs, but a shared history.Seeing them played live one last time—23 massive mega-hits played over two and a half hours—felt like Don McLean's song come to life. The "Farewell Yellow Brick Road" tour definitely marks the death of a rock 'n' roll era.Elton and his band are going through major international cities, turning out the lights for good, tipping bartenders. And Elton, sober now a long while and I'm sure a bit tired at age 75, is fantastic. He is utterly himself. His eyeglasses hyperbolic, Vegas as an optometric expression. He is as he's always been—the peacock of the piano, an ornamental and fiercely expressive exotic bird. He can't hit the high notes anymore, and mercifully doesn't try (nothing hurts quite like watching aging singers chase octaves that left them years ago). But you can still hear the good barroom beer swagger in his deep blues howl, and he is, always has been, one hell of an entertainer.His bandmates are all there, now old men whose success trapped them in a young man's game. And they visibly love it, completely unself-conscious about the long shelf life this circus has afforded them. Watching drummer Ray Cooper (also 75, band member since 1971) on the incredibly high-def screen is the highlight of the night. His goofy, constant grin rekindles the iciest of hearts. He rampages the drums, bobs his head, loses himself in this final grand spectacle. He seems so in love with this moment and the fact that they got to do this for so long—he is raptured, fully locked into that abandonment and glee most look for on dance floors and in bedrooms.This being a baseball stadium, I hereby start the petition for a Ray Cooper bobblehead.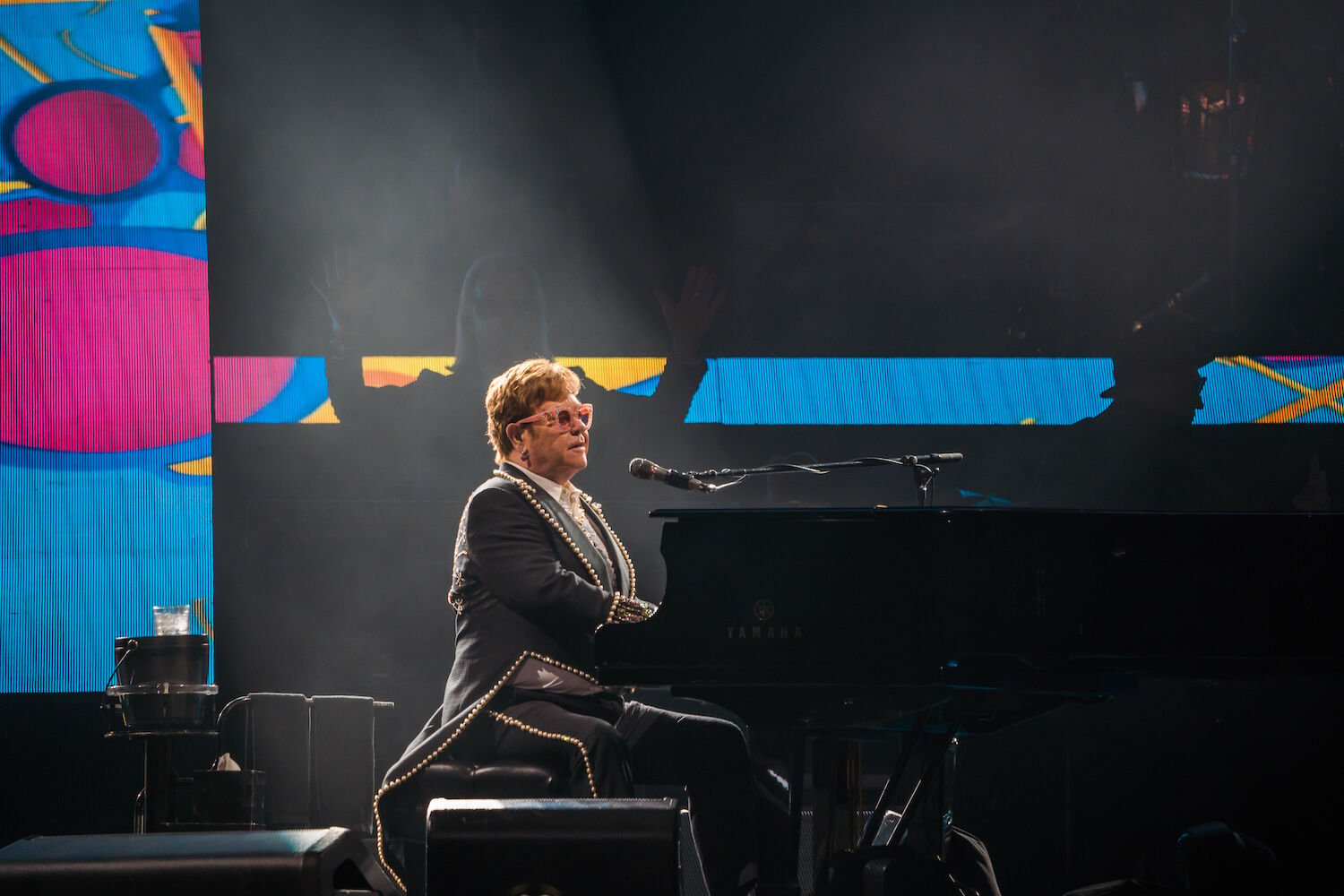 Credit: Eric Scire/Petco Park Events
Guitarist Davey Johnstone (71-years-old, joined the band in 1971) has his sunglasses on, dead serious about his final run. He plays with a very British kind of rock star cool—as if he's not putting on any airs… these airs were merely born on him.The only lackluster part of the show at Petco is the crowd itself. I often say I love San Diego because there's a Midwestern chill to people here, and sometimes that can come off as sleepwalkerish non-existence. More than a few times, Elton comes to the side of the stage and raises his hands, trying to get the crowd into it. Maybe they're too sad at his leaving, maybe they are excessively white-zinfandeled, maybe they are San Diegans.A show this large (Petco was beyond sold out at nearly 40,000 people) depends on massive, massive visuals to accompany what are, for most in attendance, shiny excited specks on stage. Four enormous, wildly vivid screens put on a Broadway-meets-Hollywood cinema that documents the life and times of Elton.Watching him, I am almost certain no rock star will ever be this big again.I wasn't alive when Reginald Kenneth Dwight came to be "Elton John." So my nostalgia for this man and his songs is an heirloom that was passed to me. Taylor Swift and Rihanna and Bad Bunny will be billionaires and their songs will be global, but they simply can't pierce the consciousness of humanity like Elton has.They say nostalgia is a form of death, but hear me out. When Elton and The Stones and Zeppelin won the world, they only had a few forms of mass entertainment to compete with (professional sports, Hollywood, etc.). Now there are video games and social media and the internet and endless streaming (as well as pro sports and Hollywood). Rock 'n' roll isn't dead, it's just not alone anymore.When Elton became a hit in the '70s, his songs went into every blockbuster film (which everyone went to see, because Netflix and HBO weren't creating original movies yet). His songs were played obsessively on every radio station (which we all listened to because Spotify didn't exist yet). Radio stations could only play a handful of artists a year, which built megastars. Now many of us listen to streaming services, where there are a billion artists (and thousands of pretty great ones).So maybe watching Elton play his last show isn't a death of music, but more a sending off of the culture gods we once made.