Playa La Misión
38 miles from Tijuana
The halfway point between Rosarito and Ensenada, not to mention just 30 minutes from some 100 wineries in Valle de Guadalupe, La Misión offers wide, sandy stretches alongside massive waves and is within walking distance of La Fonda Hotel's famed Sunday brunch.
Stay: La Fonda Hotel and Restaurant
San Felipe
122 miles from Mexicali
A two-hour straight shot from the Calexico-Mexicali border crossing, San Felipe was once the would-be Rosarito of the desert, evident thanks to its roster of monstrous, now-empty nightclubs. These days, you're better off loading a cooler full of fresh seafood and pitching a tent along the coast somewhere south of town near Valle de los Gigantes, a cardón cactus reserve that's home to 60-foot, 25-ton specimens that are up to 300 years old.
Stay: Playa del Paraiso
Bahía de los Ángeles
403 miles from Tijuana
Jacques Cousteau once referred to the Gulf of California as the world's aquarium, and the waters off the coast of Bahía are living proof, full of yellowtail that stretch up to five feet. Located within the Valle de los Cirios wildlife reserve, which covers the southern half of Baja California, the Bay of Angels was originally home to thousands of Cochimí people before the arrival of Hernán Cortés's explorers in the 1500s.
Stay: Mauro's Posada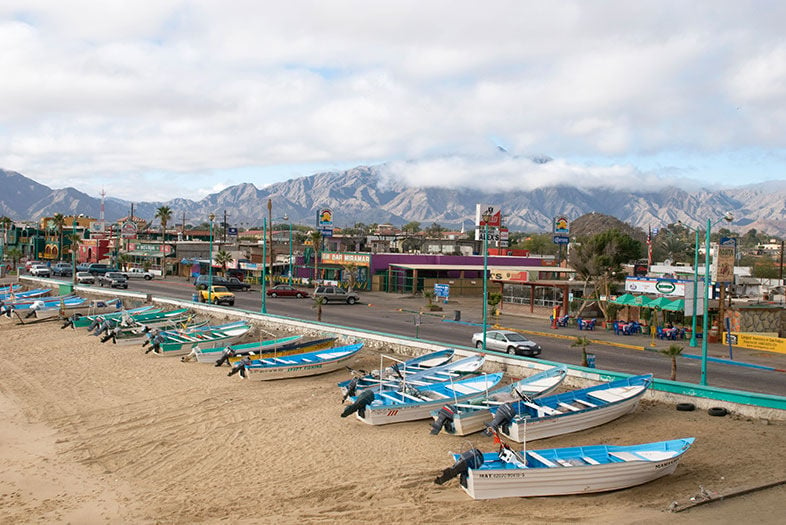 San Felipe, Mexico | Photo by Fredricka Arthur / Alamy Stock Photo