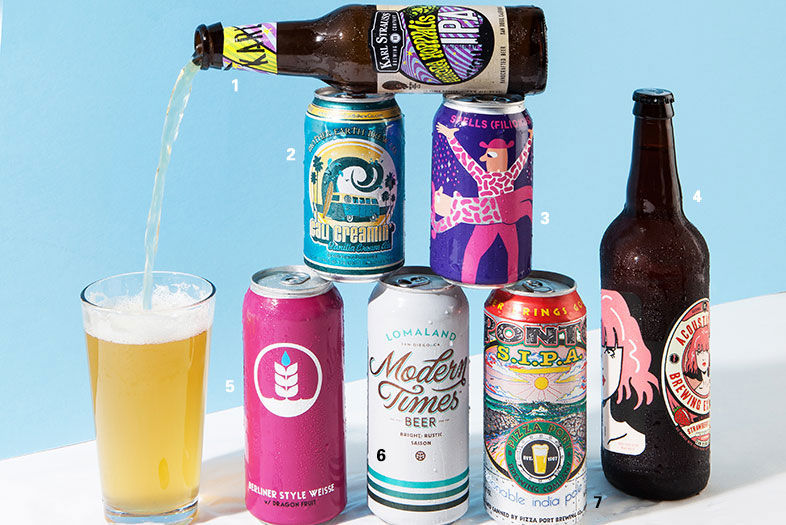 1
Aurora Hoppyalis
Karl Strauss
Karl Strauss's Aurora Hoppyalis IPA features giant hops flying above the San Diego skyline. "The beer is a nod to the city's hops addiction, giving a San Diego twist to the natural phenomenon that happens up north, aurora borealis," says Mark Weslar, VP of marketing. "The graphics and color choices were intentionally groovy and mildly psychedelic."
2
Cali Creamin' vanilla ale
Mother Earth
3
Spells IPA
Mikkeller
Leave it to a brewery with Danish roots to create cans with fashionable European flair. "Mikkeller label art is an ongoing album about the journey of two long-nosed lovers, Henry and Sally," explains Art Director Keith Shore about their Spells IPA can. "Our characters exist in a wildly colored world of clunky shapes, bold patterns, pointed shoes, bowler hats, and big hair."
4
Strawberry Blondie
Acoustic Ales
"All of our beer is music-inspired. How could we leave Blondie out?" says Acoustic Ales Craft Beer Facilitator Vicki Rook about their Strawberry Blondie beer. "Everyone loves Debbie Harry, so our local artist Scrojo made this awesome label for us." He gave Blondie a pink dye job as a nod to the 250 pounds of Carlsbad-sourced strawberries pressed into each batch.
5
Delphyne Berliner weisse
Pure Project
6
Lomaland saison
Modern Times
"Craft beer design often tries to attract attention to itself with the loudest, most macho, cartoony designs possible," Modern Times CEO Jacob McKean says of their Lomaland can. "We wanted to take the opposite approach by designing something that stands out for its simplicity. The logo is hand-illustrated, with a classic, vintage-inspired but still contemporary design."
7
Ponto S.I.P.A.
Pizza Port