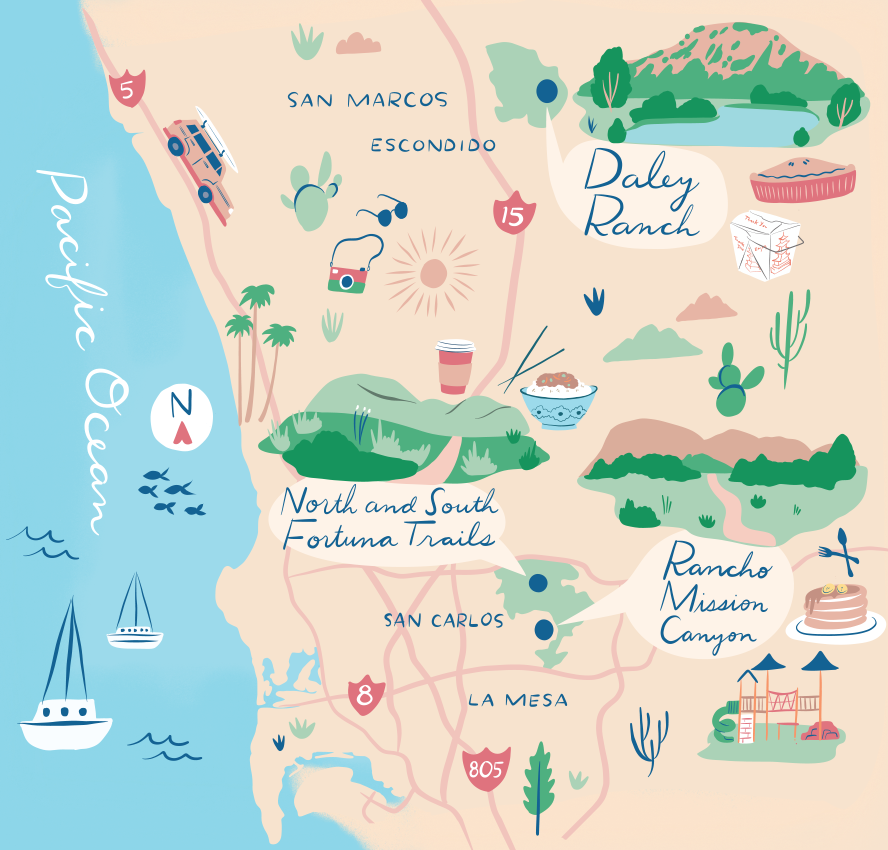 Illustration by Virginia Brown
Tierrasanta
North and South Fortuna Trails
7.6 miles out and back, challenging
Dog friendly, free parking
These are lesser-known and lesser-visited peaks in Mission Trails Regional Park, so you are likely to get quieter and more peaceful hikes. Start at the West Fortuna Staging Area on Clairemont Mesa Boulevard and follow the trail to South Fortuna, then take the Fortuna Saddle to North Fortuna, turn around, and head back. The trail will take you to the top of both mountains, so you can brag that you bagged two of the park's five peaks. When you're done, refuel with coffee and baked goods at Industrial Grind Coffee (6020 Santo Road, Tierrasanta), or for more carbs and protein, get sushi and rice bowls at Edamami in the same business park (5950 Santo Road, Tierrasanta).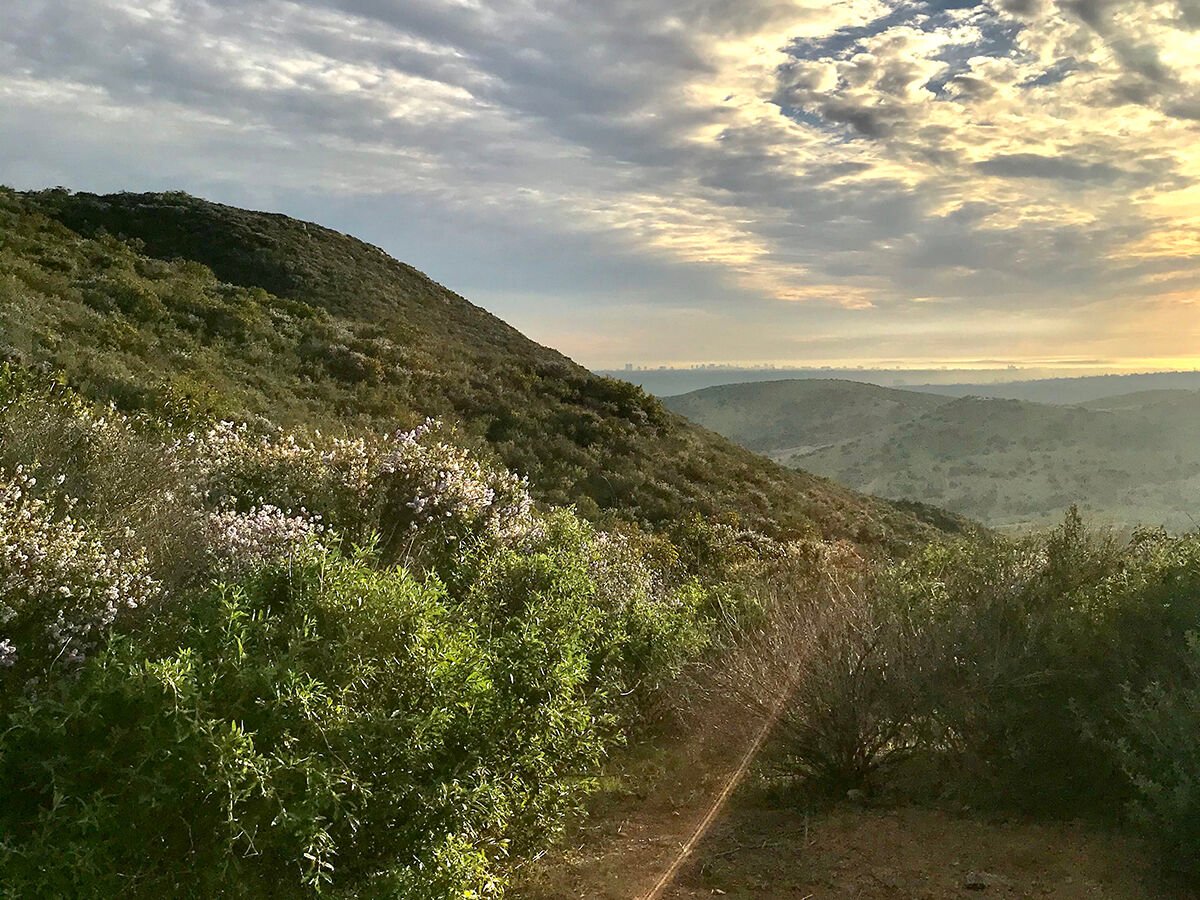 Dewey Keithly
San Carlos
Rancho Mission Canyon
3.3 miles for the loop, moderate
Dog friendly, free parking
This trail takes you through hidden canyons in the Allied Gardens neighborhood—it's not very well known, so you can hopefully enjoy some solitude as you walk! Start at the parking lot on Margerum Avenue. Follow the trail north until it comes out on Hemingway Avenue, then take neighborhood streets to pick up the trail again at the end of Cabaret Street and return to where you started. Along the way, take in views of rolling hills that you'd never expect to find in the middle of a residential neighborhood. Afterward, get Elvis Pancakes (banana, chocolate chips, and peanut butter) or choose from a wide variety of waffles, scrambles, and Benedicts at the diner The Trails Eatery (7389 Jackson Drive, San Carlos).
Escondido
Daley Ranch
2.2 miles for the loop, easy
Dog friendly, stroller friendly, free parking
This is an easy hike in North County that's great for bringing the kids along, with other trail options if you want to add distance. Start at the parking lot on La Honda Drive and follow the Ranch House Trail to the East Ridge loop. You'll pass Middle Pond along the way. Take the kids for curbside pickup at J&M's Family Restaurant (1215 East Valley Parkway, Escondido). Or get Chinese takeout at Bamboo House (320 North Midway Drive, Escondido).