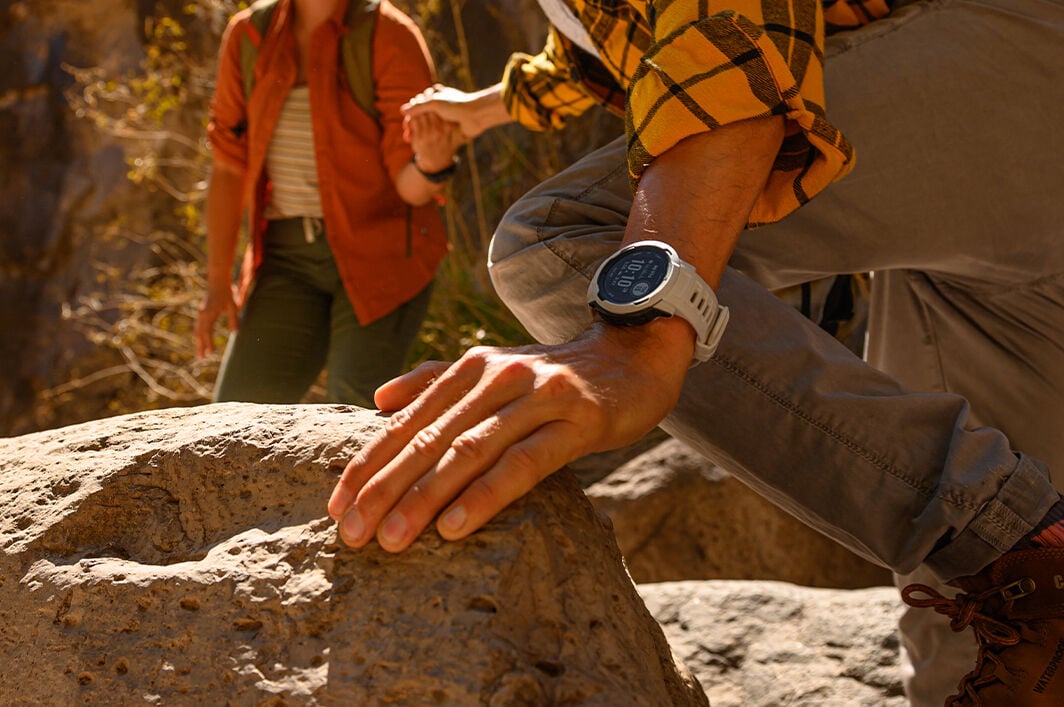 Credit: Garmin
One of the best things about hiking in San Diego County is that none of our hikes are too strenuous and the elevations aren't too serious; and therefore, don't require any serious gear. No crampons or ice picks are required to summit our tallest peaks. That said, hiking in and around San Diego can still be dangerous if you don't have the right equipment—mostly water and sun shade, and the right shoes of course. The right gear can always make an excursion on a mountain or trail far more enjoyable.
So if you're looking for some recommendations on what to bring on your next hike, consider the following suggestions:
Food and Water
The most important thing to bring on a hike, no matter the time of year (but especially in the summer), is water. The general rule for adults is to drink a half-liter of water for every hour of hiking, but that's at moderate strain in moderate temperatures. If it's hotter or more strenuous, you should go up to a liter every hour.
Here are some of my favorites for hydration accessories:
For many of San Diego's shorter hikes (two or three hours roundtrip), you shouldn't need to pack many snacks or a lunch, though you certainly can, because it's fun to stop and take a break on the trail. For small snacks to bring, consider energy bars, especially ones that don't melt like Clif Bars or Pro Bars, and energy gels that you can sip on easily while you hike.
Then there are also the old standbys: trail mix, dried fruit, or peanut butter and jelly sandwiches, but don't overdo it, because you could end up with a stomach ache.
The Basics
Now, onto the basics that are important to bring on any hike:
Typically, you can get away with a good pair of trail running shoes on local trails but hiking boots are also fun to have. It's a good idea to get them fitted for you by a professional. You can do this at stores such as REI, Milestone Running, or any other specialty store.
Socks are also important, and something many people often overlook. My favorites are Smartwool PhD hiking socks, but anything with enough cushion that won't rub on your feet and cause blisters is great.
Sun protection is also very important, which can mean a hat or a large brim visor, sunglasses, sunscreen sticks and sunscreen chapstick.
Consider wearing lightweight long sleeve UV sun shirt and pants, which can also help if you brush against bushes along the trail.
A small first aid kit you can bring in a backpack. REI actually has a great checklist of what should be in your kit here.
A map or trail book, or just a print out of the trail page, so you don't have to carry a book. Don't count on cell service on the trail to make sure you don't get lost.
I like to carry a little tissue or toilet paper in a Ziplock bag, so I can use it if I need it and then pack it out with me.
You can put on insect repellant before you go—though you shouldn't need to carry it unless you're going on a very long hike.
Pack everything in a lightweight day backpack that doesn't jostle around or add extra weight to your trek.
The Fancy
There are also some extra items that can be helpful on a trail, but aren't absolutely necessary to have. If you're looking to chase some of the more challenging hikes, these items can be helpful:
A GPS watch like the ones from Garmin (I recommend the Fenix series of watches) that tell you how far you've gone, or a handheld GPS device with maps that work even when cell phones don't, such as the Garmin GPSMAP 66st.
A watch that tracks your heart rate, or a heart rate monitor, to make sure you aren't overly exerting yourself.
Devices from Core Body Temp can be worn on your arm and track your body temperature to be sure you aren't overheating.
Other fun but not necessary items include hiking poles, headphones (please, please no wearable speakers on the trails!), and a headlamp if you're going to be out early or late.
Most importantly, make sure you tell a friend where you're going and when you'll be back, so they know to call for help if you don't check in at the appointed time. And if you're feeling weak or tired, it's totally fine to stop and rest, or turn back–you can always conquer the summit another time.