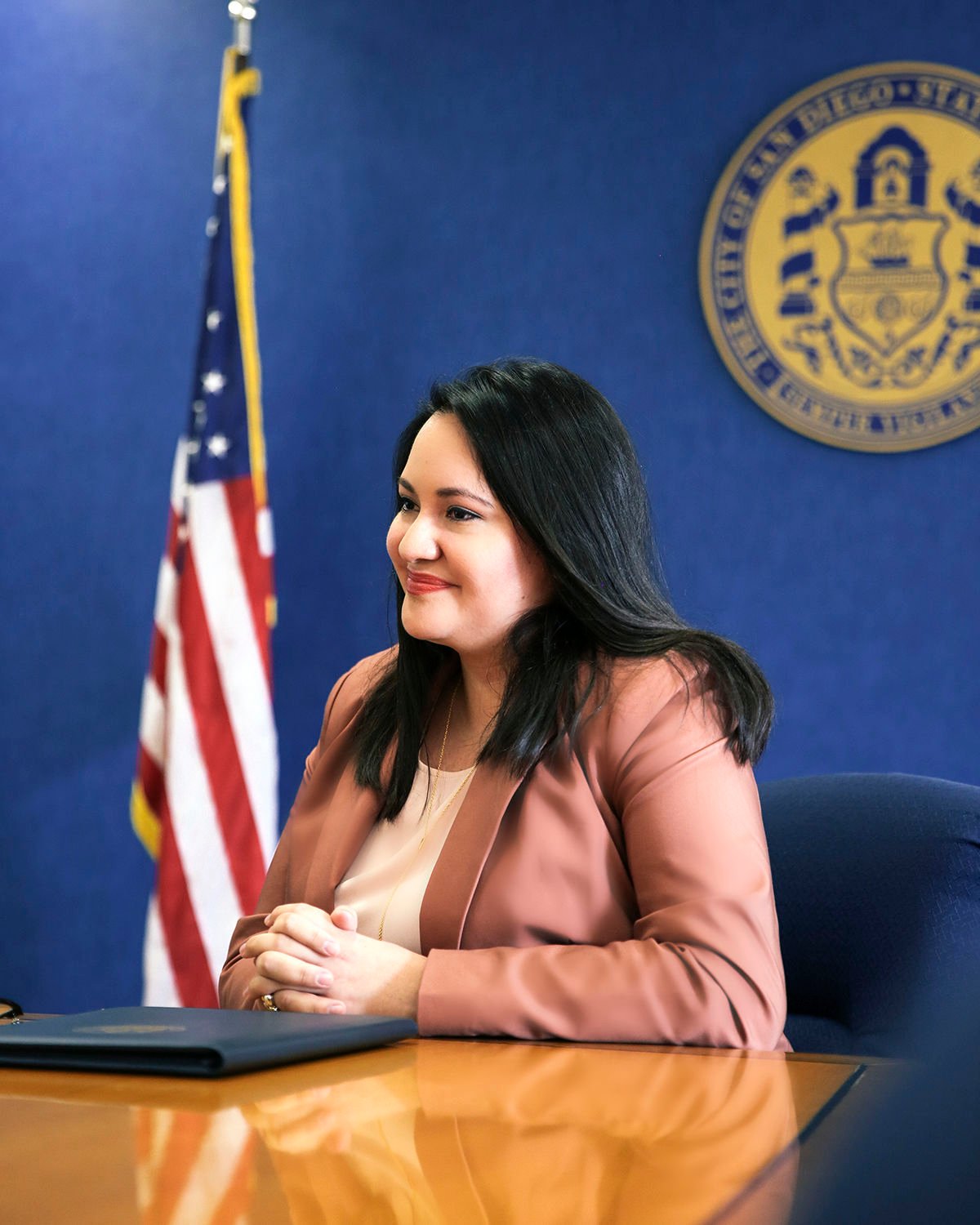 Madison Parker
When Rita Fernandez settled into her office in city hall last November, the nameplate on her desk didn't just represent her own "welcome home"—it represented the historic steps San Diego is taking to become a welcoming home for everyone.
Fernandez is San Diego's first-ever immigrant affairs manager. Her position was created as part of the five-year "Welcoming San Diego" strategic plan, 28 pages of recommendations to make our city as hospitable as possible to immigrants, refugees, and other newcomers—who make up a quarter of San Diego's population.
Fernandez's job? Put the plan in motion.
"We know that immigration policies and laws are, by and large, created and enforced at the federal level. So, people may ask, 'Why is it important that the city have an immigrant affairs manager?' Well, cities can do a lot. We have a great stake in the overall safety and health of our residents."
After all, foreign-born residents contribute about $54 billion to the county's GDP, according to a 2018 report conducted by New American Economy Research Fund.
It's Fernandez's responsibility to roll out their welcome mat, and she's doing that by building relationships with community partners who can help coordinate programs for newcomers that'll span everything from landing a job and finding housing stability to getting involved in civic duties.
The University of San Diego alum has experience implementing similar programs. After graduating, she spent two years in the Washington office of US Representative Juan Vargas (CA-51) and, most recently, in Los Angeles Mayor Eric Garcetti's Office of Immigrant Affairs for three years, where she created programs for LA's immigrant community.
But at just 31 years old, what makes Fernandez uniquely suited for her role is that her family has lived out some of these challenges. Her parents are naturalized citizens who immigrated here from Mexico City.
"My dad went to college in Mexico City," she says. "When it came time for me to apply, a lot of it I had to do on my own. He didn't have to take an SAT and had a very different application process. I had to rely on my school counselors and my own research. That experience helped me see how complicated it can be for you and your family, as an immigrant, to get your bearings. You learn how to essentially establish a new life in the region."
Access to education is just one of the aspects of the Welcoming San Diego plan she's focusing on in 2020. Others include financial literacy and economic empowerment—programs that explain skills like how to set up a checking account or get an auto loan.
"For someone who comes from a foreign country, this might be really difficult to find access to or even just know about," Fernandez says, "especially when they're initiatives that are led by a municipal government or a county government. People may not think to look at government for that type of assistance."
And it's not only for our neighbors right across the border. It's for every immigrant and refugee in San Diego.
"It's very important for us to make sure we're not leaving anybody out, that we're making an emphasis on how diverse our immigrant populations are," she says. "As a daughter of immigrants, it's something that really anchors me back to what I'm doing here and reminds me of the importance of the role—the first-ever immigrant affairs manager."