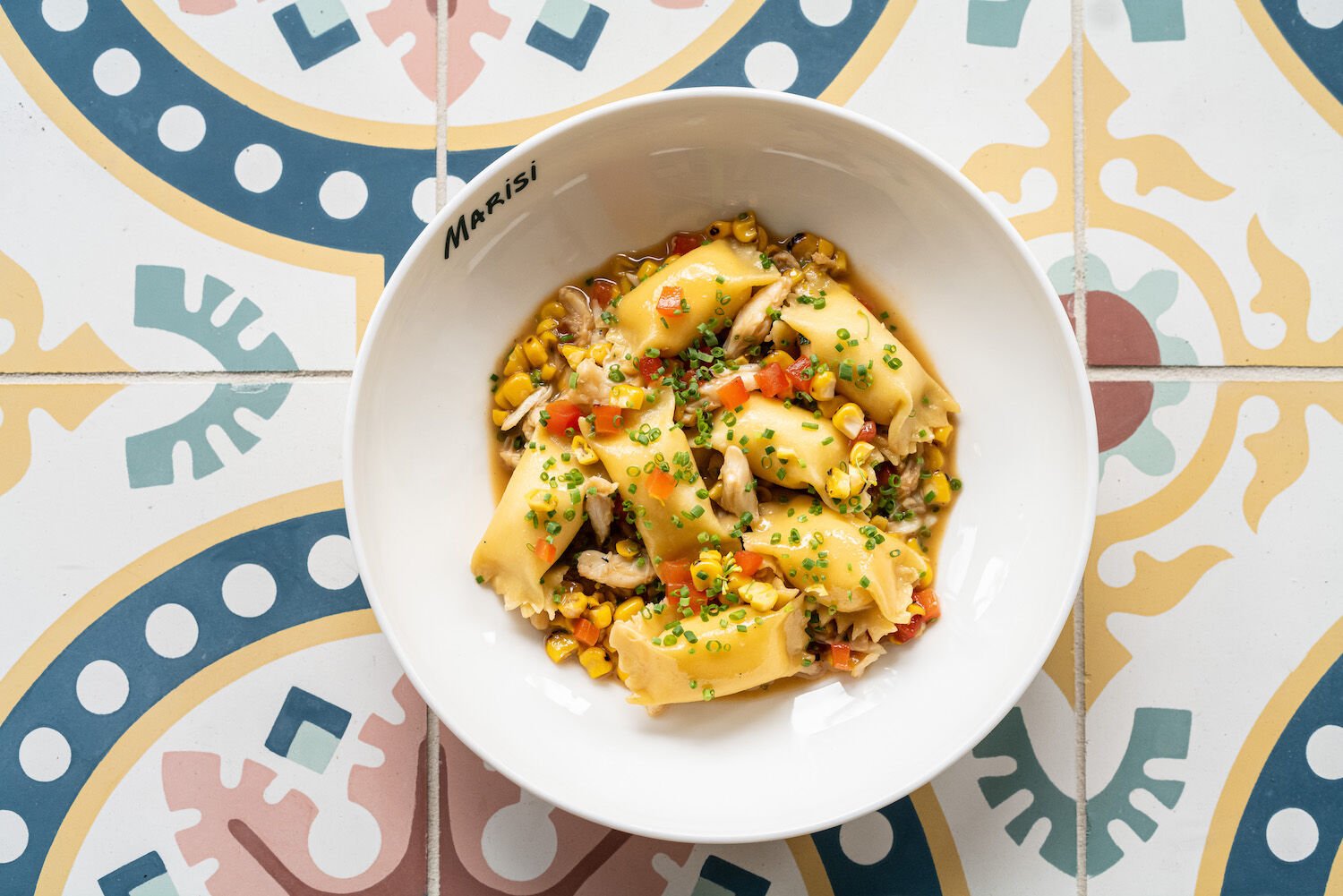 Jim Sullivan
In the works for two years and caught in a hype avalanche for at least one, Marisi finally opens this month in La Jolla. "We just got the bill for the cabinets and your dry-aged fish," says co-owner Alex Adler, casting playful shade toward executive chef Chad Huff. "When you dry-age it, it just tastes more like itself, and the skin gets crispier!" Huff blusters in his defense.
What started out as a pretty simple idea for an Italian restaurant from the La Jolla-born Adler brothers and cousins (they own Puesto, which they're reluctant to even mention because Marisi is so wildly different) escalated quickly.
"At some point, we had to put a ban on R&D," says Eric Adler. Now the lineup reads like a roster of a fantasy restaurant league: culinary director Erik Aronov cooked with Michael Voltaggio (Ink) and Jordan Khan (Vespertine); Huff started as a line cook at two-star Michelin Providence, then mastered hand-made pasta under Evan Funke at Felix Trattoria, and ran the show at Broad Street Oyster Co.; and bev director Beau du Bois comes from three-star Michelin The Restaurant at Meadowood.
Going into the former Whisknladle space, the Adlers raised the roof of the patio, opened the kitchen, and got happy with the color wheel (yellows, greens, blues, pinks). Huff's menu will be split between dishes cooked in a 10-foot brick-and-tile hearth (they will be doing some whole animal butchery, too) and hand-made daily pasta (like the agnolotti with corn, crab, bell pepper, and chives pictured here).
"Anyone can fling some dough and call it pasta," Huff explains. "But it takes time to really get it down so that your hand moves like a machine, and every piece is the same size and consistency."
At the bar, du Bois is doing Italian aperitivos, rare spirits, and maxing the charms of vermouth and limoncello. "The first thing Beau said was,'Everyone thinks limoncello is terrible because no one makes it in house,' so now we've got 200 gallons of housemade limoncello ready for the open," he laughs.