With a string of locations around San Diego from East Village to North County, this popular brunch spot is known for more than just a never-ending supply of chicken puns, egg decor, and eclectic pop culture references. Brunch lovers can flock here for Oreo pancakes, shrimp and grits, s'mores French toast, and breakfast cocktails.
Eight locations, see website for details
Salty sea air, the sounds of seagulls and waves, and a stunning view of La Jolla Cove. Housed in one of La Jolla's original beach cottages, Brockton Villa offers a fusion of American, Mexican, and Mediterranean flavors sprinkled throughout their menu items. But before letting your eyes wander the menu for too long, look for the house specialty: Coast Toast. The popular French toast, similar to a soufflé, is a must-try for first-timers. The award-winning dish has a hint of orange, and if you're really in the mood to splurge, you can get it à la mode.
1235 Coast Boulevard, La Jolla | 858-454-7393
Started in 1979 in Pacific Beach, the hometown favorite has grown to 15 locations in San Diego County. Try their Tiki Toast (Hawaiian bread made into French toast), or their Golden State Benedict, a toasted English muffin topped with grilled tomato, avocado, applewood-smoked bacon, poached eggs, hollandaise, and a Sriracha drizzle.
15 locations, see website for details
Experience the culture of Azerbaijan at Cafe 21, from their fusion dishes to their style of service and everything in between. Their concept is small plates, which allows for variety and the experience of trying different tastes and flavors—the bread and housemade jam is a must at breakfast, it goes well with the organic Peruvian blend. 802 Fifth Avenue, Downtown | 619-795-0721
2736 Adams Avenue, University Heights | 619-640-2121
The cafe is on the campus of UCSD Scripps Institution of Oceanography, in the Seaside Forum, in walking distance from Scripps Pier. Relax on their ocean-view patio and enjoy the Mediterranean egg scramble while you watch the waves. Espresso drinks and baked goods are available all day at the counter.
8610 Charles F. Kennel Way, La Jolla | 858-202-0569
Located in the heart of Solana Beach, this quaint cafe and bakery specializes in homemade breads, pastries, and desserts like peach cobbler coffee cake. They grind their coffee beans and juice their Valencia oranges daily on-site. If you're on the go, make a quick stop for coffee, salads, or baked treats at Claire's Too, whose bakery counter is just across from the restaurant entrance.
246 North Cedros Avenue, Solana Beach | 858-259-8597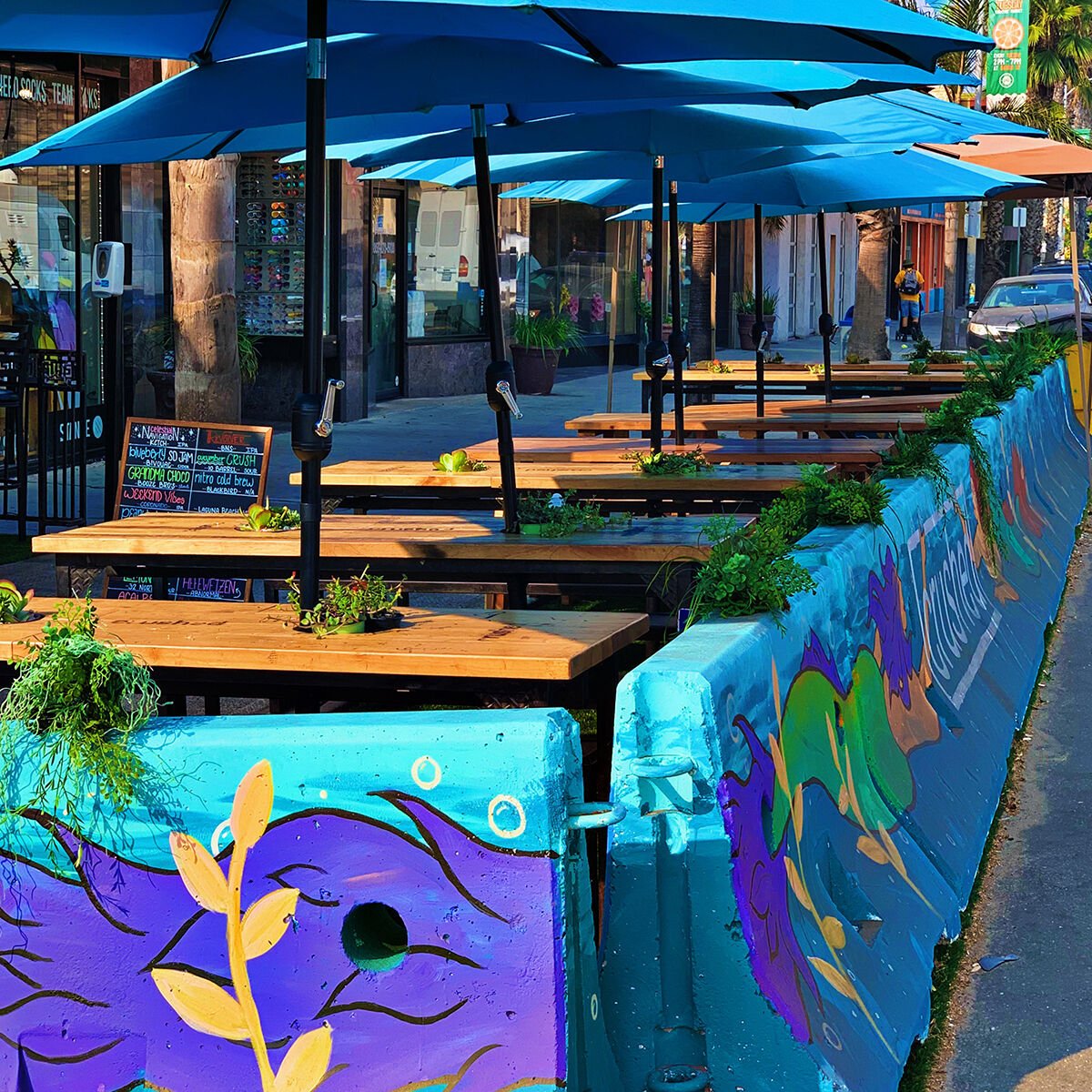 Offering selections from American, Mexican, and Italian fare, this family-owned and operated brunch spot is known for their drinks just as much as their food. Try one of their "bresserts" (breakfast desserts), like the popular cinnamon roll pancakes, with some craft beer, mimosa, or wine. If you're hoping to get a trendy Instagram post out of your visit, start off your morning with their mimosa flight and choose three different flavors, such as elderflower or ginger lychee, that are sure to brighten up any picture.
967 Garnet Avenue, Pacific Beach | 858-230-6567
This restaurant brings together locally sourced organic ingredients with wood-fired pizzas and flatbreads, omeletes, and skillets. They're famous for The Barn Yard bloody mary, a pitcher topped with an entire roasted chicken (made for four people or more). There's also a kids' brunch menu.
550 West Date Street, Little Italy | 619-255-0958
8141 La Mesa Boulevard, La Mesa | 619-724-6465
3055 Clairemont Drive, Bay Park | 619-359-4485
For over two decades, Hash House has brought a little country to the coast with its fresh spin on classic Midwestern comfort food. The most popular meal, Andy's World Famous Sage Fried Chicken, is a must-try, and they're famous for their bloody marys. Great Maple, a second location from Hash House's founder, is a modern eatery with fresh housemade pies, Benedicts, and French toast logs. For anyone with a sweet tooth, the Fruity Pebbles pancakes (a limited offer on the secret menu) and the maple bacon donuts are must-trys.
1451 Washington Street, Hillcrest | 619-255-2282
3628 Fifth Avenue, Hillcrest | 619-298-4646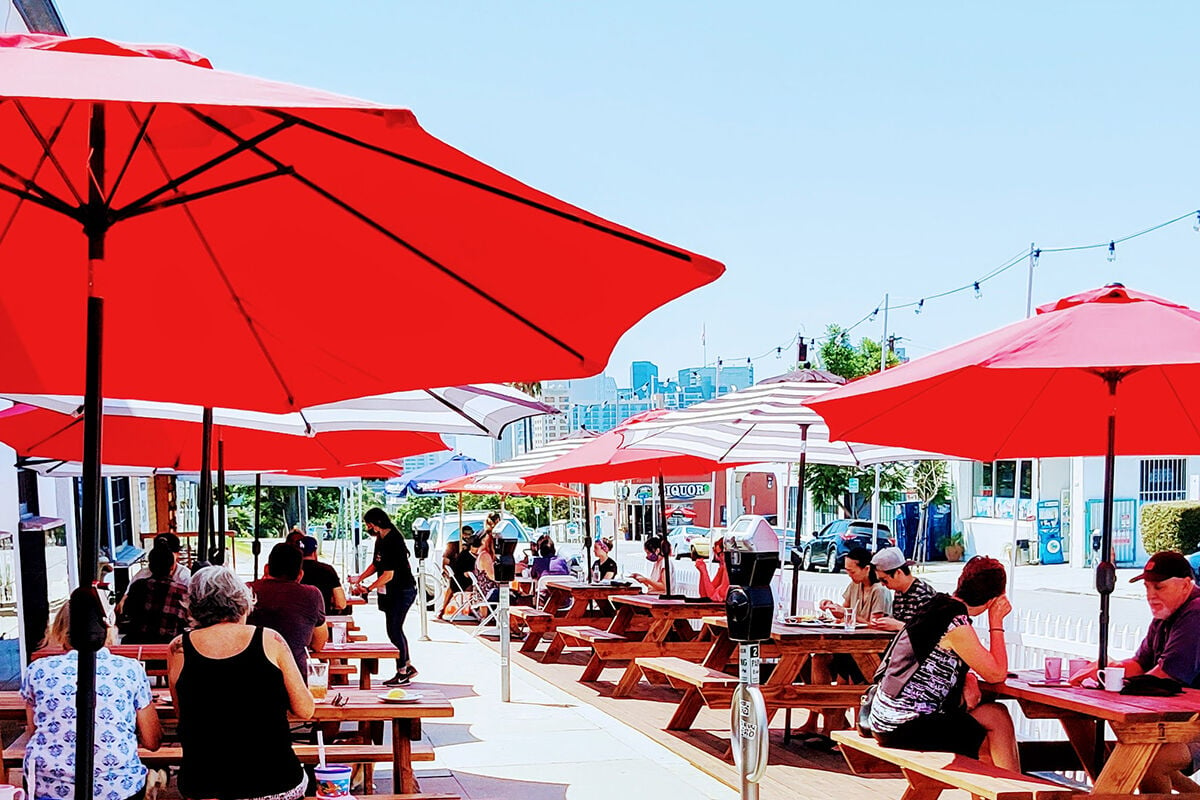 Located in the heart of San Diego, Hob Nob Hill has been serving scratch-made food to generations of San Diegans and visitors alike since 1944. They recently built an expansive outdoor space on First Avenue. Try the crab Benedict or bone-in pork chops and eggs.
2271 First Avenue, Bankers Hill | 619-239-8176
Jrdn is the place to go for sushi, cocktails, and people-watching—all with an ocean backdrop. It's right on the Pacific Beach boardwalk and features both a breakfast and an all-day menu with their own take on surf 'n' turf cuisine. Catch them in the morning for a refreshing acai bowl or a hearty veggie scramble, or treat yourself to a lobster roll or poke bowl anytime after 11 a.m. If you're in the mood to complement the view with a drink, pick from an extensive wine list or build your own mimosa.
723 Felspar Street, Pacific Beach | 858-270-2323
Tucked away in an alfresco courtyard adjacent to The Guild Hotel's central lobby, Luca features Mediterranean and North African flavors, such as deviled eggs with tobiko caviar truffle oil and a unique take on ​avocado toast​, served with poached eggs, arugula salad, tomato jam, and quinoa popcorn. Let your travel-deprived self enjoy the French Riviera ambience in some dreamy brunch-time.
500 West Broadway, Downtown | 619-764-5160
Try the carnitas stack, a Belgian waffle made with manchego cheese, drizzled with avocado sauce and topped with carnitas and a poached egg. This University Heights hangout also serves brunch cocktails, including the Motor Bike, which is El Jimador tequila blanco with aperol and hints of watermelon, ginger, and lime.
4622 Park Boulevard, North Park | 619-269-6566
If you're looking for ambience that will stun you just as much as the food, Morning Glory's got you covered way beyond your expectations. Come up to the second floor in the heart of Little Italy to enjoy the trendy Japanese soufflé pancakes or the pork belly fried rice. Or just sit and gape at the pink Champagne vending machine and the giant electric-pink flower looming overhead. Either way, you'll be living any Millennial's *aesthetic* brunch dreams.
550 West Date Street, Little Italy | 619-629-0302
Getting a table on the charming patio at this modern bistro is like taking a quick escape to a Parisian cafe for a couple of hours. Start off the weekend with crepes, quiche, a croque monsieur with Bayonne ham, or go all out with a seafood tower. There's several French wines served by the glass, mocktails, and mimosas to wash it all down. Brunch is served Saturdays and Sundays until 3 p.m.
2760 Fifth Ave., Bankers Hill | 619-795-1501
Pair an iced tea, iced coffee, or ice-cold beer with something from the cafe's pastry bar or with their popular Service Station Benedict, and enjoy the San Diego weather on the covered patio, complete with refreshing misters. And make sure to keep up to date on the avocado toast special of the week.
8401 La Mesa Boulevard, La Mesa | 619-741-8276
This breakfast eatery aims to foster a more sustainable food system, serving seasonal foods with local and organic ingredients. Whether you follow a strict diet, have food allergies, or you're just plain picky, their breakfast and brunch menu features something for anyone with an appetite, from paleo to vegetarian and vegan, to dairy-free and gluten-free options. The restaurants also feature a full bar serving mimosas, bloody marys, margaritas, and local craft beers.
3940 Fifth Avenue, Hillcrest | 619-500-3344
8861 Villa La Jolla Drive, #509, La Jolla | 858-483-5556
3435 Del Mar Heights Road, Suite D3, Del Mar | 858-703-5300
Toast does wonders with its namesake, but hungry brunchers can expect a range of dishes, from prime beef and eggs to the signature Eggs in Purgatory, a sourdough bread bowl with poached eggs in a spicy shakshuka sauce, mushrooms, pork belly, feta, egg, scallions, and mint. Their house specialty is coconut pistachio kanafee, which is shredded phyllo with a ricotta and jack cheese filling, served with an orange blossom syrup and toasted brioche, topped with pistachios. They also offer a selection of bloody marys, bellinis, mimosas, draft beers, and cocktails like espresso martinis.
5970 Avenida Encinas, Carlsbad | 760-438-1212
The famous buffet at this bar in the heart of San Diego's LGBTQ+ community may be no more, but you can still get a flavorful breakfast every day until 1 p.m. with dishes like country fried steak, chocolate chip pancakes, or a filling breakfast burrito. Don't forget to complement your meal with a mimosa.
308 University Avenue, Hillcrest | 619-491-0400
Show up for Sunday brunch in your Sunday best. Visit their new alfresco dining at Veranda at Westgate Room and try their French-inspired cuisine featuring fresh California flavors. Indulge in the lemon ricotta pancakes with blueberry marmalade and maple syrup or the house brioche French toast with cinnamon butter and crème fraiche.
1055 Second Avenue, Downtown | 800-522-1564