Last Saturday officially marked the beginning of a new season for me. On October 1st, I officially change the usual rotation of beer styles to include the tanner, redder, and browner varieties. These beers tend to be mostly ignored during the course of the rest of the year, but come October—and the requisite Oktoberfest offerings of many of our brewers—I'm reminded anew of just how good these brews can be.
I rang in my new beer season at Lightning's Oktoberfirst, where I sampled their excellent Oktoberfest Marzen. (To be honest, I actually sampled two pints, and they were delicious.) Sweet notes of bready malt and caramel were hung on a crisp, clean backbone, with nice hoppiness, and relatively light body; this made for a satisfying, flavorful, and very drinkable beer that was also quite sessionable.
For dinner, I wound up at Urge Rancho Bernardo, where I was pleased to find Fall Brewing's A Beer Named Stu, which is a unique hybrid style of California Common and Marzen. This beer—also packed with caramel, vanilla, and bready, yeasty aromas—is relatively light in body, with plenty of hops to keep the palate refreshed after every sip.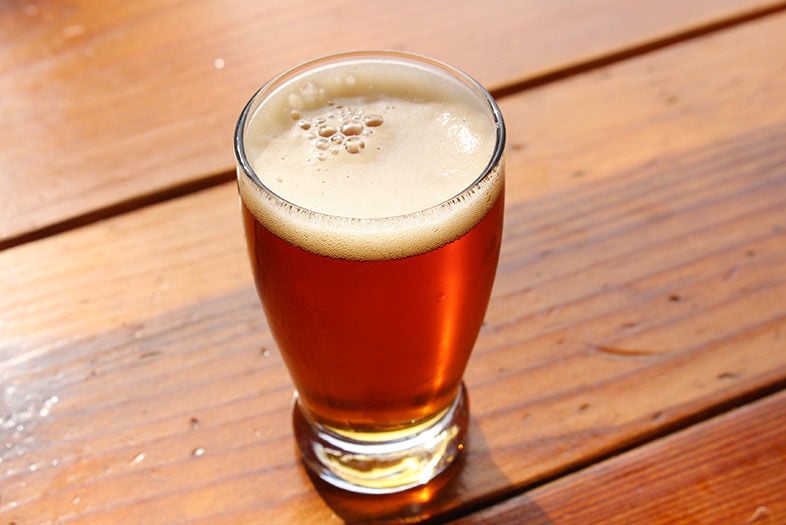 Blushing Beaver India Red Ale from Belching Beaver. | Photo: Bruce Glassman
Blushing Beaver India Red Ale from Belching Beaver. | Photo: Bruce Glassman
Marzen with dinner was another revelation. Here was a beer that was actually great before the food, great with the food (fish & chips) and truly awesome with dessert (fried bread pudding with caramel sauce).
That's what I tend to forget as the year winds onward: If done well, the reds, ESBs, ambers, browns, and their close lager relatives (like the marzens, maibocks, dopplebocks, and schwarzbiers) can be super refreshing and full-flavored beers in their own right—and they pair exceptionally well with a vast array of foods, including spicy dishes and sweet desserts.
Here's a quick list of the more malt-forward styles that I suggest you sample in the next few weeks. These are not as hop-forward as the typical pale ales and West Coast IPAs, but they are also not just big, heavy malt bombs. The best of them are light-to-medium bodied, crisp and clean on the palate, and offer the perfect balance between malty sweetness and bitter hops.
Marzen
This lager is rich in malt but with a clean, light body and crisp hop bitterness to balance. Biscuit-like, bready aromas with hints of caramel.
(German-style) Bock biers
These lagers are typically all about malt, with very low hop character and medium body. The malt aromas can range from nutty to toasted to biscuit. Dopplebocks are "double bocks" with more body, color, and alcohol.
Maibock
This lager is sometimes also called "Hellerbock." Bready, lightly toasted malt character is balanced with a little more hoppiness than the traditional bock beers and they have a paler, lighter color.
Schwarzbier
This black lager is a relatively roasty, light-bodied brew that finishes mostly dry with a good dose of hop bitterness on the palate.
ESB
This English-style pale ale is also known as an "Extra Special Bitter." Like many of its lager relatives, it's all about finding the perfect balance between malt and hops. Typically characterized with fruity, earthy, herbal aromas, these beers have considerable bitterness and a medium-to-full body.
Amber ale
This style typically has medium-to-high maltiness, but with lesser caramel flavors. Prominent hop aromas and bitterness characterize these beers, along with a medium to full body.
Red ale
Another medium-bodied beer that seeks to balance malt sweetness with hop bitterness. American styles utilize American hops, which can provide some more pronounced citrus, pine, and grassy aromas.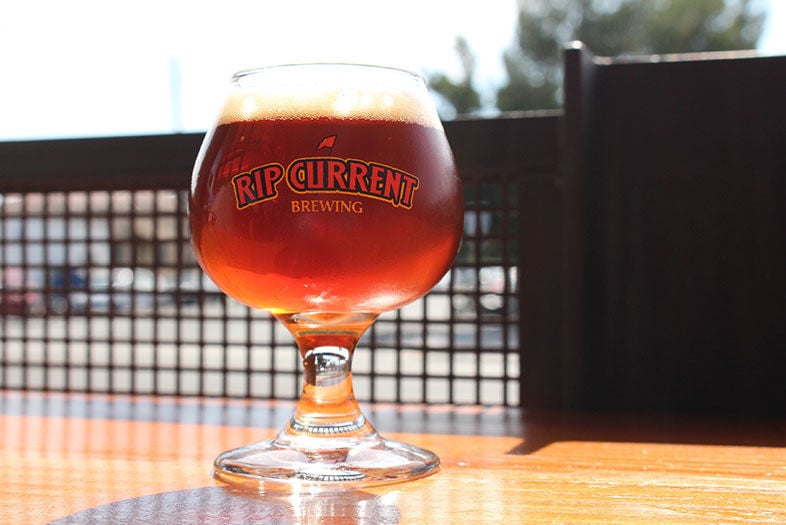 Barrier Reef Nut Brown, from Rip Current
Barrier Reef Nut Brown, from Rip Current
Brown ale
Roasted malt, caramel, and chocolate are often the most prominent aromas and flavors in these beers, though they are—by and large—not heavy bodied. They commonly have low hop aroma, but have considerable hop bitterness to keep the beer fresh on the palate.
Dunkelweizen
This is a darker, malty version of the classic German Hefeweizen, which is a medium-bodied wheat beer. Sweet maltiness and chocolate flavors are typical, along with the classic aromas and flavors of banana, bubble gum, clove, and yeasty esters common to Hefeweizen.
So, this is the time of year to take a break from the usual lineup of pilsners, pale ales, and IPAs—if for no other reason than to mark something of a change in seasons (let's face it, as San Diegans, we need as much season change as we can get!).  Right now, lots of breweries are offering some more malt-centric beers, but the traditional Oktoberfest styles (marzen, maibock, dopplebock) tend to only be brewed once a year and often aren't available for long—so get out there and get 'em while you can!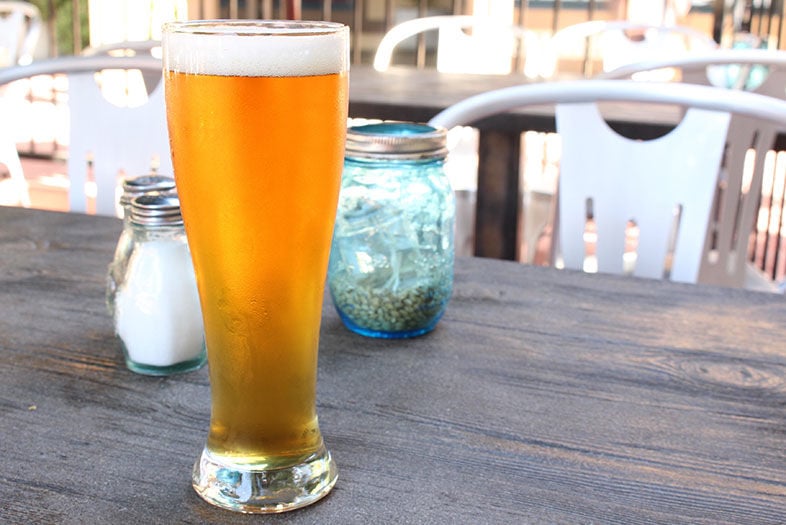 A Beer Named Stu from Fall Brewing. | Photo: Bruce Glassman