I've never been a picky eater. I chow down on meat, plants, plant-based meat alternatives, and pretty much anything put in front of me. (One big exception is honeydew, which tastes like a slushie made of burps and depression.) But despite my general open-mindedness about what I consume, I have yet to try what some consider to be the future of food: cell-cultured meat.
Cell-cultured meat, sometimes called lab-grown meat or "clean" meat, is produced by taking actual animal cells and culturing their growth inside sterile stainless-steel bioreactors. Allergic to shellfish? You're allergic to cell-cultured shellfish as well. That's because it's a genuine animal product with similar (if not identical) nutritional value to the real thing, made without feeding, raising, or slaughtering an animal. This cutting-edge protein is what San Diego company BlueNalu hopes to offer the world: a sustainable, predictable, healthy, authentic alternative to wild-caught and farm-raised fish.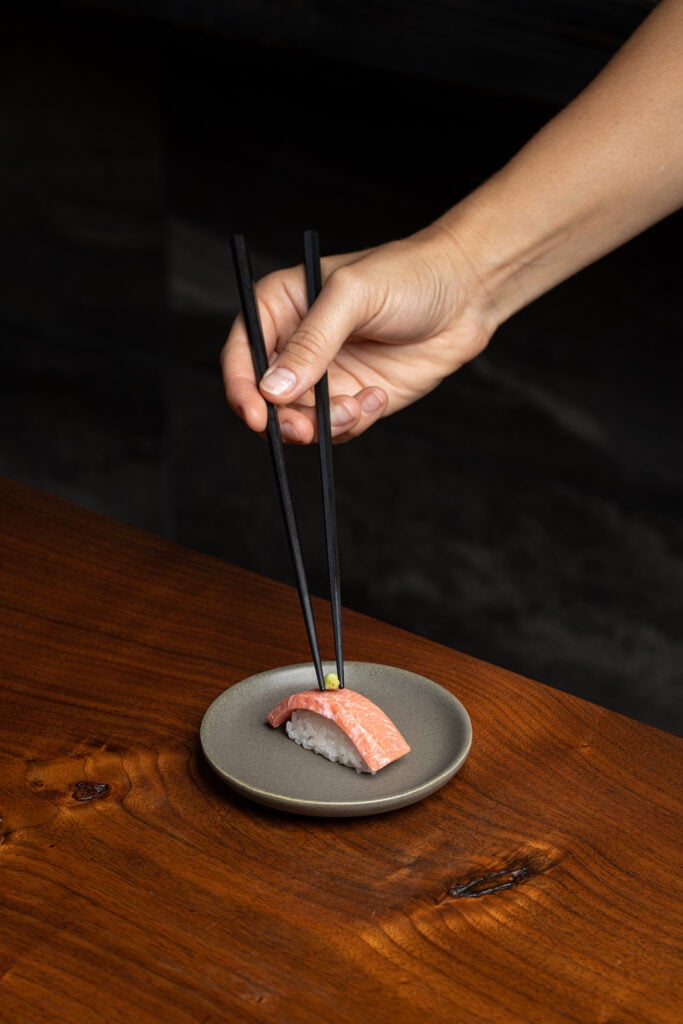 "Every food product begins in a lab," explains BlueNalu CEO Lou Cooperhouse, saying their approach is already quite common in many other food segments, including fermented beverages, cheese, and candy. "This process has just not been applied to seafood before."
Due to the high cost of this developing technology, not many products are widely available yet, and the limited number of brands that do exist focus more on mammal and poultry alternatives like beef, chicken, and pork. Cooperhouse has spent decades identifying opportunities for innovation within the food industry, and in the mid-2010s, he watched as alternative-protein technology raced forward. But despite seafood's popularity and perceived health benefits, virtually no one was working on a fish alternative.
Building a Better Fish
With all the problems fish face—warming oceans filling with trash, microplastic and heavy-metal absorption, illegal and overfishing, and supply chain inefficiencies, to name just a few—he thought if someone would be able to achieve a consistently available, consistently priced, and consistent-tasting alternative, it would be the holy grail.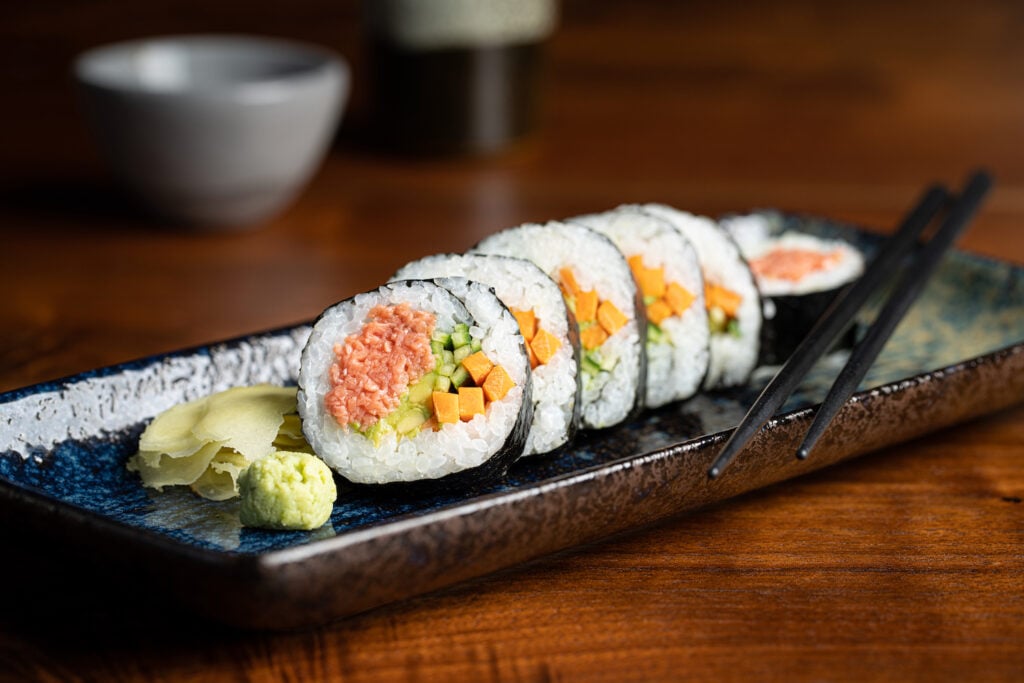 At BlueNalu's Sorrento Valley headquarters, Cooperhouse and chief technology officer Lauran Madden, PhD, walk me through their vision. Their goals are not simple, small, or straightforward, largely due to the fact that they're one of the first in the field. The process of establishing a supply chain of raw materials, developing alternative-protein technology, creating benchmarks for release, and lobbying for regulatory approval in multiple countries—not to mention convincing investors and consumers to put their faith in something brand-new—is a long, arduous one, which is why you haven't seen BlueNalu products on menus quite yet. But if they manage to pull it off, they believe their products have the potential to change—and feed—the world.
But before BlueNalu can offer a more sustainable fish to the masses, they must demonstrate not just affordability, but long-term viability and profitability to the investors that have put in $84 million and counting. That's why, for their inaugural product, they selected cell-cultured toro, replicating the prized cut from bluefin tuna. Because toro is one of the more recognizable, in-demand, and beloved cuts of fish around the world, Cooperhouse says growing a cell-cultured alternative could standardize market pricing and availability to high-end restaurants, even more so than farm-raised fish.
"Seasonality goes away. Price fluctuation goes away. We can really have a committed, year-round supply," he promises.
Shihomi Borillo, proprietor of San Diego's Azuki Sushi and Kinme Omakase, admits she hasn't tried BlueNalu's prototype yet, but she likes what she sees so far. "I'm truly amazed by how closely the color and marbling resemble authentic toro," she explains. "This is crucial because toro is often enjoyed in simple preparations like sashimi or nigiri."
Cooperhouse says that while premium products like toro command high prices, once BlueNalu has successfully integrated themselves into the burgeoning market, they'll be able to pivot "from value to volume." Those initial investments have allowed the company to start developing at least eight different species in two facilities in Sorrento Valley, with another facility on the way.
Once the new lab becomes operational, BlueNalu hopes to produce six million pounds of toro annually. That's a drop in the bucket compared to the billions of pounds of fish caught every year. "But [for] bluefin-tuna toro, it's actually a fairly decent amount," he adds.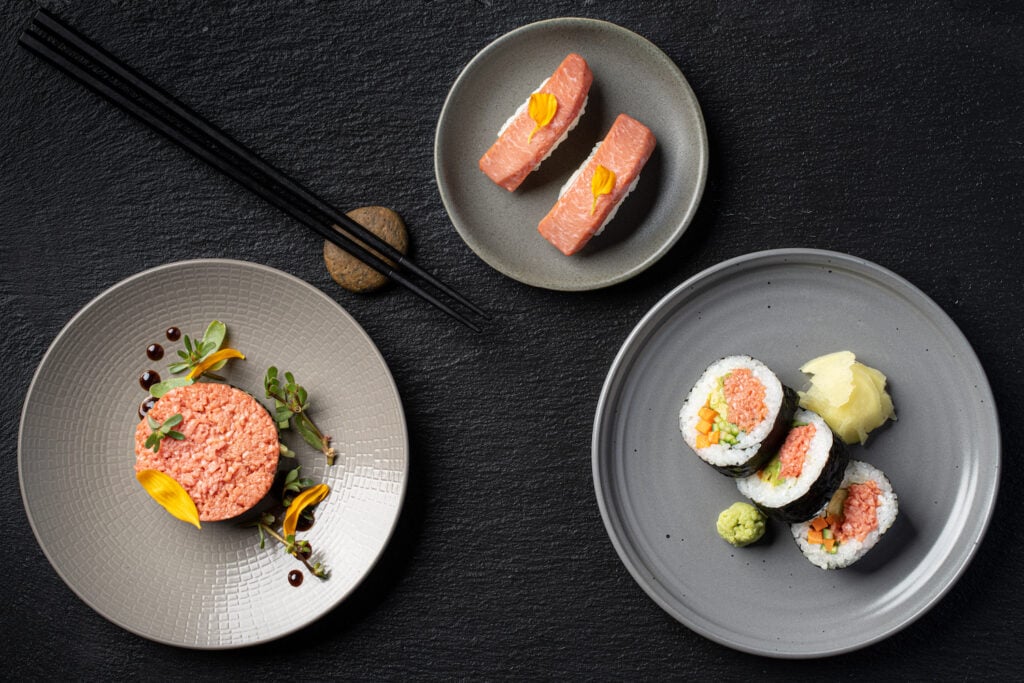 How to Feed the World
I'm not squeamish about eating food grown in a lab (although plenty of people are), and neither is Tommy Gomes, a fifth-generation San Diego fisherman and star of The Fishmonger on Outdoor Channel. He tells me that if BlueNalu can actually do what it says it can do, he's all for it.
Considering his background fishing in the Pacific Ocean, I ask Gomes if he's worried about the future of his profession. His answer: Nope. "There are plenty of fish," he assures me. Plus, if cell-cultured technology helps reduce world hunger, so much the better. "I have no stake in this game … [but] we're going to need this protein to one day feed our planet," he warns.
Because there is so little public knowledge and so many misconceptions about cell-cultured meat—and because consumers are increasingly interested in food-sourcing transparency—Madden aims to be as clear as possible about the process and benefits of cell culturing.
"The more people learn about the food system and what they are eating today … the more it becomes a personal health and a personal choice issue. What are you putting in your body and why are you choosing to do so?" she asks.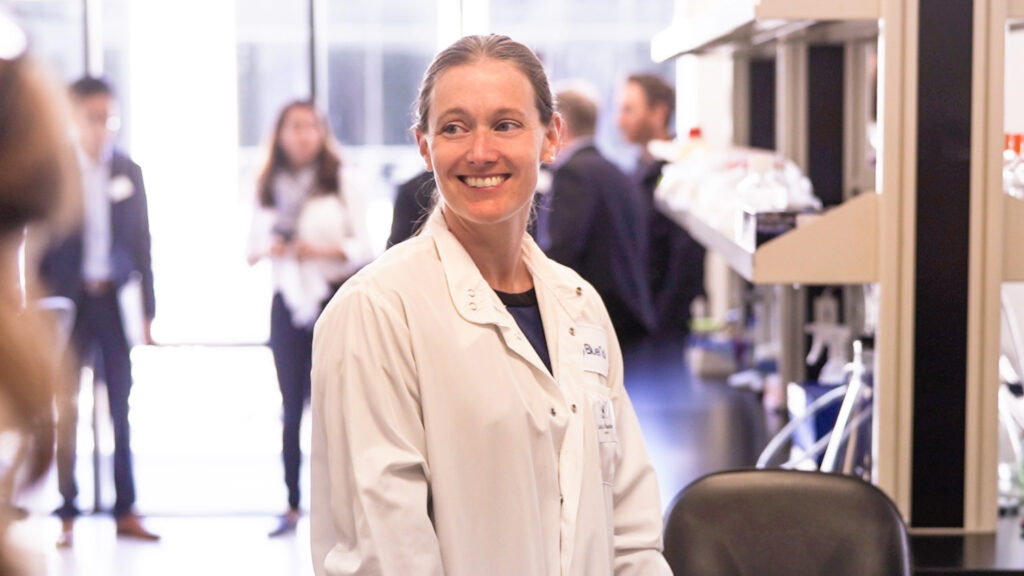 From the Lab, Across the Globe
In June 2023, the US Food and Drug Administration (FDA) approved the first chicken-alternative lab-grown meat products, and Cooperhouse is confident BlueNalu will get FDA-approval by the middle of 2024, followed by the green light from administrations in Singapore, Japan, Korea, and Thailand and throughout Europe. If approved, they hope to have products on shelves and in restaurants by the end of next year, but Madden says the stigma of lab-grown meat remains.
Still, she's confident BlueNalu's efforts to educate restaurateurs and premium food-service operators will trickle down to consumers, winning over skeptics and helping BlueNalu's products become the gold standard of seafood. "We know much more about the cell-cultured tuna than people know about the tuna they get from the sushi restaurant, that's for sure," she promises.
Borillo says she's excited about its potential, even with the educational hurdle. "Embracing cell-cultured seafood could reshape our business," she explains. Products like BlueNalu's could help Borillo be more sustainable and diversify her restaurant's menu. On a global level, cell-cultured options would reduce overfishing and bycatch. "It's a win-win for our business and the health of the ocean," she adds.
Can cell-cultured meat feed the world? Can our seas be saved? Can we grow our sushi and eat it, too? These are all questions that I ponder while driving away from BlueNalu, crunching on a bag of chili cheese–flavored corn chips. Like millions of others, I happily (and cluelessly) chow down on things like disodium inosinate, annatto extract, and maltodextrin. One day, will those same millions mindlessly munch on cell-cultured toro? Gomes, for one, thinks there's a strong possibility.
"Time will tell," Gomes says. "Why not give it a shot?"