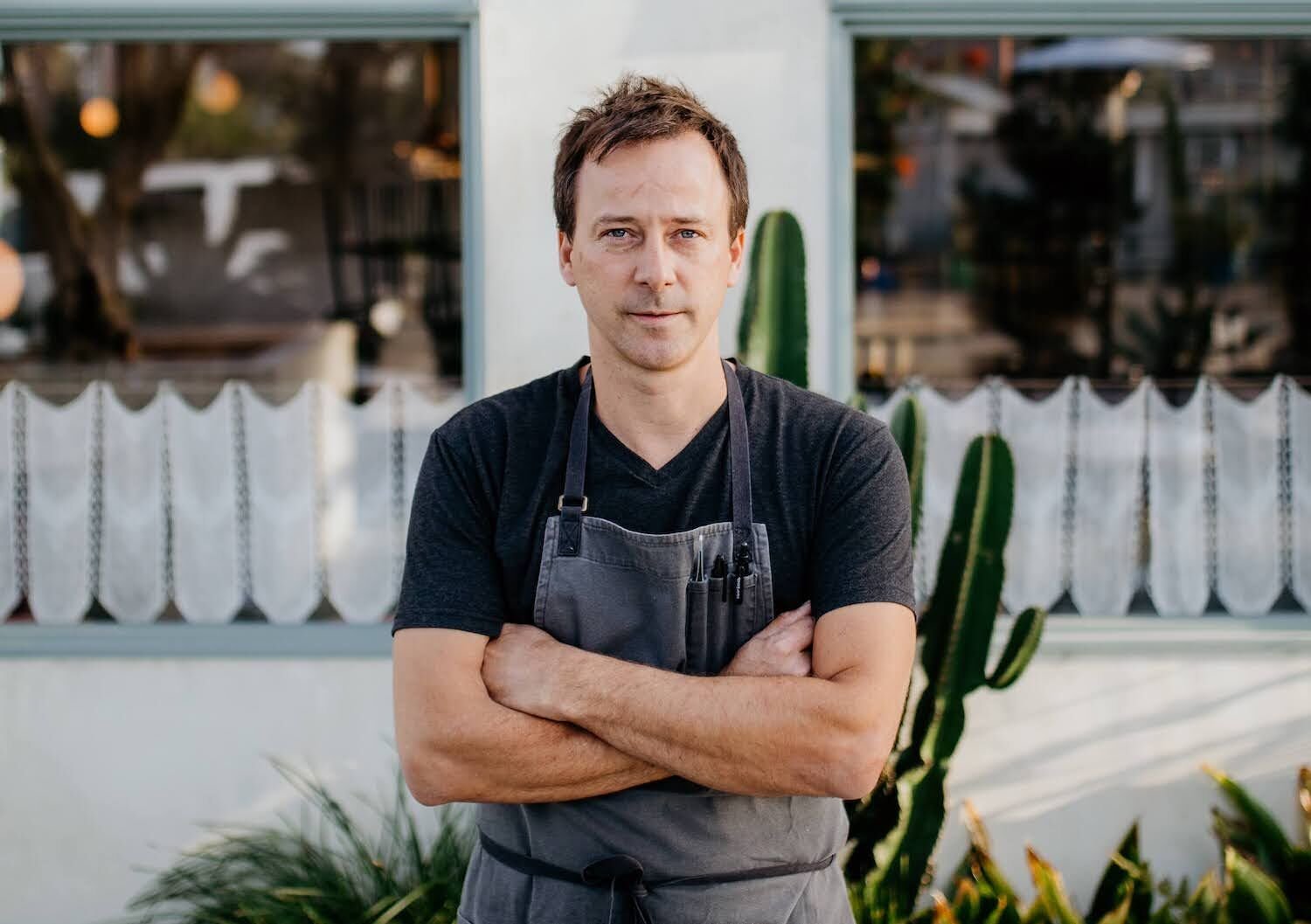 Devin Castaneda
Gotta be careful with the demigod-building. These are humans cooking, and we food writers can get a tad breathless when we have an especially great meal, making it sound like the chef is waving a microplane over mushrooms until dark clouds swirl over the restaurant and—poof, flash of lightning—those mushrooms are truffles.
So chef Eric Bost, it must be said, appears to be a person. Not a water walker. But, dear lord, our meal at Jeune et Jolie was one of the best I've had in a very, very long time.
I'd been warned. Last week I was in Minneapolis telling the stories of some of its restaurants. At Spoon and Stable, chef Gavin Kaysen talked about his recent trip to San Diego. "Jeune et Jolie has to be one of the most underrated restaurants in the country," he said, his eyes popping a bit as he recalled his meal here.
This is no surprise. Bost got his business degree. (This is important, because I've watched some of the best cooks ignore the bottom line because they can't braise it or grill it, which means they cook amazing meals for the brief time before their restaurants combust into financial ruin.) He went to the Culinary Institute of America, externed at Le Cirque, moved to Paris, cooked in very serious kitchens (Alain Ducasse au Plaza Athénée and Les Ambassadeurs). Guy Savoy tapped him as chef de cuisine for his Vegas restaurant, where they earned two Michelin stars. Named executive chef almost immediately, Bost opened Guy Savoy Singapore. He then moved to LA and served as exec chef of République before opening his own raved-about restaurant, Auburn.
This is where the story sucks: He had to close Auburn due to COVID. This is our silver lining: He moved his family to San Diego to be exec chef of Jeune et Jolie and sister restaurant Campfire (listen to our interview with the chef upon his arrival).
Bost assumed his post last August. He had a pandemic to deal with. So right now is really the first time we're starting to see what his team can really do.
Currently, Jeune is doing four-course tasting menus only—with four options in each course. It's $85 per person. Since there were four of us, we ordered all 16 dishes and tasted the whole menu. And, again, dear god.
Here's a list of the dishes that were especially good, with notes from Bost on what makes them special: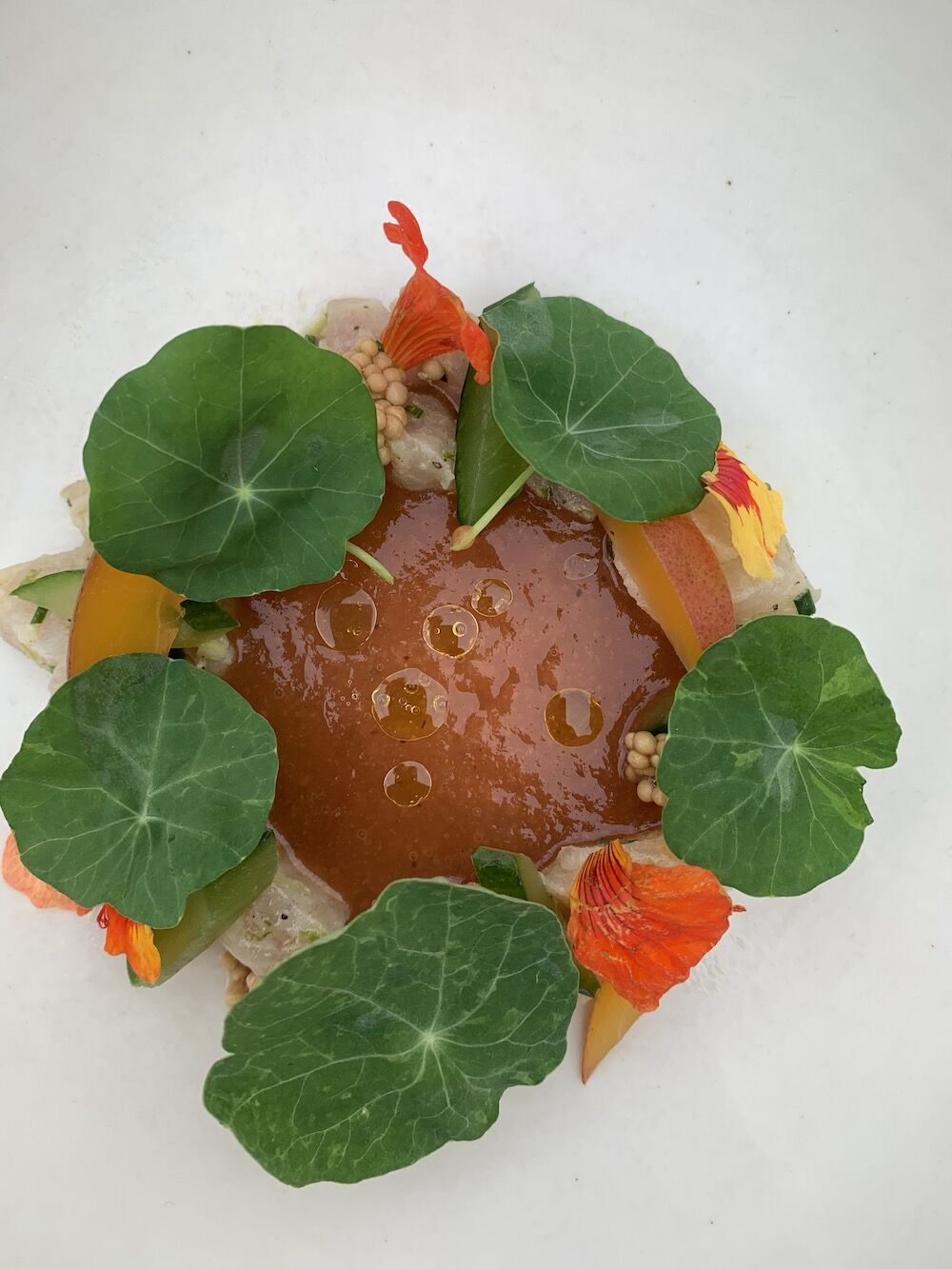 CRUDO
Hamachi, cucumber, peach, nasturtium
Peaches with raw yellowtail? Excuse me? But yes. Half-inch cubes of hamachi (yellowtail) are cured in citrus with salt and sugar and all the zests until the edges are lightly cooked (citrus is nature's gas range). They're arranged with slices of fresh peaches, cucumber, and pickled mustard seeds around a central plunge pool of peach verjus (the juice pressed with fennel, spring onions, lime zest, and so on). It's nearly a peach jam with intense acidity—an unexpected and perfect pairing with raw fish. "We're trying to keep you salivating throughout that whole dish," Bost says of the acidity.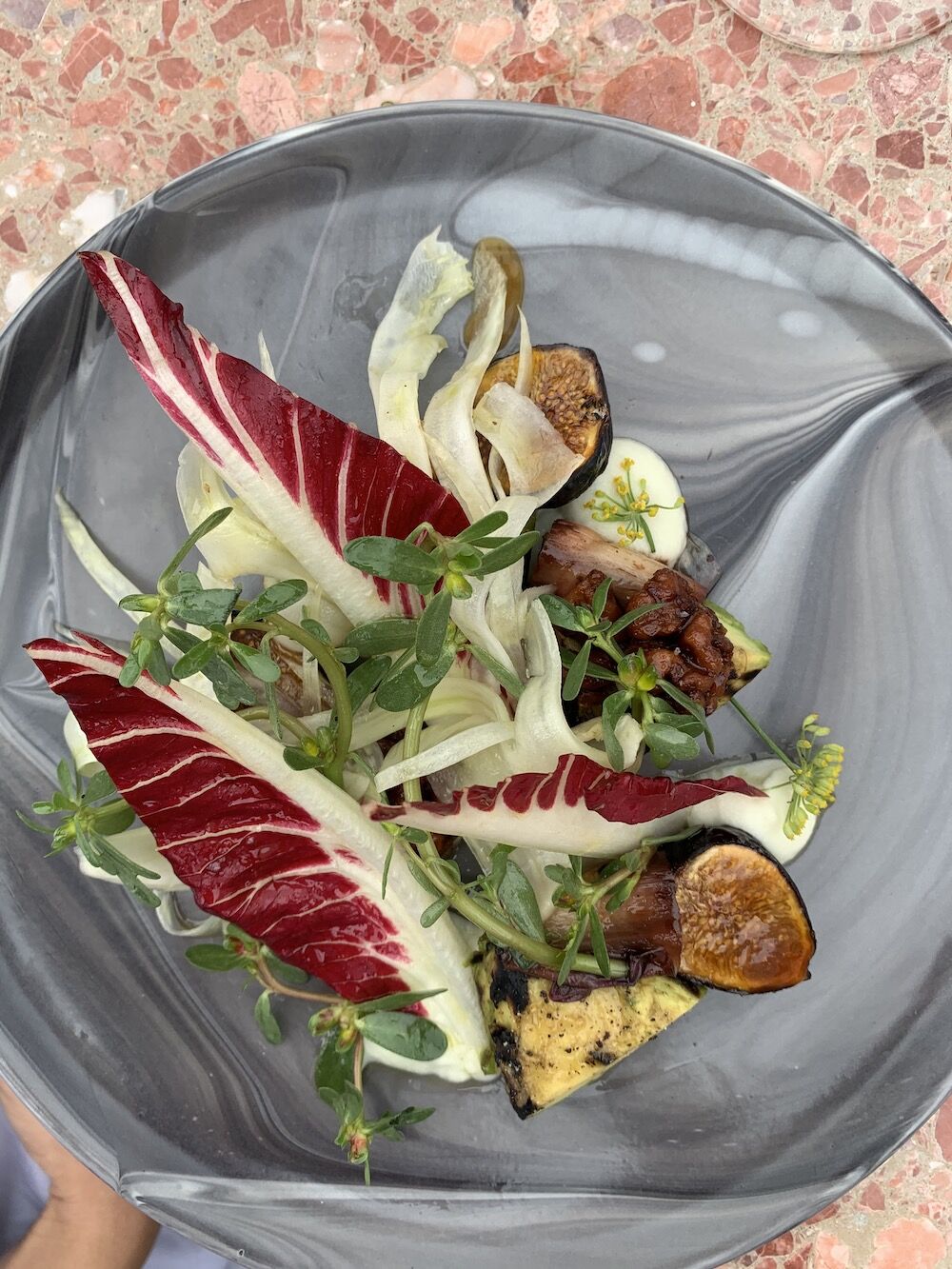 FENOUIL
Fennel, fig, walnut, avocado, Pernod
Doesn't look like much when it arrives. Like trimmings from a very fancy yard. It has radicchio and purslane—those bitter-tart lettuces chefs love more than the rest of us. But it shines. "I always have to have some sort of composed salad," Bost says. "This is less about the lettuces and more about how everything works together—showcasing texture and salinity." The fresh, bright, crunchy, bitter lettuces come up against the sweetness of figs, charred avocado for fat, candied walnuts for crunch and sweetness, creamy fennel puree with that famed tint of licorice from the Pernod. We scrape the plate.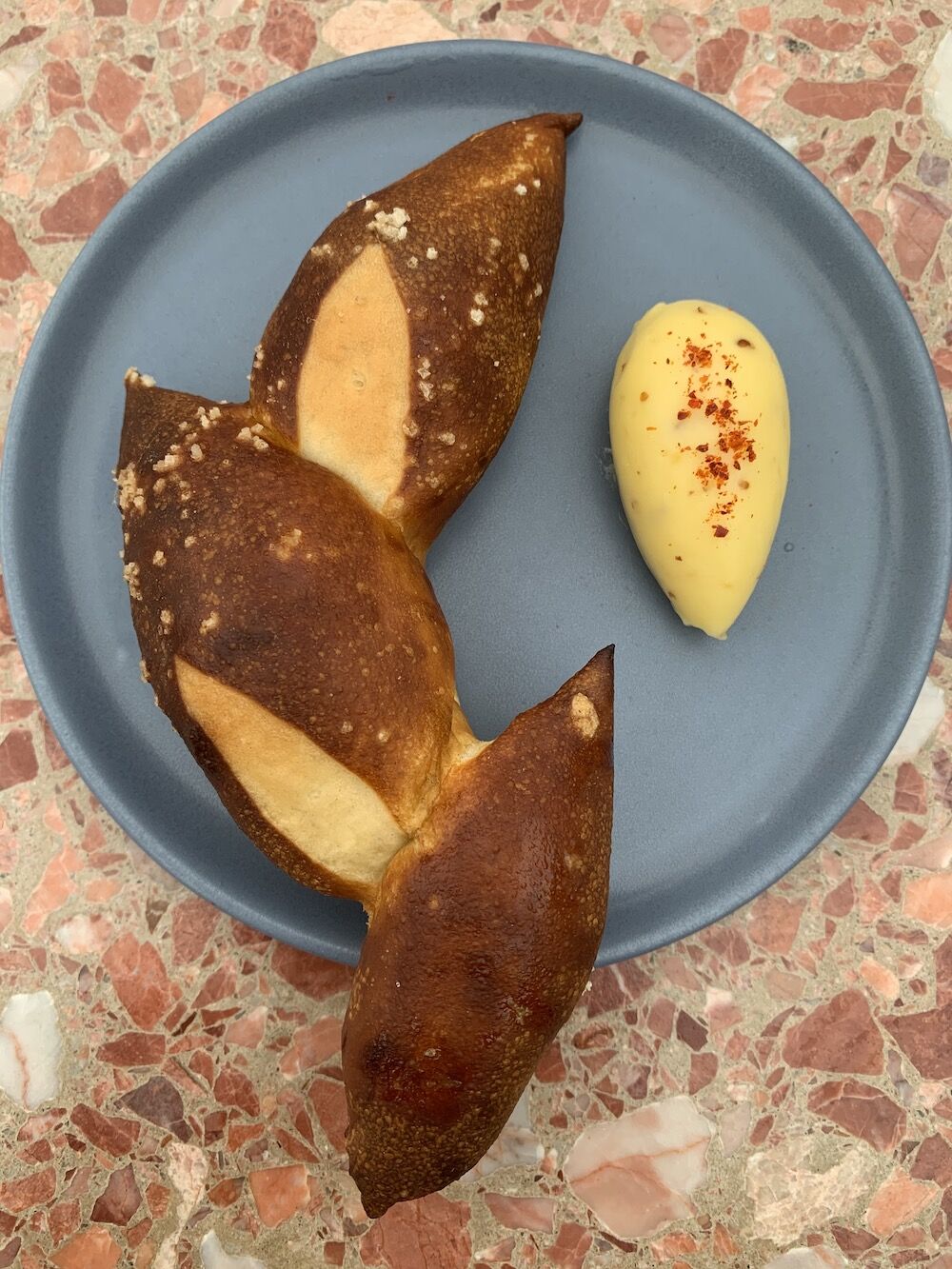 PRETZEL BREAD
I have been eating bread for a very long time. I have eaten so much of what they call "pretzel bread." And yet this tastes like the first time I've ever really eaten pretzel bread. Crusty outside, sublimely soft and warm inside. Look at the deep yellow of that butter. That is a new color called "yes." Phenomenal.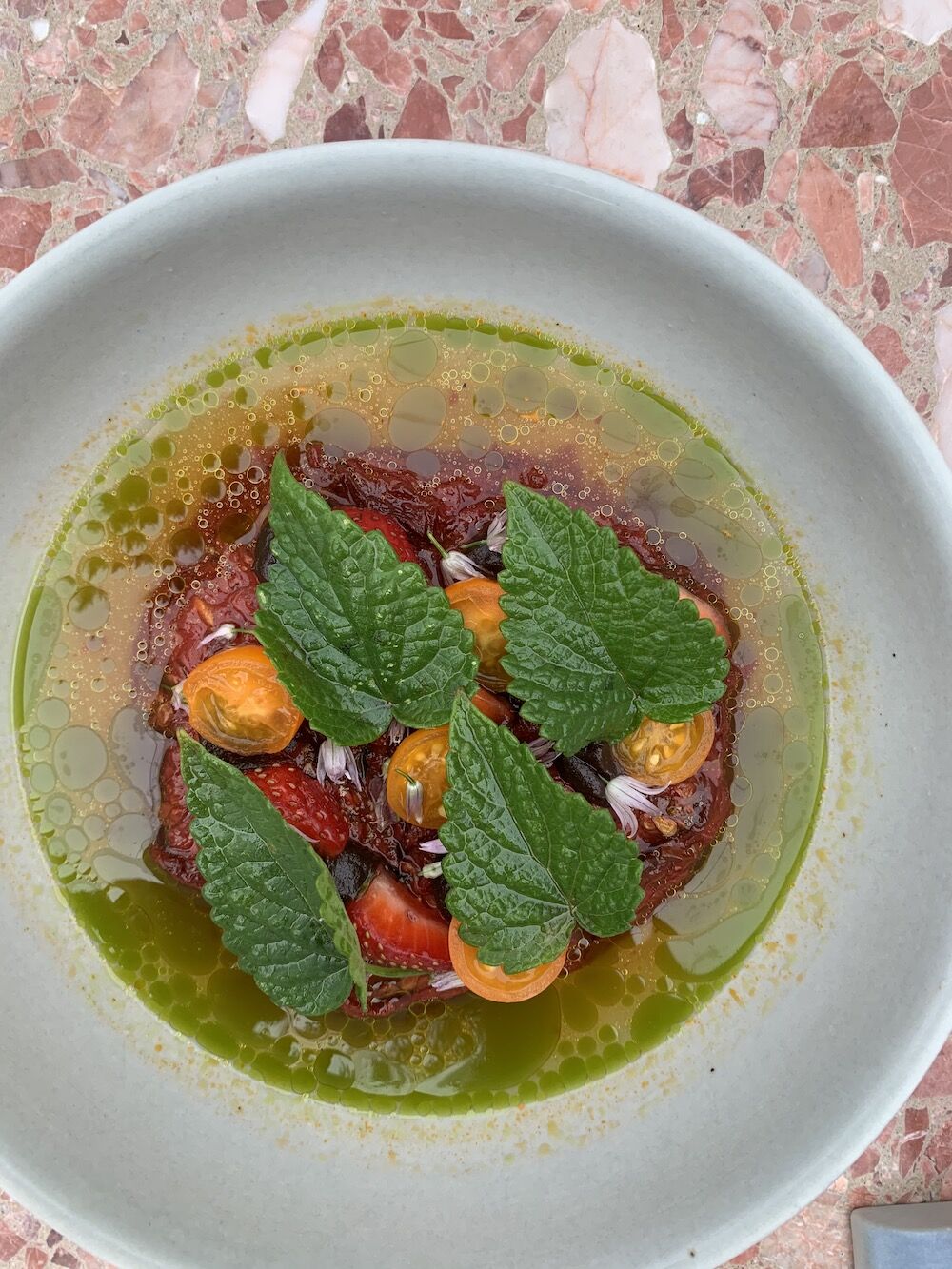 TOMATE
Tomato, black garlic, date, anise hyssop
This is the one that destroys the composure of our group—awkward food moaning, hoarding of the bowl. It's essentially warm, light, concentrated tomato broth, so flavorful it eats like a vegetarian bone broth. "For this one we asked, 'How do we take a tomato and make it rich and deep in flavor but light in body, without a ton of fat?" They take a French varietal of tomatoes from Sage Hill Ranch in Escondido, cook them on low for 12 hours with summer savory (an thyme-ish herb used heavily in Europe), thyme, and olive oil, then blend it with salt and a little kombu (seaweed) for umami. Then a marmalade from dates and black garlic ("gives it dark tones without adding weight," he says), and fresh strawberries and strawberry syrup. It's finished with a few droplets of anise hyssop oil.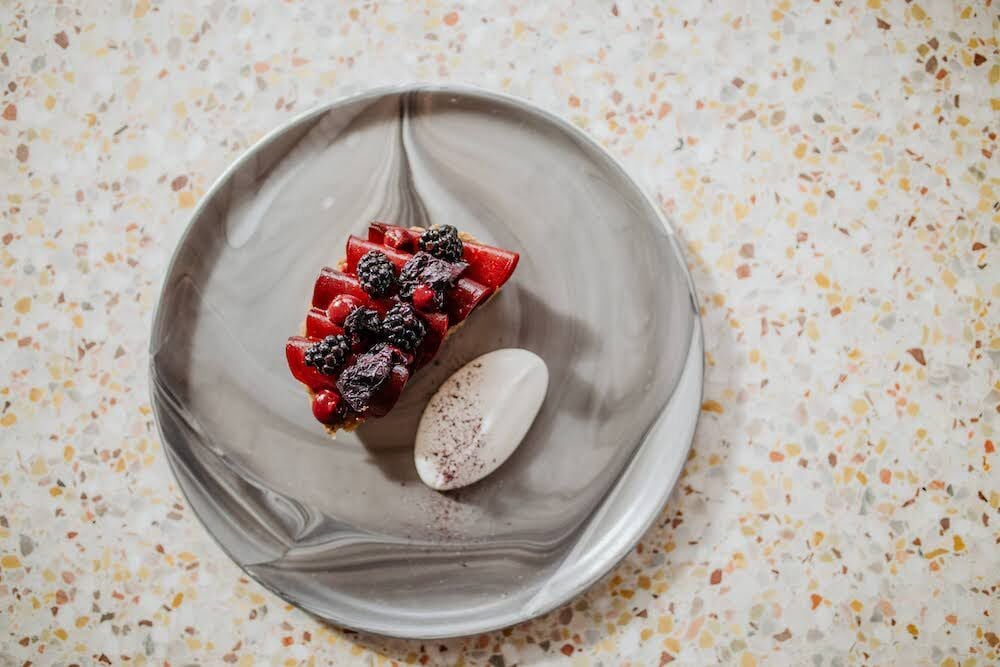 Devin Castaneda
TARTE
Sweet onion, beet, blackberry, fromage blanc
The deeply purple beets arrive folded over on themselves, like a deli meat on an open-faced sandwich. It's a buckwheat tart shell, cooked with a sweet onion custard and spread with a marmalade of caramelized shallots, roasted beets, a blackberry gastrique, and fresh blackberries, topped with red shiso (similar to clove, often used in sushi). On the side is a fromage blanc with red shiso dust. "We bring in rennet and culture and make that cheese three times a week," he says.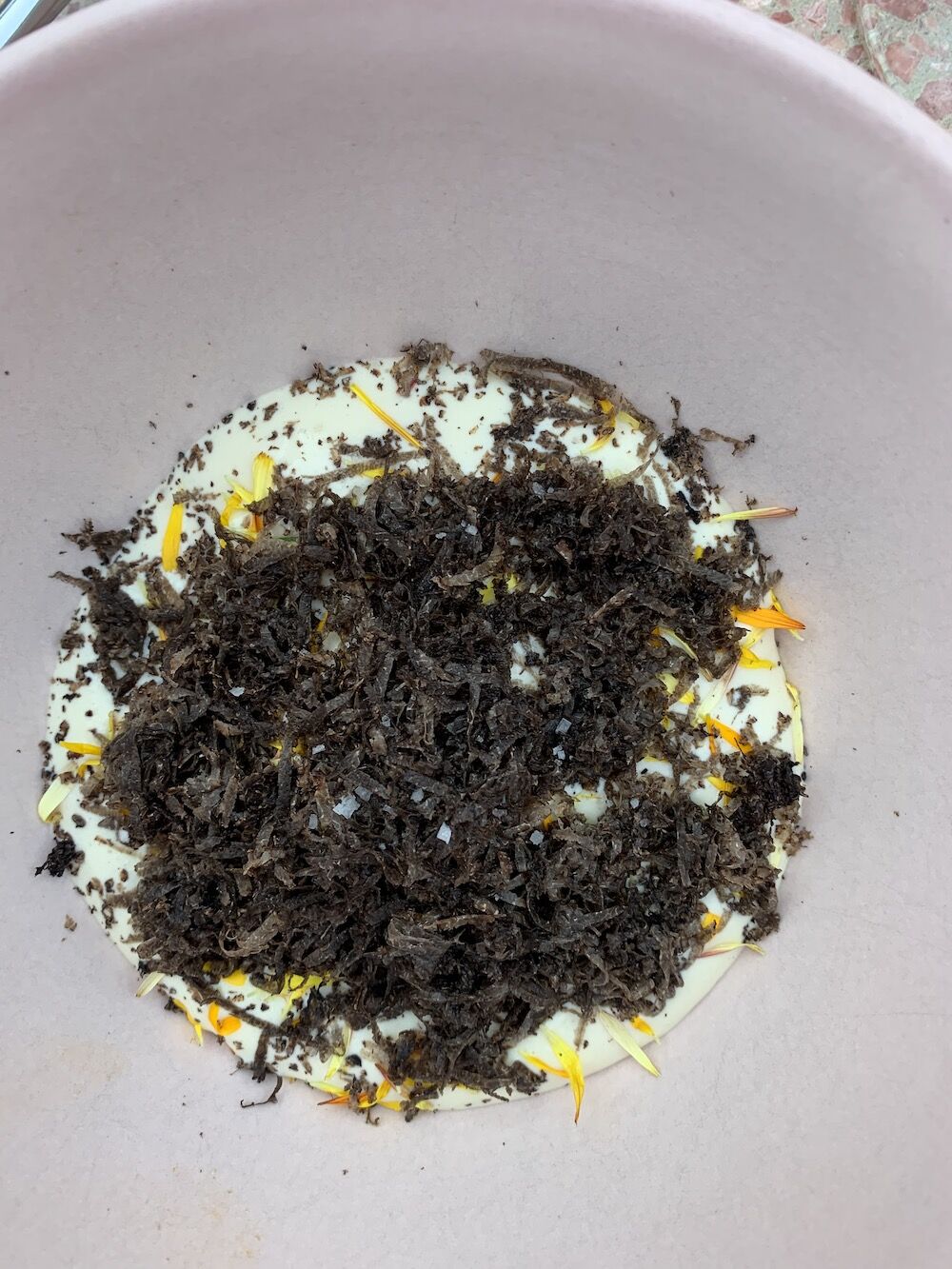 L'OEUF
Egg yolk, sweet corn, wild mushrooms, brown butter, winter truffle
This eats like a bowl of savory marshmallow fluff. Egg yolks are cooked sous vide at 148 degrees for about an hour until the yolk is jammy and dense. At the bottom of the bowl are mushrooms and corn sautéed in brown butter, the whole thing topped with shaved black truffle (optional, extra charge) and calendula flower for a touch of bitterness. "Scrambled eggs with black truffle are a classic combo and this is our take," he says.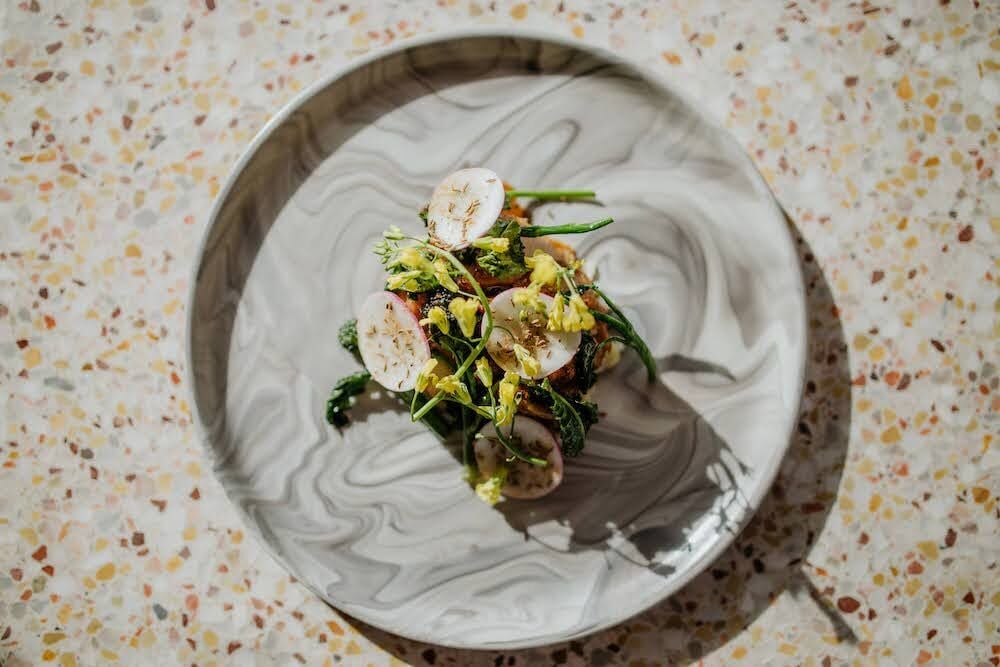 Devin Castaneda
RIS DE VEAU
Sweetbreads, cabbage, turnip, caraway
Sweetbreads look and taste like the most tender fried chicken you've ever tasted but are, in fact, thymus glands. Thus they are feared by many and a mighty prize for those who can overcome. For Bost, this is all about not messing up a great product—sweetbreads from Marcho Farms in Pennsylvania, which he discovered when opening Guy Savoy. They're sautéed in clarified and brown butter and herbs, served with cabbage and sprouting broccoli from Chino Farm, in a sauce made from the sweetbread drippings. "For me it's all about the texture," he says. "Not everyone orders this dish, but those who do love it. Those sweetbreads are the best I've found—more marbled, more fat, firmer. I don't even have to blanch them."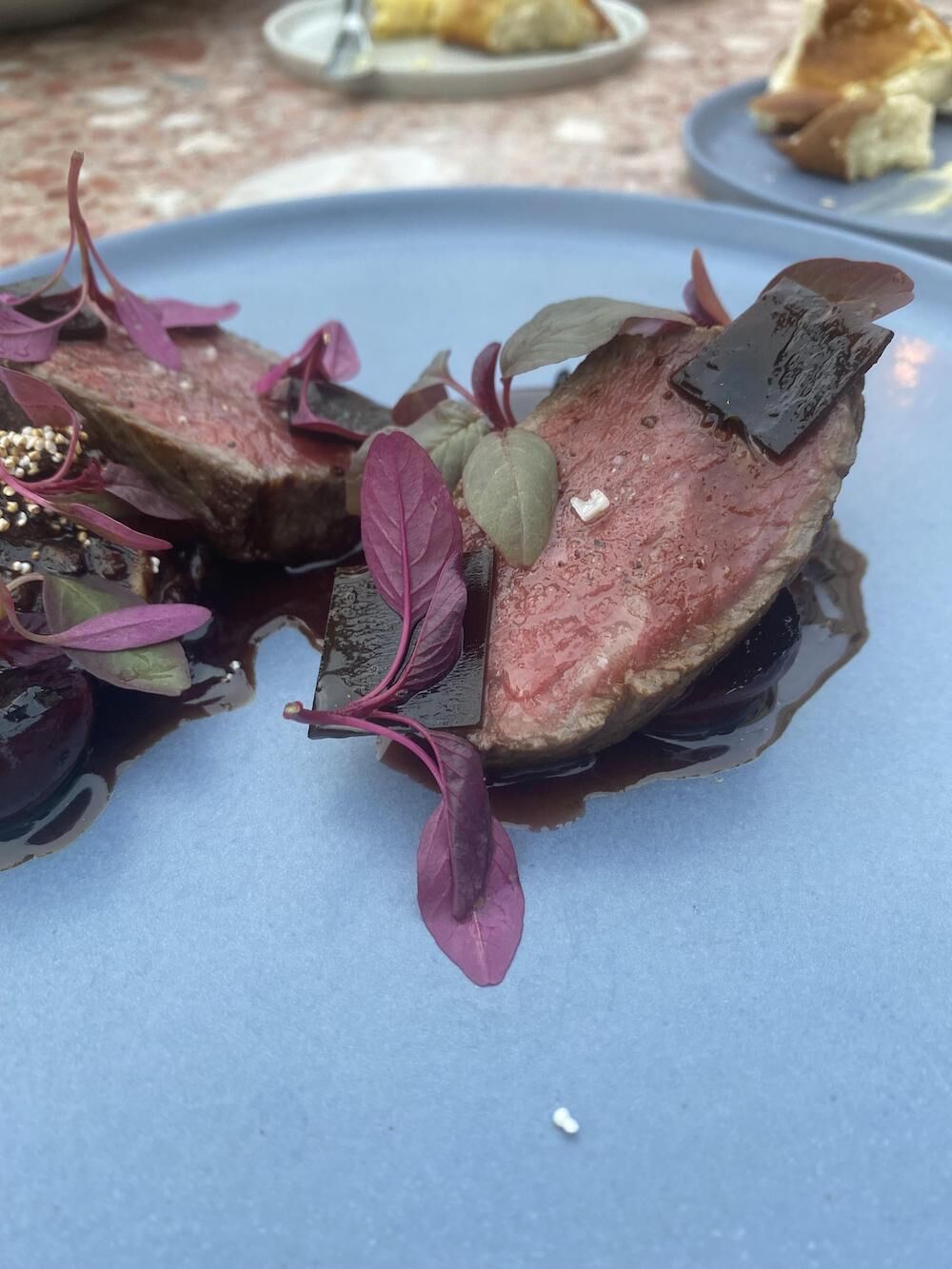 WAGYU
Snake River wagyu, cherry, oxtail, kombu, Bordelaise
Eye of the rib wagyu from Snake River Farms with tufts of braised oxtail, Bordelaise sauce, and puffed amaranth. "There's no work with wagyu—you just need to not mess it up," he says. "To balance that lack of work out, we do the oxtail." They sear it, marinate it in red wine and aromatics overnight, then braise it, let it cool overnight again, and rehydrate it. "That's when it's the most delicate and has all that collagen," he says. "We take the braising liquid and make a bordelaise sauce."  Next to the Waygu are small bites of glazed kombu, cooked with tamari, sake, and mirin.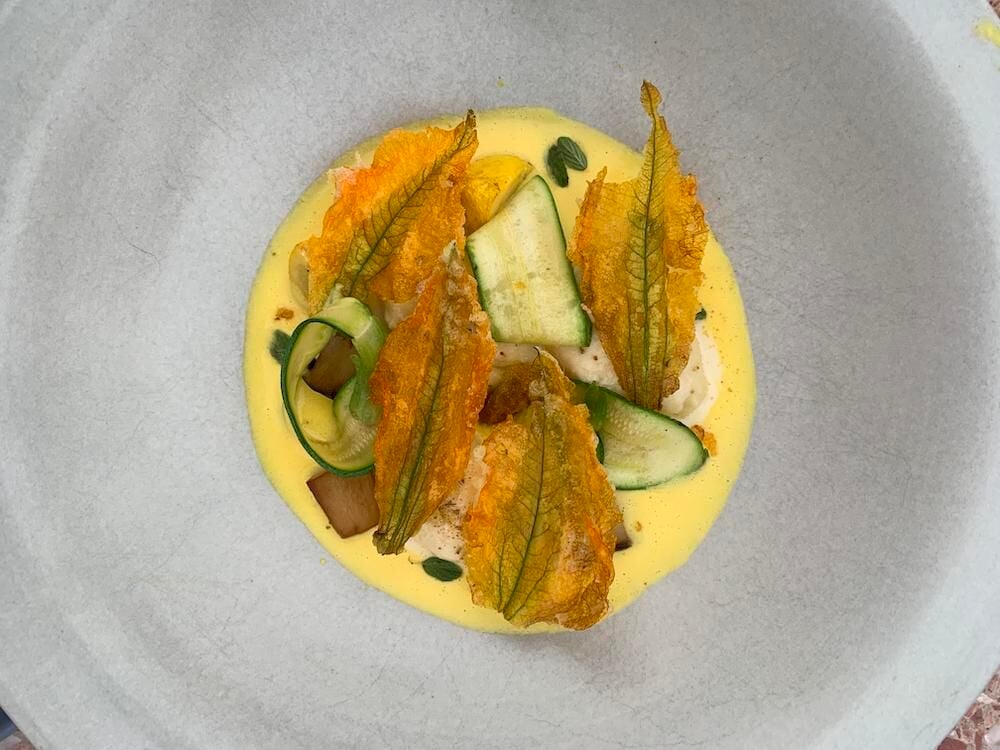 Devin Castaneda
COURGETTE
Summer squash with ricotta dumplings, abalone mushroom, and marjoram
Summer in a bowl—fluffy little pillow clouds of ricotta gnudi glazed in a Parmesan fondue and topped with a bright sauce made of squash, cream, and beurre monté (emulsified butter). They roast patty pan and king trumpet mushrooms, add little ribbons of young squash, some fennel pollen, and top it with tempura-fried squash blossoms. "There's tons of marjoram in this dish," he says. "You don't find it much around here, and I love that herb."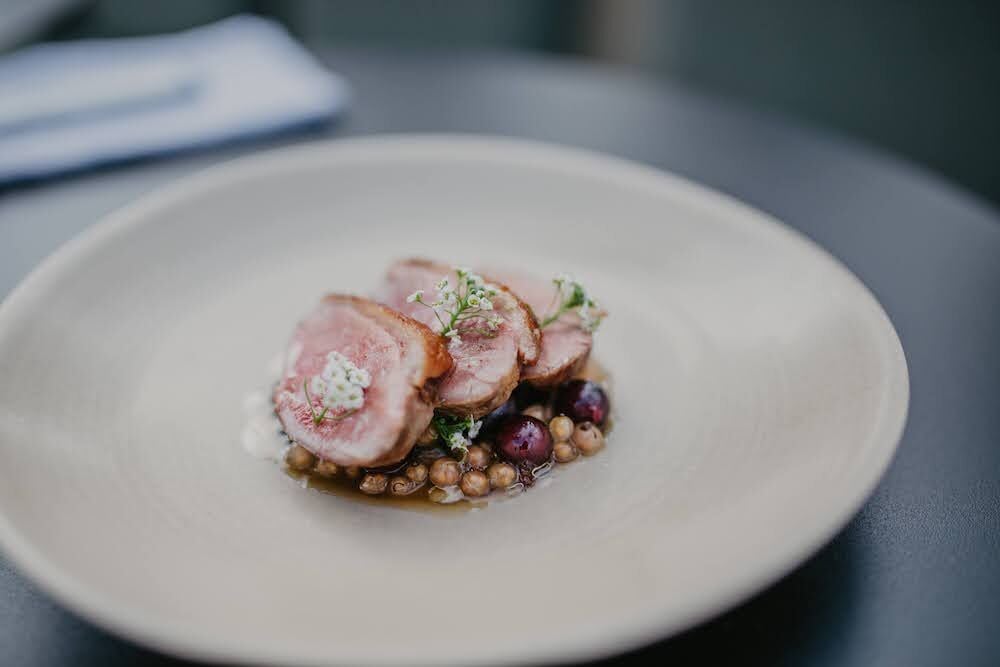 Devin Castaneda
CANARD
Liberty Farms duck, red grapes, beluga lentils, coffee
They age the duck in-house for three to four days, using dried koji (the famous culinary fungus that gives us miso, soy, and sake) to draw out moisture. "By doing that, you remove the more aggressive flavors, but get the dehydration that gives you a complexity," Bost says. The lentils are cooked simply with some kombu, then finished with a syrup made of coffee and muscovado sugar (it's got a deep, dark, brown-molasses flavor), and plated with red grapes from Murray Farms. They use a coffee oil to glisten everything on the plate, then pour a roasted mushroom broth tableside. The duck skin cracks like a delicious church wafer.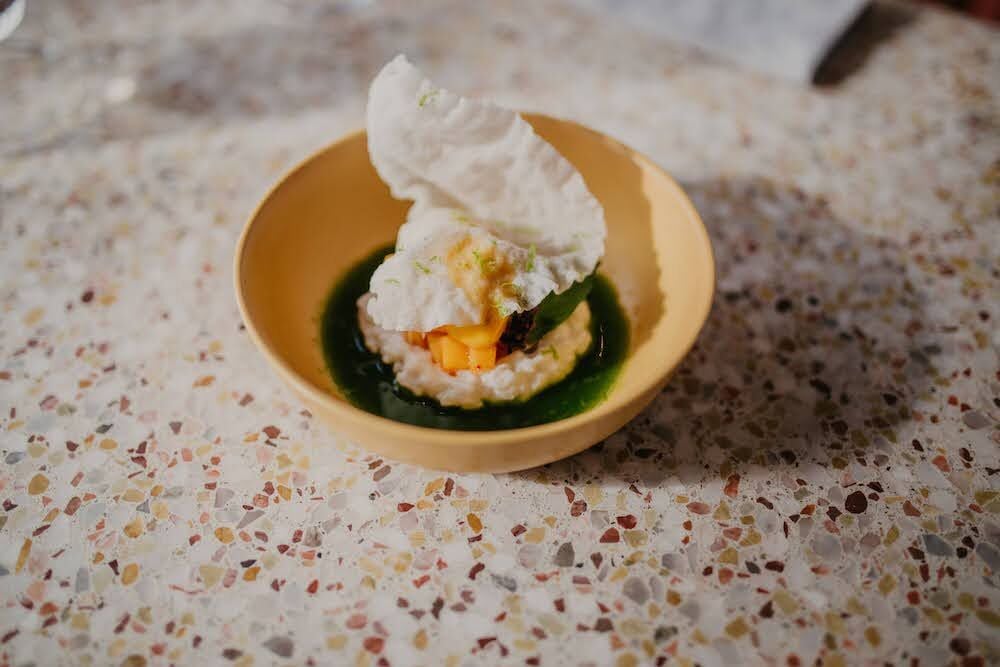 Devin Castaneda
MANGUE
Mango, coconut rice pudding, Thai basil
"It's a very simple play on mango sticky rice, and the mango are cranking right now," he says. They make a rice pudding, cook short-grain Italian rice in coconut milk so that it's basically a dessert risotto, add fresh mango seasoned with a little espelette (the Basque pepper), and top it with mango sorbet that's given acid with lime zest. The whole thing is laid on a sweet, green pool flavored with Thai basil, then topped with elaborate sheets of puffed rice that look like windblown boat sails.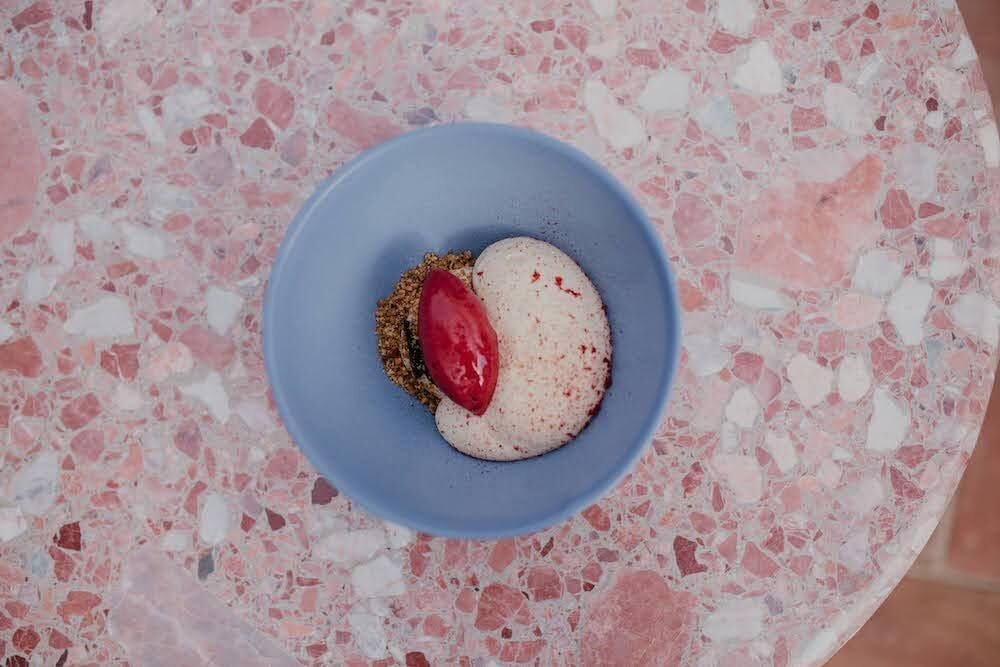 Devin Castaneda
CERISE
Cherry, almond, praline
Housemade praline is cracked into tiny pieces for the base, and laid onto an almond cremeaux as the base, flanked by little pools of cherry jam, topped with a dark cherry sorbet and slices of macerated cherries.
---
Jeune et Jolie, 2659 State Street, Carlsbad