I'm sure the twenty-first century resurgence of PBR as the national hipster-beer-of-choice had something to do with it. Cans became cool. But it's not just the "hipster effect" that's driven popularity; cans actually have lots of other attributes that make them appealing as well. They don't break like glass. They can come mountain climbing or river rafting with you, or accompany you to the golf course and beach (in counties where that's allowed!). Cans are lighter and—by many accounts—they are the greener option as far as packaging goes. (The jury is still out on this topic. Cans are easier to recycle and re-use, but there are major studies that support both aluminum cans and glass bottles as the most eco-friendly packaging.)
Whatever the reasons, cans have made huge strides in the past five years or so, and this is very good news for brewers. Cans make brewers happy for lots of reasons, including the fact that they cost less than bottles, they are lighter than bottles (which reduces shipping cost), they are more shipping friendly (they stack and don't break as easily) and they can be sold in all sorts of huge markets that glass bottles can't—sports stadiums, for example. Despite all those benefits, there's even one more thing that brewers like best about cans: They are a superior container for beer. I remember the first time Dan Selis, owner of Mission Brewery, explained the benefits of cans to me. He described cans as "mini kegs," which, previous to that, had never occurred to me (but, of course! It makes perfect sense that they are!). Not only do cans completely block sunlight from reaching the beer (light degrades the hops in beer and causes it to "skunk," which is another term for being "light struck"), cans are also able to be filled more efficiently than bottles, which reduces the beer's contact with air—another enemy of freshness and flavor.
For some beer fans, the main debate has been about the difference in flavor coming out of a can versus a bottle. In the past, the argument has been that cans make beer taste "metallic," but that argument doesn't seem to hold water (or beer) any longer. Most aluminum cans these days are lined with a polymer coating that protects the beer from the metal. As far as putting your lips to a metal can as opposed to a glass bottle goes, most brewers recommend that their beer be poured into a glass to be consumed, regardless of whether it's packaged in glass or aluminum.
It used to be that craft brewers had to forsake the benefits of cans for fear that craft beer fans associated "quality" only with glass bottles. That "customer perception" all changed in 2002, when famed Colorado brewery Oskar Blues put their iconic Dale's Pale Ale in cans. They were the first craft brewery on the planet to make this bold move. Since then, of course, cans have become the packaging of choice for hundreds of breweries and brands.
Not only are many of the larger, established breweries in San Diego employing cans in their packaging strategies (Ballast Point, Mission, Pizza Port, Mother Earth, Modern Times, Twisted Manzanita, St. Archer, and soon Karl Strauss, for example), many small and newly opened operations are turning to cans as their first and only packaging choice. Recently, Benchmark purchased a quarter of a million cans to begin distribution of their core beers, and brand-new Second Chance brewery is about to get a canning line up and running for the very first time. Some breweries, such as Hess and Mother Earth, have also invested in an on-site canning device that enables patrons to get a 32-ounce can filled directly from the tap and then sealed just like a regular can. These packages, commonly called "prowlers" (they are half the volume of the traditional growler), offer customers a great way to fill directly at the brewery without having to lug around heavy glass jugs.
The ever-increasing popularity of cans for craft beer is obvious to most consumers, but it is most clearly evident in the sales numbers. The craft segment of the beer market now accounts for $20 billion per year and, according to CraftCans.com, more than 520 of the nation's nearly 3,700 craft breweries can at least one of their beers. Altogether, more than 2,000 craft beer brands are sold in cans today. Maybe that's why people like to say craft beer drinkers generally have a "can-do" attitude…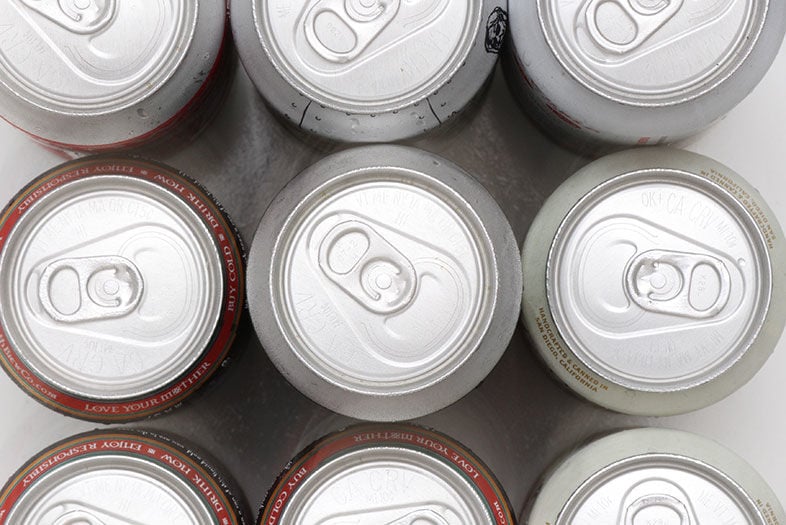 Photo by Bruce Glassman