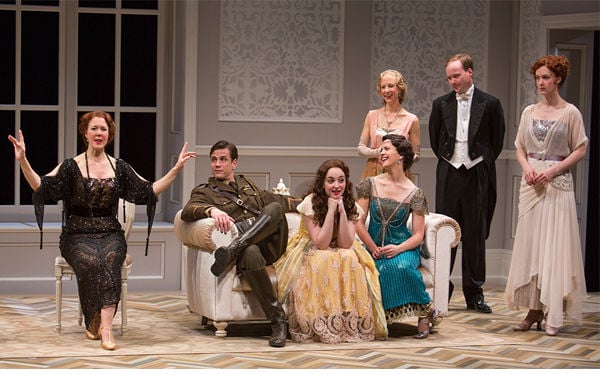 Photo by Jim Cox
Time and the Conways is a story about family dysfunction and greed—and how the choices we make, good or bad, set us on an inevitable course toward our futures.
The play is set in 1919, on an evening of a great party for daughter Kay's 21st birthday, in the Conway family's regal household. But foreboding emotions lurk beneath the surface.
Halfway through Act I, we shift 18 years forward to the same room at the Conway family's now not-so-regal household. With direction by Rebecca Taichman, the transition through time is done in an artful, haunting way.
In this future sequence, the audience sees what has become of the Conways: the squandered fortune, quarreling siblings, and bad marriages. It is a disheartening, depressing view.
But just when all hope seems lost, we travel back to that original night of celebration in 1919. Act II cleverly answers a lot of the questions as to how the Conways arrive at their sad fates in 1937.
Kim Martin-Cotten plays the matriarch of this sorted lot. She delivers the role with great élan—very Mommy Dearest meets the Dowager Countess.
The play really shines in its shifts through the years: the hair and makeup changes, the costumes by David Israel Reynoso, and set design by Neil Patel. Also noteworthy is the way its actors change their movement, gaits, posture, and stances to show their changing ages and attitudes.
Playwright J. B. Priestley was born in England and served in the British Army before attending Cambridge in 1919. His play is set in between the two World Wars, when there was a prevailing hope of rebuilding and reinventing the world. One of the characters is a socialist. All of them are wealthy. Priestley had great insight into the British upper class, and employed many of the same themes that circulate in the popular PBS Show Downton Abbey.
Are the Conways' fates sealed? Is that look into the future an inescapable reality or a dream? There's almost a hint that Kay, who is a writer, foresees the bad direction in which her family is headed and will have the wherewithal to make a change and set her clan on a different course. It's ultimately left for the audience to decide. And all that takes is… time.
March 29-May 4
Donald and Darlene Shiley Stage
Tickets start at $29