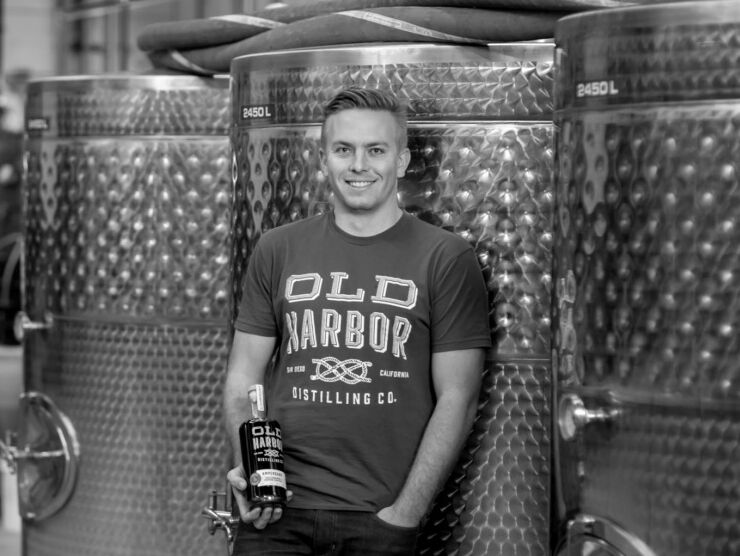 Welcome back to the Happy Half Hour! San Diego has long been a craft beer destination, but the city is also home to a burgeoning small-batch distillery scene. How has the pandemic affected these companies, since tasting rooms have to remain closed? We invited Michael Skubic, founder of Old Harbor Distilling Co., to talk about this.
Michael got his start as a homebrewer when he was just 21, and after college he helped co-found Mike Hess Brewing. He later ventured on his own and founded Old Harbor in 2014, and he makes gin, rum, and coffee liqueur out of its East Village headquarters. In the beginning of the pandemic when sanitizer was in short supply, Michael teamed up with other companies in the San Diego Distillers Guild to produce and donate 10,000 gallons of it. Michael talks about the process of making sanitizer (he also studied biochemistry at Point Loma Nazarene University), how his business is doing, and some new products he's launching. He also shares what makes his San Miguel Southwestern Gin stand apart from other botanical gins on the market—it involves a cool history lesson, so listen to find out!
In Hot Plates, we talked about the new Tito's Deli in Barrio Logan, which specializes in Puerto Rican tripleta sandwiches. Chef Andrew Bachelier announced that he's leaving Jeune et Jolie, which Esquire named one of the best new restaurants in the country last year. We ended the segment with some good news: Addison, San Diego's only Michelin-starred restaurant, is reopening in a new outdoor setting on August 1. Chef William Bradley announced this on his Instagram.
For Two People for Takeout, Michael recommended Tribute Pizza. Troy said to get the birria to go at Fernandez Restaurant in Nestor. David is a big fan of the Roman-style pizza at the newly opened Gelati & Peccati, and my pick is the shoyu (soy sauce) ramen at HiroNori Craft Ramen.
Thank you so much for listening and for staying with us. We want to hear from you. Is there a guest you want us to book on the show? A topic that should be explored? Need a recommendation for takeout? Do you have a question for Troy? Let us know. You can call us at 619-744-0535 and leave a voicemail, or if you're shy, you can email us at [email protected].