Welcome back! This episode is brought to you by our sponsors, Angela Landsberg, executive  director of North Park Main Street, and Sara Crichlow from Redwing Bar & Grill on 30th Street. Redwing has karaoke seven days a week and a full patio bar in the back, so get ready to drink, eat and then belt out your favorite song.
This week's special guest is Eric Adler, co-founder of Puesto. Eric grew up in a Mexican American household in La Jolla, and home-cooked meals were a big part of his childhood, which he says cemented his love for food. Eric moved to Boston for college, then he went to Georgetown University in Washington, D.C. to earn his master's in sports business, and went on to work with pro sports teams like the Washington Wizards. In 2010, he moved back to San Diego, and met chef Luisteen Gonzalez at a party. Chef Luisteen was making creative tacos wrapped in layers of crispy cheese, and Eric wanted in. A year later, Eric teamed up with his two brothers and two cousins to open Puesto in La Jolla.
Puesto now has six locations in San Diego, Orange County, and the Bay Area, and they're about to open their seventh restaurant in the old Gordon Biersch space in Mission Valley—where they'll start brewing their own beer onsite. Another exciting feature is that someone from a (still unnamed) three-star Michelin restaurant will be heading up the new cocktail menu.
Eric gave us his pick for Two People, $50, and he chose El Pescador Fish Market in La Jolla because of their salmon and crab sandwiches on sourdough. Erin shared that Jim Fitzpatrick, CEO and publisher of San Diego Magazine, sent in his pick for Two People, $50, to the podcast's email address: Jim chose dinner at La Jolla Shores Hotel because the view and good food can't be beat. Lauren's pick this week was J & Tony's Discount Cured Meats and Negroni Warehouse, a bar that just opened this summer in the East Village which is serving up canned seafood and drinks that James Bond would hate, stirred not shaken over hand-cut ice. Troy's pick this week was the lamb barbacoa tacos on the patio at Luce Bar.
In Hot Plates, we talked about the closing of Seasucker in Del Mar, set for October 30. Troy got a First Look at Brian Malarkey's new $5.5 million-dollar restaurant, Animae, that opened on the bottom floor of the Pacific Gate complex by Bosa. There's a rooftop bar on the 16th floor of the new Carte Hotel in Little Italy just opened, called Above Ash Social. The owners of The Rose wine bar in South Park are opening up a new bar on 30th Street devoted to oysters and gin, Mabel's Gone Fishing. Stories written by our own Troy Johnson are now part of college curriculums—one of his articles, "Farm to Fable," was published in a MacMillan textbook!
This week's Hot Topic is the release of some new programs that Yelp just launched on its app, like a newsfeed feature called "Yelp Connect," according to Nation's Restaurant News. Restaurants can pay $200 a month to be a part of the service, where they can share real-time updates with users about menu changes, happy hour deals, and special dining events. Diners can now "follow" their favorite restaurants on the app. Eric says he will definitely try these new features out, especially with the opening of his new Puesto location coming up.
Thanks for listening, and we'd love to hear from you! Call us at 619-744-0535 and leave a message. Or if you're too shy to call, you can email [email protected]. You can give us your recommendations for Two People, $50, tell us about any news happening in San Diego's culinary world, let us know who you'd like to hear featured as a guest on the podcast, or ask Troy a question!
Subscribe to the Happy Half Hour on Spotify, iTunes or Google Play, or listen below.
Recent Episodes
For all previous episodes, click here.
Would you like to sponsor a podcast episode at your restaurant or bar? Email David, our producer and digital media director.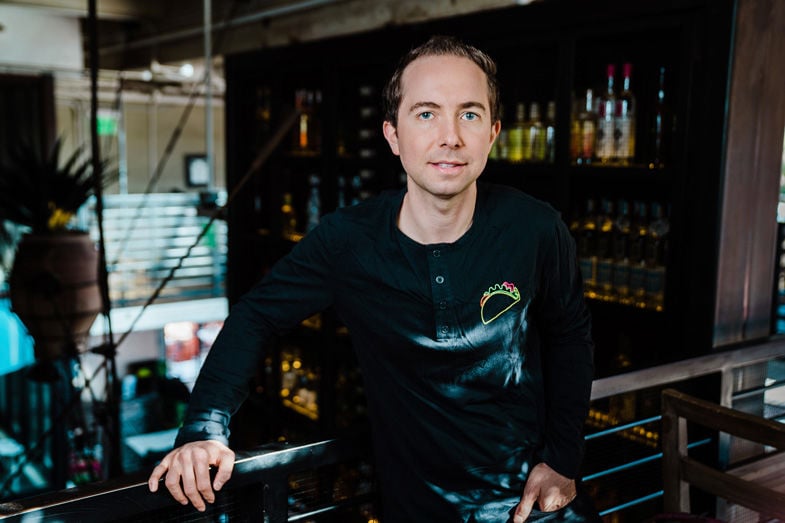 Eric Adler | Photo courtesy of Puesto