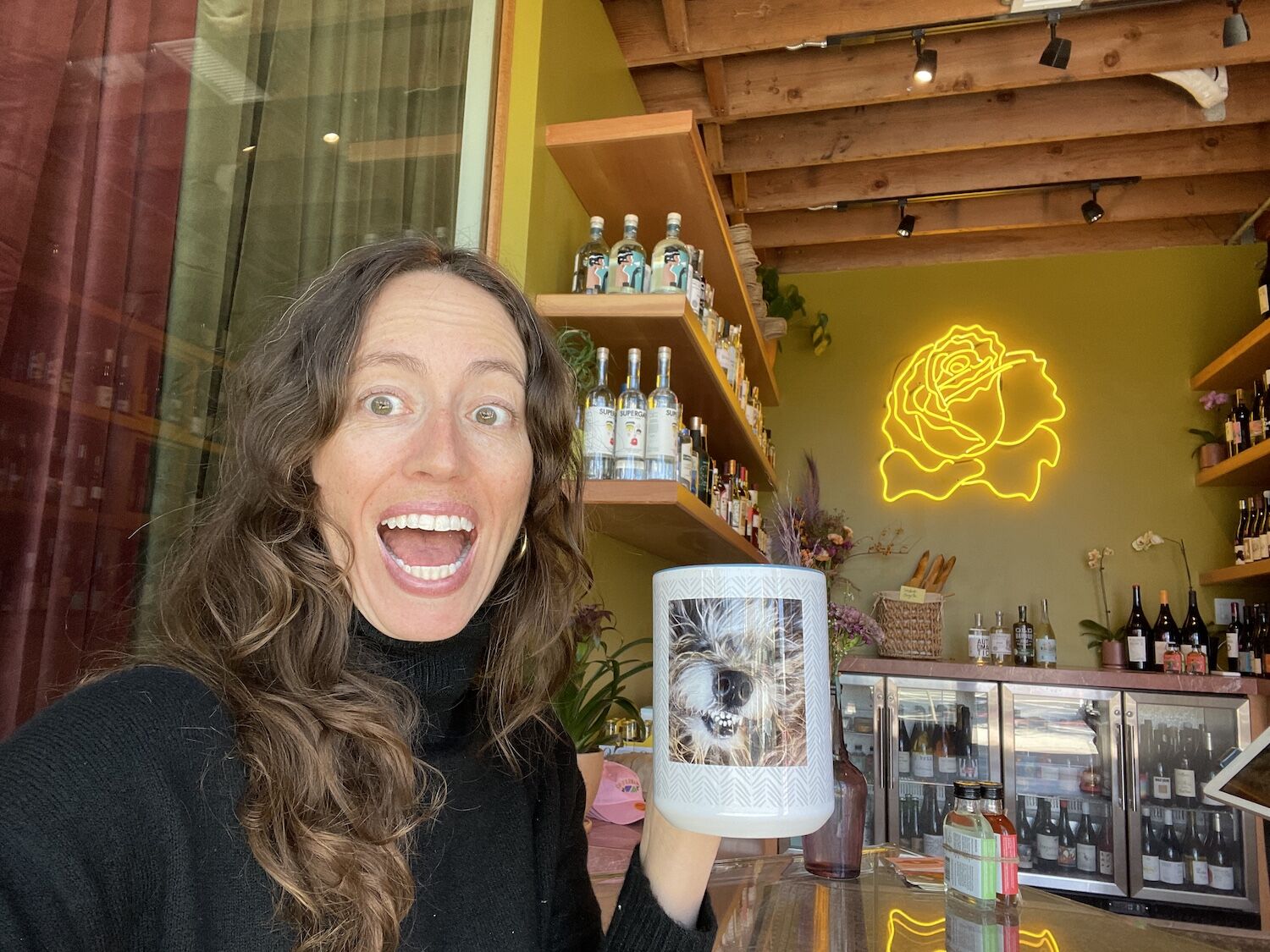 On this new podcast, we get a lesson on natural wines from Chelsea Coleman—co-founder of the Rose Wine Bar in South Park who just opened Mabel's Gone Fishing, a gintoneria and oyster bar that also has natural wines.
Seems like just a few years ago, natural wines were what your kooky friend with the urban chickens and the Wendell Berry tattoo drank.
The nat-wine ethos was always noble: wines made from grapes grown on sustainable and ideally organic methods, inoculated only with naturally occurring yeast, with nothing added (there are currently over 100 legal additives often used in commercial wine, everything from lab-grown yeasts to mega purple to oak chips and copper and anti-foaming agents) or taken away (no filtering or fining, a process that is often achieved by using animal products like egg albumen or isinglass, aka fish bladder).
Ideally, grapes are grown on a permaculture dry farm (one that doesn't use irrigation, using only rain) by operators who are passionate about fair trade and treating the earth and humans right. And for decades, their hearts were pure and their wines were terrible. Mousy, funky, chewy, fizzy liquids that often exploded before they got to the store (on account of secondary fermentation).
That is not true anymore. Natural wines (aka lo-fi wines) are still funky. They taste exactly like the place where they were grown. You can even taste the time of year. Ultra terroir. A bit of a surprise in every batch. But producers have learned a thing or two about how to navigate the wild, low-intervention approach to winemaking. Lo-fi wines are also the fastest growing sector of the wine market—especially among millennials, who demand a story and an ethos with their consumption more than any other generation.
All that is to say, Coleman is in the thick of it. The San Diego natifve co-founded Nat Diego (a natural wine fest). Her love of nats lines up with her ideals on food systems (she was the chair of Slow Food San Diego for three years, and she used to haul compost from local restaurants and drop them off at local farms). She's got a pet chicken named Tang and—apropos with the Padres about to play their first home playoff game in 16 years—her father was the iconic broadcaster, Jerry Coleman.
Join us as we talk about Mabel's and she gives us a primer on natural wines. Managing editor and food enthusiast Jackie Bryant also takes a mic.
In news, we talk about the launch of the Aisu ice cream brand. Launch is a hyperbolic word, since it's only available at Chino Farms and Mille Fleurs at the moment, but it's made by the youngest farmer in the Chino Family—Makoto, and his girlfriend, Elina—using the best produce on earth. Longtime San Diego chef and former owner of Pacifica Del Mar, Chris Idso, has joined restaurateur Linda DiNitto (264 Fresco) to open the Latin-inspired Fresco Cocina in Carlsbad. Ambrogio15 has teamed with Michelin-starred Italian restaurant, Acquerello, and will reopen their La Jolla spot as Ambrogio by Acquerello. Bivouac Ciderworks is expanding to a much larger space next door in North Park. Plus, North Park gets a plant-based Mexican joint called Tacotarian, and nonprofit food org Berry Good Food announced they're offering up to $10,000 in funding to K-12 schools with garden projects (now accepting applications.
For "Two People, Fifty Bucks," I can't stop frothing about the pastrami burger at Balboa South in Chula Vista, and I share the remarkable story of new owner, Mariana Cardenas. Jackie points us to the BBQ "pork" vermicelli noodles at City Heights' vegan Thai joint, Thanh Tinh Chay. David tells you what to order at new North Park spot, Fairplay, and Chelsea sings the praises of her favorite Russian food haunt, Pomegranate.