Welcome back and Happy New Year! After the holiday break, we kick off 2020 by catching up with Matteo Cattaneo, who is from Bergamo, Italy, and the founder of Buona Forchetta, the popular pizzeria. We last had Matteo on the show back in the spring of 2017, but so much has happened since then. Buona Forchetta now has three locations throughout the county, and in late 2018, Matteo opened an Enoteca next door to Buona Forchetta's flagship South Park location. This year, he plans to open Gelati & Peccati, a Roman-style pizza stand in North Park; Carbón, a barbecue restaurant in South Park; and a fourth Buona Forchetta in Coronado. He's also getting ready to open a nonprofit restaurant, called Matteo, in South Park. 
In Hot Plates, we catch up with news on restaurant openings and closings, and unfortunately start of the new year with some significant restaurant closures: Chef DJ Tangalin closed GayaGaya, his modern Filipino restaurant in Miramar; the La Jolla location of Donovan's Steak & Chophouse shuttered; and McCormick and Schmick's closed without warning on New Year's Day after being in the Omni Hotel in the Gaslamp for 15 years. We end with one of the first restaurant openings of 2020—The Village in North Park replaced Anthem Vegan, and is serving vegan sushi and Mexican food. These cuisines are definitely a trend, which we explore in the January issue of San Diego Magazine.
David's 60 Second Beer Review is Back! This week, David likes the Springboard Pale Ale from Ocean Beach Brewery—it's big collaborative beer made along with Belching Beaver, Pizza Port Brewing and Amplified Ale Works, and will be available at the Springboard West Music Festival in Ocean Beach this weekend.
This week's Hot Topic is related to the plant-based trend: the company that makes the Impossible Burger announced earlier this week they're going to launch a pork alternative. It's going to come in ground and sausage versions, and you can expect to find it at Burger King soon on their croissant breakfast sandwich.
We caught up with what everyone has been eating. Troy's pick this week for Two People, $50, was Fernandez Restaurant, a birria restaurant in Nestor. Troy is currently on the hunt for who makes the best birria in San Diego—and we want to hear your suggestions on where Troy should go next! Lauren checked out Rare Society, the new steakhouse in Hillcrest from the group behind Trust, and Matteo's pick was Wayfarer Bread—he loves their bread and pastries, especially the croissants.
We want to hear from our listeners! Do you have a question for Troy about what it's like to be a restaurant critic? Need a restaurant recommendation? Is there a guest you want us to book on the show? Let us know! You can call us at 619-744-0535 and leave a voicemail, or if you're too shy, you can email us at [email protected].
Subscribe to the Happy Half Hour on Spotify, iTunes, or Google Play. We're also on iHeartRadio now! Or you can listen below. Come back next for Part 2 of our end-of-year wrap up.
Recent Episodes
For all previous episodes, click here.
Would you like to sponsor a podcast episode at your restaurant or bar? Email David, our producer and digital media director.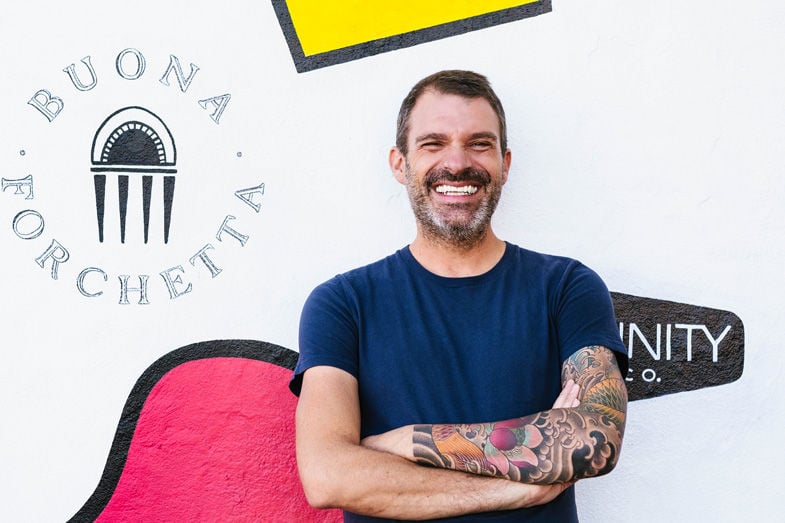 Matteo Cattaneo | Photo courtesy of Bread & Butter Public Relation