Welcome back to the Happy Half Hour! We're taping from the Hilton San Diego Del Mar, which is just steps away from the Del Mar Fairgrounds.
This week's special guest is David Favela, founder of Border X Brewing in Barrio Logan, the first Latino-owned brewery in San Diego. David is a first-generation immigrant from Mexico, and he grew up in Escondido. He did his undergrad at Chico State and studied international business at UCSD, and worked at Hewlett Packard for over 20 years. He launched Border X Brewing five years ago, and just expanded the brewery to a second location in Los Angeles.
David tells us how Border X Brewing began and why he decided to focus on Mexican flavors and brewing traditions, which resulted in the creation of their most popular beers—saison brewed with jamaica (hibiscus tea) and the Horchata Golden Stout. He also talks about how Barrio Logan has changed over the years—the neighborhood is bustling with more breweries, art galleries and new shops, which we featured in this month's Neighborhood Guide—but that the change is community-led. David's pick for Two People, $50 is Mariscos El Golosito, a B.Y.O.B. Sinaloan seafood restaurant in Barrio Logan, and the staff's picks this week were Louisiana Purchase and Thai One On in Carlsbad.
In Hot Plates, we talked about the revamp and remodel of Currant American Brasserie, the new menu at Stone Brewing World Bistro & Gardens in Escondido and Liberty Station, and the news that Mendocino Farms and Blue Bottle Coffee are opening locations at the new Tower 180 office building on First and Broadway.
David's 60 Second Beer Review is Groundswell Brewing Company's Tropical Hefeweizen.
The Hot Topic this week is the Aperol spritz—is it a good or bad drink? Check out the article in the New York Times that started the debate, and hear what Troy and Lauren have to say.
It's time again for San Diego Magazine's annual Best Restaurants party! Next week, on June 12, San Diego's top chefs and winners of this year's critic's and readers' picks will serve their signature dishes to an intimate crowd at Pirch at UTC. This year, we're hosting a pre-party at Room & Board, which includes a live taping of the Happy Half Hour! There's still time to get tickets!
We want to hear from our listeners! Call us at 619-744-0535 and leave a message, like a caller did about Troy mispronouncing "shave ice" during our episode about the I Love Poke Festival. Or, you can email [email protected]. You can give us your recommendations for Two People, $50, tell us about any news happening in San Diego's culinary world, or let us know who you'd like to hear featured as a guest on the podcast.
Subscribe to the Happy Half Hour on Spotify, iTunes or Google Play, or listen below.
Recent Episodes
For all previous episodes, click here.
Would you like to sponsor a podcast episode at your restaurant or bar? Email David, our producer and digital media director.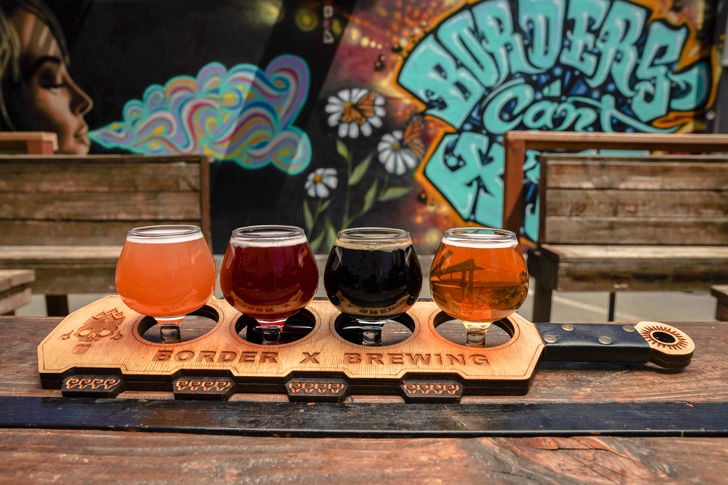 Border X Brewing| Photo courtesy of Border X Brewing