It's a very Happy Half Hour indeed this week as we tape from rooftop pool deck at the Westgate Hotel, and chat with local jazz hero Gilbert Castellanos about its weekly summer concerts, the Sunset Poolside Jazz Series.
CEO Jeff Fenster is our special guest this week. He founded Everbowl, a San Diego-based acai bowl and juice chain, and this year's Reader's Pick for Healthy Eats in our annual Best Restaurants list. Fenster started Everbowl in 2016, which has now expanded to 22 locations across Southern California—with two just added in Hillcrest and Little Italy. The superfood bowl company lets customers build their own bowl with pitaya (dragonfruit), graviola, acerola, acai, and a plethora of natural toppings. Fenster shared with us how (and why) he made the career shift from getting a law degree to owning a payroll company and founding the growing restaurant chain. His pick for Two People, $50 is Naked Café in Solana Beach, and the staff liked Starlite and Fauna in the Valle de Guadalupe. Julie P. from Scripps Ranch wrote in to say to check out Ariana Kabob House in Mira Mesa.
In Hot Plates, chef Daniel Barron takes the role of executive chef at The Oceanaire Seafood Room downtown (where Brian Malarkey once worked). The owners of the former Moto Deli in Encinitas have opened a new Mexican-Italian restaurant concept in the same location, Valentina, with Alex Carballo running the kitchen. A big name in the culinary world made his way to San Diego: Nathan Myhrvold from Modernist Cuisine Lab in Seattle was just here to open his fourth art gallery in La Jolla. You may have seen the late Anthony Bourdain interview Nathan for an episode of "Parts Unknown" or read one of his Modernist Cuisine cookbooks. Nathan is famous for his avant-garde food photography, which he accomplishes by using catapults, high-speed cameras and robots that he builds himself.
David's 60 Second Beer Review this week is Amplified Aleworks' Hopp Puddin'.
As far as Hot Topics go, we learned from a recent article in NPR that one-fifth of all the food waste in American homes is attributed to confusion over food labels and the "sell by" and "use by" dates, and discussed what the FDA wants to do to change this.
Please come and join us and see the Happy Half Hour live at Eppig Brewing's Waterfront Biergarten on July 8 at 3 p.m. We will be sampling the first of three collaboration beers we are doing with Eppig, Fall, and Coronado brewing in celebration of our Best of San Diego issue. There is no charge to come down, but there will be discounts for everyone in our Insider's Program. We hope to see you there!
We want to hear from our listeners! Call us at 619-744-0535 and leave a message. Or if you're too shy to call, you can email [email protected]. You can give us your recommendations for Two People, $50, tell us about any news happening in San Diego's culinary world, or let us know who you'd like to hear featured as a guest on the podcast.
Subscribe to the Happy Half Hour on Spotify, iTunes or Google Play, or listen below. Check back later this week for our next regular episode!
Recent Episodes
For all previous episodes, click here.
Would you like to sponsor a podcast episode at your restaurant or bar? Email David, our producer and digital media director.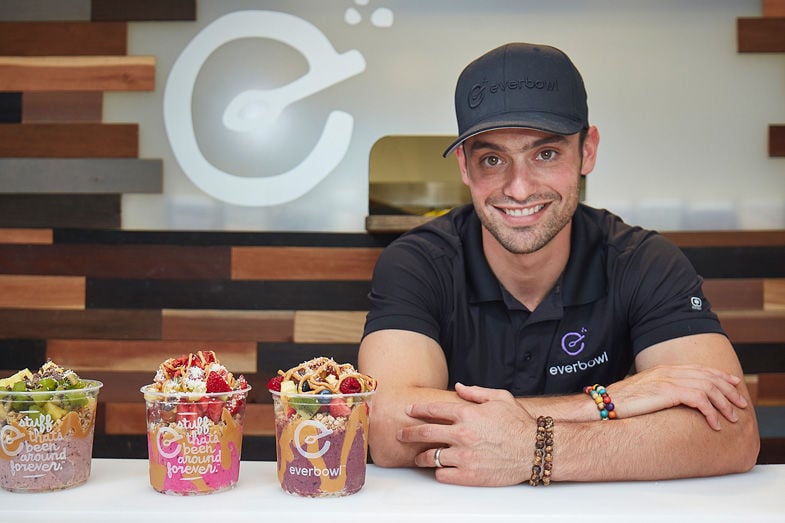 Jeff Fenster of Everbowl | Photo courtesy of Jeff Fenster