On today's show hosts Erin Chambers Smith and Troy Johnson along with producer Archana Ram talk about the shock of Anthony Bourdain's death and the legacy he'll leave. In our local scene, there's the opening of Punch Bowl Social and Prepkitchen San Marcos, as well as the Red Fox Room and Aero Club's moves.
Today's guest is Jennifer Davies, the San Diego Tourism Authority's Director of Cultural Tourism for Balboa Park. We talk about the park's Food Truck Fridays series and what's going on with the restaurant scene in one of San Diego's most visited landmarks.
In hot topics, we're discussing how people are pointing fingers at a local hospitality group for the death of hundreds of fish in Lake San Marcos. When reached for comment, the group, which handles day-to-day activities of the lake, referred us to a work plan organized by the Citizens Development Corporation, which maintains upkeep of the lake. They say they "are currently working with stakeholders, residents of the surrounding community, and State regulators to arrive at a long term solution to many issues including nutrients, excess algae, and fish kills at the Lake."
We're also chatting about Jimbo's suing Horton Plaza. They claim the shopping center's lackluster performance has cost the natural grocery store millions in sales thanks, in part, to low foot traffic.
Plus, we're gearing up for our big 100th episode, which we'll be taping on Hornblower Cruise's Sights & Sips Cocktail Cruise June 22. And we want you there! Enter here for a chance to win one of 10 pairs of tickets to join us on the bay.
Subscribe to the Happy Half Hour on iTunes or Google Play, or listen below.
---
This week's Happy Half Hour is sponsored by the Adams Avenue Business Association. The 18th annual Taste of Adams Avenue is Sunday, June 24, from 11 a.m. to 3 p.m., along Adams Avenue, from University Heights through Normal Heights to Kensington. For a $35 ticket, sample from 48 Adams Avenue restaurants, coffee houses, breweries, wine bars, and one-of-a-kind eateries in San Diego's hip and historic neighborhoods. Get your tickets here.
Recent Episodes
For all previous episodes, click here.
---
Would you like to sponsor a podcast episode at your restaurant or bar? Email David, our producer and digital media director.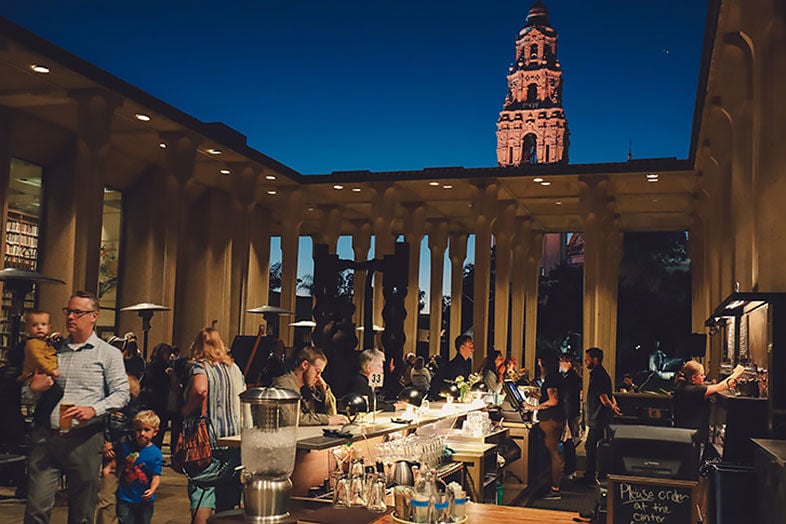 Panama 66 in Balboa Park.